Live Your Cowgirl Dreams With These Luxurious Western-Themed Getaways
@alisalranch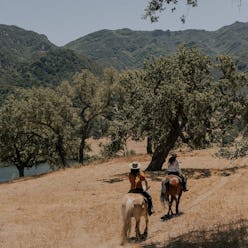 Travelers are increasingly putting stock in veering off course and trying new experiences, according to Expedia's latest trend report. For many city slickers, nothing feels like a greater departure from the norm than going on a "cowboy-cation" in the unspoiled wilderness of Colorado, Montana, or Wyoming. To that end, demand for Vrbo's collection of private vacation homes in the Western part of the country is up by more than 30%. While renting a remote farmhouse definitely delivers a more private experience that's great for groups, stealing away to a luxury dude ranch-meets-resort with a trained team of wranglers to help guide you, refined accommodations with a sprinkle of rustic charm, and a gorgeous main lodge that basically jumped out of an episode of Yellowstone might be a more palatable route for urbanites with a penchant for the finer things.
Obviously, this pastoral-oriented trend is particularly appealing to city dwellers keen to jet off somewhere with fresh air and jaw-dropping scenery. Though, that's not to say folks from small towns or more rural areas will be any less impressed by the Western charms of this type of holiday. Activities like horseback riding and hiking foster a deeper connection with the natural world. There's also a do-it-yourself survival theme with the opportunity to try stuff you probably wouldn't do in your everyday life such as fly fishing, axe throwing, and corralling livestock.
This nature-centric appeal to things extends to the culinary offerings, which tend to focus on locally sourced ingredients. Some places take a more home-cooked approach with things like chuckwagon breakfasts. Others fly in big-name chefs from major cities to flex their fine dining chops. Also on the not-so-rough-and-tumble track are indulgent spa treatments that go down in revamped barns or glamping tents surrounded by the sound of nature.
Scroll on for a few luxury-minded, dude ranch-inspired escapes across the United States to play cowboy — and dress the part (hello, wide-brimmed hats and riding boots) — for a few days.
A little wine, a little wellness, a little Western fun, and a whole lot of luxury — that's what it's like to stay at Alisal Ranch. This 10,000-acre pastoral paradise in the Santa Ynez Valley (30 minutes north of Santa Barbara) puts an upmarket Golden State spin on grange life that's totally vacation-worthy. Horseback riding, archery, and stargazing are complemented by facials using local ingredients, tennis courts, two golf courses, a palette-pleasing culinary program, and character-rich cottages that would have bowled over the frontiers people.
A 19th-century homestead turned high-end retreat set in an untouched valley, The Ranch at Rock Creek is one of those rare places that's perfect for couples, families, and solo travelers keen to turn cowboy-cation vacation fantasies into reality. This Montana treasure channels the spirit of the Wild West with horseback riding, archery, and sapphire mining while adding plenty of upscale perks. Glamping cabins featuring king-size beds, cedar-soaking tubs, twice-daily housekeeping, and seasonal homesteader wagon add-ons epitomize the five-star frontier aesthetic.
Perfect for travelers who like the idea of doing something rugged rather than actually getting their hands dirty, The Lodge at Blue Sky, Auberge Resorts Collection is a decidedly five-star option that's surrounded by untouched scenery. It has an abundance of Western experiences — among them horseback riding, archery, wildlife tracking, and axe throwing — that puts it into the cowboy-cation category. There's also a wellness sanctuary for bloom-to-bottle facials, massages, breathwork, and guided meditation as well as impeccably appointed creekside houses.
Daydreaming of a cowboy-cation but can't bear the thought of parting with the plush comforts or service of a five-star resort? Folks staying at The Ranch at Emerald Valley don't have to sacrifice literally anything for spellbinding scenery and outdoor recreation. Ringed by 100,000 pristine acres of Pike National Forest, the all-inclusive wilderness arm of The Broadmoor — one of the most historic and iconic lodgings in the West — is a seasonal getaway for fishing, archery, horseback riding, campfires, and s'mores, plus cozy cabins and chef-made gourmet meals.
You sort of get to ease into all the cowboy stuff at The Resort at Paws Up — a place that proves a trip to the American West doesn't have to be rough and tumble. As with any real-deal dude ranch, this picture-perfect Montana property gives guests access to 37,000 acres of breathtakingly untamed scenery that's prime for Western-adjacent activities like horseback riding, fly fishing, and wilderness training. Luxury lovers are drawn to the deluxe accommodations, spa treatments in pine-scented tents by a babbling brook, and refined ranch cuisine.
Dunton River Camp is pioneer perfection with a posh side. This former cattle ranch dating back to the late 1800s now shines as an example of an elevated cowboy-cation. Guests get to snooze in eight glamping tents tricked out with luxury hotel amenities (notably, en-suite bathrooms with soaking tubs and showers), feast on hyperlocal ingredients from the on-site farm and vineyard, and sip craft cocktails and world-class wine by the fire-pit at the farmhouse. Oh, and the opportunities for hiking, trout fishing, and stargazing are beyond dreamy.