Relax & Let Ciara's Bold New Highlights Transport You Straight Back To 2002
@ciara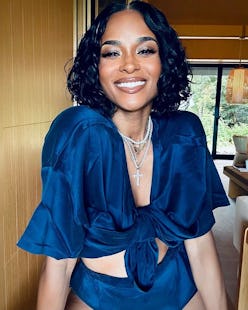 It's more than a little impressive — even with so many projects and plates in the air, Ciara hasn't let her commitments to consistently excellent hairstyles wane even a bit. In fact, since she unveiled the exciting news that she's pregnant with her fourth child, Ci's only seemed to turn things up a notch. After a stint experimenting with a sleek, silvery bob, she returned to a long hair look complete with some of the best color placement this side of Y2K. Ciara's face-framing highlights are the prettiest shade of bright butter blonde, boldly streaked through a warm golden-brown base color for a modern take on one of the aught's most popular trends. The best part, though, might be the chic half-up bun that perfectly shows off the blend of tones used.
Ciara debuted the look for a day of high-profile errands, stopping off at luxury liquor stores to promote her Ten To One rum brand. While her bump-swaddling shirtdress screamed cozy comfort, her long, blown-out highlights and that super polished topknot add some extra excitement. As the musician-mogul teases the release of her upcoming CiCi EP release, the hair moment might be a hint at what's to come this fall — especially against the context of her other most-recent looks.
Just days ago, Ciara uploaded some shots from a recent photoshoot featuring blonde-streaked pigtails and curly looped accents near the roots. It's about as classically late '90s/'00s as it gets. As a result, some fans are convinced it means her new album's sound might reflect a similar throwback theme. Though bolder, more extreme takes on highlights and face-framing money pieces aren't so common these days — the look can be a polarizing one — Ciara's version is gorgeous enough to fully revive the trend for the 2020s.
Of course, both looks are a pretty extreme departure from the short silver bob she was showing off in Japan just weeks ago, though the spiky little space buns she wore one day do feel similarly aught-ish.
Even if the '00s music theory is way off-base, that's totally fine — with hair moments this excellent, the decade's spirit still lives on.