Brie Larson's Preppy Headband Doubles As A Display For Her Hand-Painted Highlights
Steve Granitz/FilmMagic/Getty Images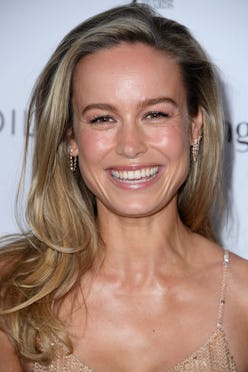 The best beauty looks of the annual Cannes Film Festival seem to fall into two camps: there's the wildly glamorous, over-the-top fare that incorporates things like face gems and colorful hair dye, and then there are those you could call "elegant excellence" — that is, elevated takes on red carpet classics. But if you think the only way to create a memorable festival moment is with avant-garde hair and makeup, then you clearly haven't seen Brie Larson's headband at Cannes yet.
Larson's polished, brushed-back look was actually one of two hairstyles worn by the star on Cannes' opening day. Subtly patterned with barely-perceptible Chanel logos smattered through the soft black fabric, the high-fashion headband sat just an inch beyond her hairline to help maximize the effect of her teased crown. The concentration of volume just past the headband essentially puts all the rich dimension of her sandy blonde highlights on full display. Fittingly, Larson wore the headband to a Cannes jury photo call — by keeping her long, blown-out hair off her face, she's literally putting her best face forward for the festival judges and her A-list peers. Celebrity hairstylist Bryce Scarlett created both of Larson's looks at Cannes so far, and with two full festivals weeks ahead, he's surely plotting more.
At industry events of this scale, quick-changes are always necessary to suit the stuffed schedule. Just after her jury photocall, Larson and Scarlett got together again to remove the headband, change up her part, and add some Old Hollywood-style bends throughout her hair. As a result, Larson's look for the Cannes Opening Ceremony was a high-drama 180 from the sweet, preppy headband moment earlier in the day.
More than a little Veronica Lake-esque with large-barreled waves through her ends, the speedy style switch-up is a nice reminder of just how versatile Larson can be on the red carpet. To complement both hairstyles, celebrity makeup artist Nina Park two distinct makeup looks with a slew of DECORTÉ beauty products.
The festival started only hours ago and it's already yielding a Pinterest board's worth of inspiration. Get ready for an exciting two weeks.