Anne Hathaway Will Star In 'Mother Mary' — Here Are All The Details To Know
The movie spotlights music and fashion.
Axelle/Bauer-Griffin/FilmMagic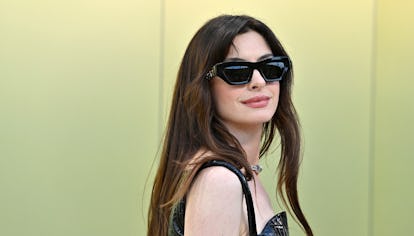 Anne Hathaway's next industry project will speak to those who loved her in the Devil Wears Prada and Les Misérables. According to Deadline, Hathaway will star in Mother Mary, and while details are scarce about the epic pop melodrama movie, we do know it will combine a mix of fashion and music. The storyline follows a musician (Hathaway) and her relationship with an iconic designer, played by Michaela Coel.
Along with the top-notch casting thus far, other people involved in the project include Green Knight director David Lowery and music talents Charli XCX and Jack Antonoff. They were brought on to write songs for Hathaway's popstar character to sing. Last week, Charli XCX commented on the fun partnership via an Instagram photo of herself and Antonoff with the caption: "jack bout to get mothered. Meanwhile, Daniel Hart will compose the original score.
In addition, A24 — the production company that brought you gems like Everything Everywhere All At Once, Midsommar, Minari, and Lady Bird — is behind the movie. Everything A24 touches seems to turn to gold, so we'd expect the same for Mother Mary. This film will also mark the third collaboration between A24 and Lowery, following The Green Knight and A Ghost Story.
Dominique Charriau/WireImage
There is no release date yet, but the film will start shooting in Germany this year. Thus, fans can likely expect the project to come out in 2024. Personally, based off all the little details so far, we're already very invested in this film.
If you're wondering what other projects Hathaway has up her sleeve for the rest of this year, note that her movie Eileen recently showed at the Sundance Film Festival. She will also star in a '60s thriller alongside Jessica Chastain in Mother's Instinct (this bears no relation to Mother Mary) and The Idea of You, where she will play a 40-year-old divorced mom who falls for a member of a boy band.
If you're already adding all of Hathaway's upcoming movies to your must-watch list, we're right there with you. Bookmark this post, too, as we'll update it with more information about Mother Mary as the details get released.