The 2023 Sundance Film Festival Fashion Looks You Absolutely Shouldn't Miss
There's so much good styling inspo.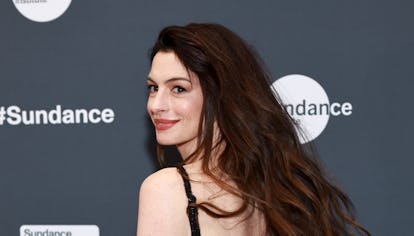 This month, your favorite Hollywood stars are bouncing from one red carpet to the next nonstop, which gives you more opportunities to keep up with their fashionable outfits. Not long after the 80th Annual Golden Globe Awards concluded on Jan. 10, stars arrived in Salt Lake City, Utah on Jan. 19 for the 2023 Sundance Film Festival. The fashion looks, thus far, are dressy enough to grab attention, but don't feel overly done up, so anyone can draw style inspo from these wardrobes.
Take Dakota Johnson's cool-girl denim look as an example. While her ensemble worked for the red carpet, it could have just as easily been an outfit you wear to dinner with friends. Meanwhile, Daisy Ridley, who was another early bird to the Sundance Film Festival, rocked a gray power suit that would work for any boardroom meeting. As the red carpet heats up in Salt Lake City, your favorite stars will continue to bring their strong fashion A-game to the multiple movie screenings and press junkets.
TZR will be right besides them on this journey and spotlight the best celebrity outfits, so you don't miss a single look. See who wore what so far below, then bookmark this post as it will be updated with new arrivals up until the film festival ends on Saturday, Jan. 29.
Anne Hathaway
Matt Winkelmeyer/Getty Images
Matt Winkelmeyer/Getty Images
The actor arrived in a puffer jacket and mini dress look from Versace, which felt seasonally appropriate.
Anne Hathaway
Hathaway ditched her fancy gowns for a cozier piece: the shacket. This one had a luxe spin on it though as the piece came from Celine.
Dakota Johnson
Johnson went for a cool denim-on-denim look. The trench coat, corset, and jeans all came from Magda Butrym.
Dakota Johnson
Another gem of an outfit from Johnson, where she wore a perfectly slouchy (but not sloppy) outfit that consisted of a black top, belt, jeans tucked into boots, and an oversized textured jacket — all from Gucci.
Emilia Clarke
Clarke let it be known that she's in Chanel via this logo-heavy top and skirt set.
Daisy Ridley
The actor wore the Stephanize Blazer and Vesta Pant in gray from Gabriela Hearst.
This article was originally published on