Angelina Jolie's New Fashion Brand Will Give Everyone The Chance To Play Designer
Vittorio Zunino Celotto/Getty Images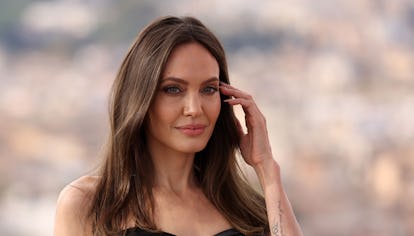 This week, Angelina Jolie announced that she's launching Atelier Jolie, a new fashion-focused business venture coming this fall. We don't have many details on the project yet, but according to the star's website, the brand's mission is to democratize the fashion industry for consumers by allowing them direct access to work with skilled artisans. In her own words: why simply buy the design of another person, when you can create yourself? Simply put, she wants to put more power into the hands of creators and their customers.
"I am building a place for creative people to collaborate with a skilled and diverse family of expert tailors, pattern makers, and artisans from around the world. A place to have fun. To create your own designs with freedom. To discover yourself," Jolie explains on the site's landing page. "We hope to create a community of creativity and inspiration, regardless of socio-economic background. We will spotlight the people who play a part in each creation."
The mission for Atelier Jolie is very on-brand for the actor, director, and humanitarian, who has always placed a strong emphasis on supporting local communities, women's rights, and conservation. If you recall, Jolie was a former United Nations goodwill ambassador and during her time as Special Envoy, she advocated on behalf of refugees while visiting war zones such as Syria, Sudan, and Ukraine.
Now she plans to continue this refugee work through her new venture. "We will bring together a diverse team, including apprenticeships for refugees and other talented, under-appreciated groups, with positions of dignity based on skill," Jolie said, giving a glimpse into who consumers might work with to create their own designs. "And as we work with global artisans and creators, we hope to help share the richness of their cultural heritage and support the development of their own businesses."
Touching on the topic of sustainability, Jolie shares that her brand will only work with quality vintage material and deadstock fabric. In other words? You can expect limited batches of products and also a sense of uniqueness to the items, as they won't be mass-produced. For shoppers who may not want to work with artisans directly on something new, Jolie also presents an alternative option for them. "You will be able to repair or upcycle pieces from your closet [that] you wish to revive, perfecting fit, breathing new life into what could have been thrown away, and creating quality heirloom garments with personal meaning," she says.
As for how all these processes will work and what exactly are the types of products you'll be able to make, or purchase, all that information remains under wraps for now. (Personally, I haven't been this intrigued by a brand since Phoebe Philo announced her own namesake label, which also launches this fall.) However, you can follow the fashion brand's IG account @atelierjolieofficial and subscribe to its newsletter to stay on top of the latest developments.