These Iconic Supermodels Came Together To Pose For Vogue's September Cover
Fashion royalty reunites.
Patrick McMullan/Patrick McMullan via Getty Images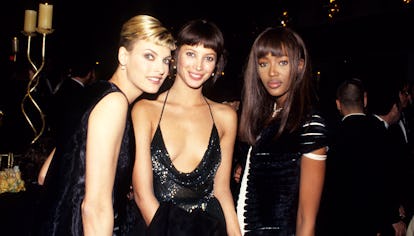 We may receive a portion of sales if you purchase a product through a link in this article.
Of all the monthly Vogue cover spots, landing the September issue is arguably the most coveted placement for celebrities to appear in (there's even a Netflix documentary dedicated to this exact topic!). Ahead of next month, the glossy shared a sneak peek into who this year's guest stars are — yes, stars — and well, the reveal was quite spectacular. Appearing front and center on Vogue's September 2023 cover are supermodels Christy Turlington, Naomi Campbell, Cindy Crawford, and Linda Evangelista.
The runway legends, all dressed in black, make a powerful fashion statement: Evangelista rocks a metallic Michael Kors coat; Crawford stuns in a velvety dress; Turlington flaunts sharp Versace outerwear; Campbell wears a Prada dress with opera gloves. It goes without saying that everyone looks powerful and fierce. of course powerful supermodel lineup for the Sept. issue didn't happen by chance. The brilliant timing coincides with Apple TV+'s upcoming four-part series, titled "The Super Models," airing on Sept. 20.
According to the press release, the documentary will spotlight the careers of the aforementioned women in addition to explaining how they completely revolutionized the modeling industry. (Sounds binge-worthy, right?) For those who need a refresher on the ladies legacies, here's the CliffNotes version. Turlington, Campbell, Crawford, and Evangelista weren't just "models" in the 1990s — they all became cultural icons through their accomplishments.
Crawford, who was known for her Americana beauty, not only walked the catwalks of famed designers like Ralph Lauren and Chanel, but she also hosted TV shows (House of Style from 1989 to 1995) and became an entrepreneur. Her businesses include launching the Cindy Crawford Home furniture line in 2005 and skincare brand Meaningful Beauty in 2009. Meanwhile, Campbell, with her legendary runway walks held everyone's attention with her power and confidence. She was also the first Black model to appear on the cover of French Vogue in 1988. Her career successes helped kick start the conversation for more diversity and representation in fashion.
You'll recall Canadian fashion model Evangelista was the longtime muse for photographer Steven Meisel. She was described as the "chameleon" in the fashion industry for her willingness to adapt and experiment with different looks — see her many different haircuts, from blunt bangs to short chops, over the years for proof! Least, but certainly not least, Turlington — who really needs no introduction either — became an iconic face for mega-brands like Maybelline and Calvin Klein in addition to working with the likes of Chanel and Valentino. In later years, she used her platform to advocate for various charitable causes — she started Every Mother Counts in 2010, a nonprofit organization dedicated to making pregnancy and childbirth safe for mothers around the world.
Now that you've been debriefed about the world's top models (and trust us, there's more to say, but we'll leave that for another time), read their full interview on vogue.com. Then, set your TV reminders to Sept. 20 for when Apple TV+'s documentary drops. In the meantime, if you love what the women wore on the cover, shop an edit inspired by their cover looks for your own model-approved look.