Penélope Cruz, Dua Lipa, & More Will Co-Chair The 2023 Met Gala
Here are all the details to know.
Theo Wargo/WireImage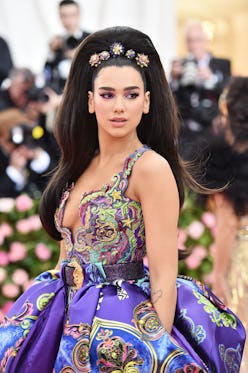 Karl Lagerfeld attended many Met Costume Institute Exhibitions, including the Alexander McQueen: Savage Beauty in 2011 and (naturally) the Chanel presentation in 2005. His presence was expected, and also surely an honor, as he'd long established himself as a force in fashion, from the time he shared the 1954 Woolmark Prize with another emerging designer named Yves Saint Laurent and continued to create iconic collections for luxury labels like Balmain, Patou, Chanel, and many more, as well as his eponymous brand. So, indubitably, this is why the 2023 Met Gala theme will be Karl Lagerfeld: A Line Of Beauty.
This year, the glamorous red carpet event — which benefits the Metropolitan Museum of Art's Costume Institute — will take place on Monday, May 1, with stars like Penélope Cruz, Michaela Coel, Dua Lipa, and Roger Federer as its co-chairs. The Costume Institute's Wendy Yu Curator in Charge Andrew Bolton has been tasked with assembling the exhibition, according to Vogue. Meanwhile, Amanda Harlech, who was long associated with Lagerfeld, will serve as a creative consultant for the exhibit. The chief sponsor of this year's showcase will be Chanel, with additional support slated to come from Fendi, Condé Nast, and the Karl Lagerfeld fashion brand.
Ahead, find all the 2023 Met Gala details you should know ahead of the big night. Then bookmark this post, as it will be updated with more information as it comes.
The Hosts
On Jan. 18, the Metropolitan Museum of Art unveiled a list of official co-chairs for the 2023 Met Gala. This year, Penélope Cruz, Michaela Coel, Dua Lipa, and Roger Federer will join Vogue magazine's Editor-in-Chief Anna Wintour in planning, choreographing, and hosting fashion's biggest night in 2023. These stars have a prominent presence in various pop culture realms from film to music to sports— and have walked the Met Gala red carpet at least once in the past. (Cruz, who's been a brand ambassador for Chanel since 2018, is arguably one of the most quintessential Karl Lagerfeld muses.)
The Dress Code
This is a focal point of any and all Met Gala events. This year's prompt, "In honor of Karl," is one that will allow guests to approach and interpret the sartorial theme in their own way. In his lifetime, Lagerfeld designed collections for luxury houses like Balmain, Patou, Chloé, Fendi, and Chanel, in addition to his own brand — so the attendees (and their stylists) can draw inspiration from a variety of fashion eras and aesthetics. In short, originality will be the name of the game on the 2023 Met Gala red carpet.
The Fashion Exhibit
After much consideration, Bolton devised a plan that will make for a celebration of the designer's work in a way that he would respect: "One thing I knew for certain is that we could not do a traditional retrospective," he told Vogue. "For one thing, I think Karl would have hated that. Even though one of his facets was that he was a historicist, and he would revisit themes in his work, he was always looking to the future in his own work — he hated looking back at the past. It was something he had a very conflicted relationship with."
Roughly 150 original looks, from all the houses he served at and his own line, will show up alongside their respective original sketches. Video interviews with the premiers whom he worked with at those same fashion houses, shot by journalist and director Loïc Prigent, will offer even more insight into the designer's life and work. Plus, the site's interior is designed by architect Tadao Ando, who Bolton said once designed a house for Lagerfeld that was never built. In A Line of Beauty, he'll bring some of its elements into the fold.
Per tradition, the presentation will be set up at The Met Fifth Avenue and revealed at The Metropolitan Museum of Art's Spring 2023 Costume Institute Exhibition on May 1. Then, it will be accessible to the general public from May 5 through July 16, 2023.
Where To Stream
Did your Met Gala invite get lost in the mail? No need to fret — you can catch all the sartorial highlights from the comfort of your couch, thanks to Vogue's live stream. You can tune in on Vogue.com or its social media platforms, including Instagram, Facebook, and Twitter. We suggest you log on at 6 p.m. EST sharp because you definitely don't want to miss a single look.
This article was originally published on