These Cult-Favorite Clean Beauty Products Have Transformed My Routine
@credobeauty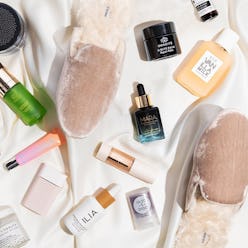 We may receive a portion of sales if you purchase a product through a link in this article.
If you've been paying even the slightest bit of attention to beauty trends in recent years, you've definitely heard the term "clean beauty" on repeat. Whether you're scrolling through TikTok, browsing the shelves of beauty retailers, or overhearing conversations at your local coffee shop, you can't escape the buzzy marketing phrase. The hype is understandable, considering these products are touted as being healthier for both you and the environment. Although I've admittedly never actively sought out these products before, the recent chatter, combined with living just one block away from one of the biggest clean beauty retailers, Credo, piqued my curiosity. I decided to learn more about this whole clean beauty business to determine if the products could *actually* rival my non-clean go-to's, all while improving my skin health.
My first order of business was to understand what clean beauty really means. The category has been a hot topic of debate because the definition isn't regulated within the industry. For some, the term equates to natural, organic, and sustainably sourced products. Others focus on the absence of specific harmful ingredients such as sulfates, parabens, or phthalates. From my own research, I've gathered that there are substantial benefits to making the switch to clean products. As someone with sensitive skin, certain additives and preservatives can trigger irritation and redness. So switching to formulas that are free of these potentially harmful chemicals will eliminate the risk of reactions. The brands in the space also often prioritize sustainability by using eco-friendly packaging and ethical sourcing — a no-brainer to get behind.
While finding *true* clean products can be tricky given the ambiguity in the category, there are a few tools that can help, such as apps like Yuka, which tells you the potential health impacts of food and cosmetic products by scanning their ingredient lists. While I've used the app when shopping for new items for my beauty routine, specialized beauty retailers, also make the task easier. The Detox Market and Credo, have their own set of standards customers can reference when shopping. Relying on their expertise, I embarked on my journey over the past few months to find conscious products that deliver real results, as good (if not better) than any non-clean ones.
My frequent walks past (OK, walks to) Credo have allowed me to test a wide variety of clean beauty products, from makeup to skin care to hair care. Through a lot of trial and error, I've discovered some incredible finds that actually do work wonders, and have transformed my beauty routine. The thought of giving up the items you've used for years can be tough, but knowing how much safer green formulas can be, I can't imagine going back. And while I haven't achieved my goal of a full clean beauty regimen just yet (still working on it!), ahead, I share the products I simply can't get enough of right now.
Makeup
Skin Care
Hair Care