These Tinted Sunscreens Are My Secret To Skipping Foundation All Summer
No-makeup makeup at its finest.
Alison Syrett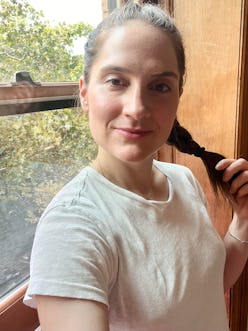 We may receive a portion of sales if you purchase a product through a link in this article.
Summer in NYC is a bit of a sweaty, sticky mess, but after 18 years of living here I have it down to a science. Step one? Invest in a high-powered air conditioner (two if you can swing it!). Next up? Stock up on soft, stretchy bike shorts to layer under all your mini dresses (because you definitely don't want, ahem, certain parts of your body making contact with the subway seats). And finally? Switch all your heavy foundations for tinted sunscreens that pull double duty.
I've found these 2-in-1 formulas to be essential on days when my regular makeup is starting to melt off my face the second I put it on. After all, I'm going to wear SPF daily anyways, so why not pick one that sneakily evens out my skin tone? And in some cases, if I'm opting for a BB or CC creme (FYI, the difference is they focus on coverage and color correction, respectively), it'll also do the work of a moisturizer and primer without inundating my face with too many tacky layers. IMO, a minimal, low-maintenance beauty routine is essential in hot, humid weather.
On days when going all but bare faced won't do, tinted sunscreens also serve as the ultimate blank canvas for a few final touches. I usually go for a few spots of concealer, cream blush, and mascara — maybe pressed powder if I have a long day ahead — before running out the door. Keep scrolling below for the formulas I've been reaching for in 80+ degree temperatures, and the products I team with them.