This Eye Mask Is Like A Weighted Anxiety Blanket — For Your Face
@angelacagliaskincare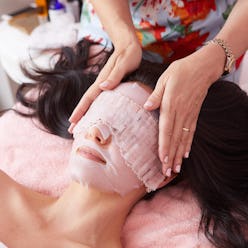 When I stepped into celebrity aesthetician Angela Caglia's treatment room, I wasn't looking to add a face mask hand-sewn from hundreds of rose quartz crystals to my collection — but that's exactly what I came away with. Honestly, everything about her La Vie En Rose Power Facial (a favorite of both Sting and Minnie Driver) was next-level, from the gentle extractions to the LED light therapy. But as soon as she laid that weighted face mask (and its matching breastplate) on top of my skin to help reduce puffiness, soothe post-treatment redness, and get me glowing, I relaxed into an almost meditative state. It was so calming, so luxurious… I knew I needed the tool in my life long-term. Thankfully, Caglia has made this core component of her signature facial available to anyone, any time, anywhere.
Read more: The Jade Roller Face Oils You Should Try, According To Derms
Read more: Why Jade Rolling On Your Neck Might Be More Important Than Your Face
"I wanted to create a more elevated version of the face roller experience for my treatment room," the aesthetician tells The Zoe Report of her range of rose quartz masks. (She offers a mini version, specifically designed for the eye area; as well as the full face and chest set, handmade from over 500 crystals, on her site.) "I was also inspired by the the popular anxiety blanket craze." Actually, that's exactly what this face mask is like: a weighted anxiety blanket for your face.
Caglia refers to it as her "Self-Love Mask," since rose quartz is considered the crystal of love. But beyond ~mystical magic~ (I mean, I'm a believer), the mask has actual, tangible benefits for the skin. "The coldness of the stones assists with lymphatic drainage, brightens dark circles, and increases blood flow for less puffiness," Caglia says. "Especially when the client is laying down, it's easier for fluid retention to drain via the lymph nodes, thanks to the positioning of the stones across the face." It also helps calm redness and irritation on contact, the same way an ice cube would (minus all the melting), so the aesthetician applies it following more intense facial treatments like peels and microcurrent lifting.
"Sometimes I'll place the face piece over my sheet mask to help further absorption and take the experience to a more soothing spa level," she shares — which is literally genius and a technique I've since stolen (to my skin's great delight).
The mask has also become part of my daily meditation routine, thanks to the whole weighted anti-anxiety thing — a practice that apparently dates back thousands of years, in the case of jade crystal eye masks. "Jade has been a part of Chinese culture from the early days," Karina Sulzer, the founder of Skin Gym, tells The Zoe Report. "It was known that they would weave these mask-like objects out of jade to lay over their face for relaxation purposes."
In contrast to the self-love vibes of rose quartz, Skin Gym's Jade Eye Mask emits "healing properties," Sulzer says, calling it the perfect accessory for some "me" time. "I personally love to use this during the few minutes of the day I have to myself," she tells TZR. "I close my eyes, turn on some soothing music, lay the mask over my eyes, and zen out."
There are no risks to using a tool like this — the cooling, calming qualities work for everyone — but experts do have a few tips for getting the most out of your crystal mask. For one, refrigerate before use, especially if you're targeting swollen eyes. "The increased cold will help with the puffiness and relieve tension in the sinuses," Sulzer explains. Secondly, use it over freshly-applied skincare products (or a sheet mask) — it'll make your regular routine that much more effective. And finally, don't forget to clean it afterwards. "Just wash with soap and water and lay flat to dry," Caglia says. "In my treatment room I also mist the stones with rose essential oil spray before each new client."
Ahead, treat yourself to a weighted crystal mask for clear skin — and a clear mind.
Shop Weighted Face Masks