How Models Keep Their Skin From Freaking Out During Fashion Month
IMAXtree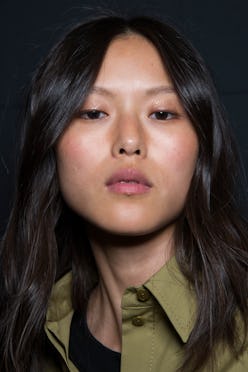 Models already have the privilege of being genetically blessed. For one, they're tall, so standing room-only concerts are actually enjoyable for them. They often get to travel, so their fashion week InstaStories are always interesting. They somehow make a plain T-shirt, jeans and sneakers, look eternally chic. Oh, and they often get the most luxurious, wow-this-really-works treatments, massages, and facials ahead of fashion month. But don't fret: the facials models get aren't exclusive to runway-walkers.
Even better: Because fashion month is majorly taxing on a model's skin — think: a rigorous schedule, hours of run-throughs, and heavy-handed backstage artists removing and applying makeup constantly — the treatments they get have to be legit. Beauties like Emily Ratajkowski, Shanina Shaik, Suki Waterhouse, Devon Windsor, and Nicole Williams have tried them, and even use them after the crazy month is over.
In fact, maybe everyone should take a model's approach to skin care: Dermatologist Jessica Wu told Dermstore that patients should aim to get a facial once a month — and massage once a week for good measure. Ahead, find all the details on the facials models swear by before and after fashion month.
Loved by Emily Ratajkowski
"My Triple Crown Facial is a favorite of my designer and model clients to prep their skin for New York Fashion Week," Joanna Vargas, celebrity facialist and founder of her eponymous skin care line, tells The Zoe Report. "I use a mild electric current to drain puffiness, tone muscle, tighten skin, and reshape the face. By the end of the first treatment, the jawline will be more defined, cheekbones more pronounced and eyes will look more refreshed. There's no downtime. The results are instant and the effects are cumulative!"
$250 for 60 minutes, $550 with Joanna
Loved by Shanina Shaik and Nicole Williams
The Runway Facial, a signature treatment from nurse practitioner and celeb facialist Melissa Haloosim, contains three crucial steps that give you seven days of dewy skin. "Step one, the laser facial, includes cleansing, steam, exfoliation, extractions, and the laser treatment," Haloosim says. "This unique laser stimulates collagen to help fill in fine lines while killing bacteria. Alone, the laser facial leaves your skin more vibrant and glowing for weeks." Then comes oxygen therapy, a combination of oxygen and specialized hyaluronic serums that help fine lines soften and blemishes disappear. Finally, LightStim LED lights help the body produce collagen and elastin, while penetrating the oxygen treatment into the skin. "After the process, makeup is applied more smoothly and less is needed," Haloosim notes. "Models love this treatment because their blemishes flatten out and dissipate, and they can wear less makeup [for a more] natural look."
Loved by Suki Waterhouse and Devon Windsor
It only takes 15 minutes to emerge from Skin Laundry's doors with a new and improved complexion. The two-step Laser & Light facial, performed by registered nurses trained to handle the equipment, uses a YAG laser and an IPL (intense pulsed light). The YAG, which deep cleans the pores and stimulates the collagen, along with an IPL that targets discoloration and bacteria. If you're a little bit skeptical about getting a laser facial, it's a fair concern — it is a strong light, after all, and the YAG is known to be a little painful (it's the same one used for laser hair removal).
"We use such a low energy that it's not like the IPL used to treat sun damage or vascular lesions in a doctor's office," John Eungdamrong, a board-certified practicing dermatologist, told Allure. (He was also the supervising medical advisor for Skin Laundry in New York at press time, preceding Adam Geyer, RN, the brand's global medical director). "It's very gentle... We think of this more like a maintenance part of your regimen, something to complement your dermatologic care."