The Jade Roller Mistake Dermatologists Want You To Avoid
Keep rolling right along.
@zovebeauty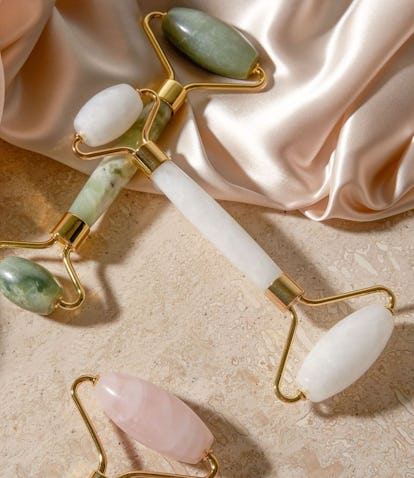 Regardless of if you use it to yield contoured cheekbones, maximize skin care efficacy, or just to get some precious self-care time in front of the mirror, one thing is clear — jade rollers are now as ubiquitous in skin care stashes and on bathroom counters as sheet masks. Crystal-carved massagers are offered by beauty brands both science-based (Dr. Brandt) and mystical-minded (Mazz Hanna), because really, who doesn't love the feeling of a smooth, cool crystal on their skin? While the fun and function of a jade roller are clear, the one thing that still trips many up is what exactly to pair with their jade roller. Are jade roller face oils even necessary? And what are the best products to pair with a jade roller?
Read more: How To Apply Face Oil Properly, Because You Definitely Need It In Your Routine
Read more: The Facial Benefits Of Ice Globes, A Spa-Inspired Beauty Tool
To put it plainly, yes, an oil or serum should be part and parcel of using any facial massage tool, experts agree. Dr. Courtney Rubin, board-certified dermatologist and co-founder of Fig. 1, explains to TZR that the fluids help give the skin slip, so the rollers move over the face easier without unnecessary pulling at delicate facial skin. "I recommend using a jade roller with a product that helps with slip and glide," Rubin says, pointing specifically to products with consistencies that mimic skin's natural sebum (read: oil). "In addition to enhancing your massaging benefits," she adds, "a jade roller can also help with better absorption of your skincare."
Read more: Why Jade Rolling On Your Neck Might Be More Important Than Your Face
Rubin tells TZR that jade rolling has three primary benefits: tension-easing massage, de-puffing through stimulating lymphatic drainage, and bolstering skin care products' results — "the gentle, massaging motion helps to stimulate circulation and gently presses your products into the skin. I like to use a jade roller with a serum or treatment since those products often contain the most active ingredients in your regimen," Rubin says. Because of that assistance, it can seriously pay to be strategic about which topicals you pair with the jade roller.
For instance, if you're dry, Dr. Amanda Doyle, a New York City dermatologist, suggests selecting a hydrating serum with hyaluronic acid. And if your skin tends to be reactive, pair your roller with a soothing product, like The Ordinary's Niacinamide 10% + Zinc 1% serum. "For those with sensitive, rosacea-prone skin, look for a serum with calming ingredients such as lavender, green tea, or rose extract," Dr. Howard Sobel, board-certified dermatologist and founder of Sobel Skin, adds.
According to Rubin, the ideal jade roller-friendly facial oil is one that supports that frictionless rolling without rendering skin too slick or slippery to actually be manipulated by the stone. "Look for ingredients like grapeseed oil, borage seed oil, and evening primrose oil, which help to lock in moisture and won't leave the skin feeling greasy," she advises.
For Michelle Ranavat, founder of Ranavat Botanics, pairing her tools with similarly-structured products lends some very effective results. She loves pairing her brand's Kansa wand — a rounded, Ayurvedic massager —with the saffron-infused Radiant Rani Serum. Since both are anti-inflammatory, they work in tandem to decrease puffiness and support a healthy glow. (Side note: If you personally prefer the texture of a moisturizer to that of a serum or oil, experts say that that's fine, too. The key is using a product that stays "slippery" on the skin while you massage.)
Still feel overwhelmed? Ahead, see a few expert-approved selections for perfect serums and oils to pair with your jade roller.
We only include products that have been independently selected by TZR's editorial team. However, we may receive a portion of sales if you purchase a product through a link in this article.