Should You... Stop Wearing Foundation?
Here's what the experts have to say.
@violette_fr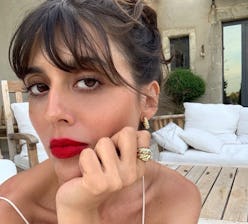 "Going foundation-free has transformed my skin," Michelle Phan, YouTube's first viral beauty vlogger, wrote in a 2017 tweet that blew fans' minds. Was one of the world's foremost makeup lovers — one who'd launched her own cosmetics company, at that — really saying she didn't wear foundation anymore? She was. Since then, the no-foundation makeup trend has only continued to grow. French makeup artist and Estée Lauder Global Beauty Director Violette doesn't bother with the stuff. Actress Tracee Ellis Ross recently told Vogue she's abandoned all base. Coupled with the rise of the skin positivity movement, it's clear: Foundation is no longer an "essential." It's entirely optional.
"Creating a makeup look without a layer of foundation gives the skin the opportunity to breathe and most importantly, to look and feel fresh," Jaleesa Jaikaran, an editorial makeup artist whose work has appeared in Essence, tells The Zoe Report. And yes, giving the skin a chance to breathe does mean revealing some of its so-called "imperfections" — but that's a good thing, says Jaikaran. "I love how everyone has begun to embrace their skin and openly share the issues they face whether its acne, hyperpigmentation, or whatever else may be perceived as an issue," the makeup artist shares. "I believe that the beauty standards we once were forced to conform to have now broken, and I am looking forward to seeing more people share their love for beauty and skin unapologetically." (To see this in action, check out "skin positive" influencers like Sofia Grahn of @isotretinoinwiths and Lex Gillies of @talontedlex.)
It's a sentiment that echoes throughout the industry. "I am a pore enthusiast and love creating skin that looks and feels like skin on my clients," Vincent Oquendo, a celebrity makeup artist with Lumify whose clients include Janet Mock and Regina King, tells TZR. Instagram's glossiest makeup artist, Katie Jane Hughes, feels the same. Her grid often features close-up shots of her unedited pores, with captions like "real skin always" and "#normalizeskintexture."
Besides embracing the inevitability of pores and pimples and scars —which may help soothe some of the insecurity beauty enthusiasts often feel around blemishes — the less-is-more look has tangible, physical benefits, too: As Phan hinted at back in 2017, it may even help reduce said pimples and scars. "I think the less makeup you can put on your skin, the better because it allows you to potentially avoid ingredients that can be harmful to the skin," Dr. Mamina Turegano, M.D., F.A.A.D., a dermatologist who works with direct-to-consumer dermatology company Apostrophe, tells TZR. She notes that foundation can contain substances like silicones and mineral oil, "which essentially can suffocate the skin and lead to clogged pores and acne." Dr. Turegano also warns against the preservatives and fragrances often found in these products, since these can trigger contact dermatitis. "This can result in redness, scaling, dryness, or swelling in the skin," she says.
Ready to test the skin-positive, pore-happy waters? "If you are trying to shift away from using foundation, I recommend starting with concealer first," Oquendo says. "I love to work with two shades; one a shade or two lighter than your skin tone to help brighten and conceal under the eyes, and another shade that matches your skin tone to sculpt around the cheeks, hairline, and jawline." Set the concealer with a loose powder, or just let it melt into your skin. "My favorite kind of makeup is when it has had time to live on the skin and mix with your natural oils," he says. "The skin just looks fresh and alive."
Jaikaran also suggests spot-concealing where needed but adds, "I love a touch of cream highlighter on bare skin." If you feel like you need a little more coverage than concealer and highlighter can give, the MUA suggests a tinted moisturizer. "It's a mix of skincare and makeup and feels a lot lighter than your traditional foundations," she says.
From there, go forth and apply your makeup as usual — whether that's a swipe of mascara and gloss, or a full-on smokey eye, or a bright and bold lip (one of Ross' go-to looks). Sans foundation, whatever you do is bound to feel fresh.
Ahead, shop eight foundation-free essentials.
Shop No Foundation Makeup