The Best Drugstore Highlighters That Makeup Artists Use For A Million Dollar Glow
Imaxtree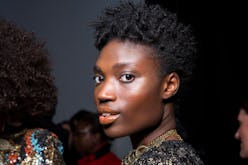 A good highlighter isn't unlike a good bra: It lifts you up and works to enhance your features. And just like lingerie, you don't necessarily have to drop hundreds for something that makes you feel beautiful as you look. There are tons of affordable drugstore highlighter products on the market that are can lend a similar kind of high-wattage glow as their more expensive counterparts.
The main concern with drugstore highlighters, typically, is the texture. But Rebecah Janian, a Los Angeles-based artist who works with Bianca Lawson, says that the tide is turning on that front. "Makeup companies have stepped their game up so much that it's hard to find a product that isn't good, especially with a go-to item like a highlighter," she tells TZR.
Once you've found the best shade for your skin tone and texture, you also have to be precious with the way that you apply it. "By building the coverage up slowly, you will get a better color payoff so it's not too caked or cheap-looking," Dana Delaney, a celebrity makeup artist, adds. "I often love to layer a powder over a creamy texture, or you can dampen your powder highlighter for more pigment."
Placement is also a huge factor: Delaney likes to add it to the high planes of the face: the top of cheekbones, the temples, and sometimes the bridge of the nose. "For creams, tapping into the skin with my fingers is my preferred method," she notes. "For powders, I love using a smaller pointed dome brush for more precision. That way I have more control on the placement."
Ahead, find the most affordable selections that don't sacrifice quality.