Priyanka Chopra's Latest Makeup Look Proves There's No Such Thing As Too Much With This Fall Color Trend
Matt Winkelmeyer/Getty Images Entertainment/Getty Images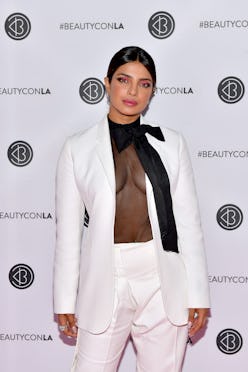 There are a lot of sayings that tout restraint. You've likely been advised that "everything in moderation" are words to live by, and you know what they say about "too much of a good thing." But as far as 2019's fashion and beauty trends are concerned you can go ahead and throw those idioms right out the window, because they no longer apply. Need some proof that no matter how bold the look, you should go even bolder still? Priyanka Chopra's hot pink lipstick, which perfectly complemented, nay completed, her head-to-toe pretty in pink moment.
When Priyanka Chopra stepped out in New York City on the night of Oct. 8, it was nearly impossible not to notice. To call the look bright is almost an understatement, considering the actress was dressed from top to bottom in tonal shades of eye-catching bubblegum pink, perhaps in a nod to her new Bollywood film, entitled The Sky Is Pink.
Her vibrant fuchsia turtleneck and gum ball-hued pencil skirt, both by designer Rebecca Vallance, were tempered only slightly by pointed toe pumps in a paler iteration of the shade, and she carried a straw bag that tied the look together via light pink trim. But her more is more mentality didn't stop there.
To tie the on-trend monochromatic look together, Chopra opted for an equally bright shade of hot pink for her pout. And sure enough, everything you were ever told about moderation is proven wrong. The electric shade, which features the same candy pink tones as her fashionable ensemble, takes the entire outfit to the next level and ensures her otherwise sleek beauty routine of glossy, straight hair and subtly enhanced eyes look doesn't get lost in the mix.
And this isn't the first time that Chopra took things in a very tonal direction. Back in September, the actress paired a rich red Oscar de la Renta strapless gown with a matching burgundy lip for the Vanity Fair Best Dressed List party, and on Sept. 22 she uploaded an Emmy's throwback post (the star didn't attend this year) that featured a scarlet gown and coordinating lip. Clearly, the formula works.
Ready to recreate the head-to-toe color story for yourself, or simply can't resist a bright pink lip to pop against more muted colors? Either way, browse some hot pink lipsticks that'll achieve Chopra's latest look, below.
Shop The Look