This New FDA-Approved Injectable Moisturizer Is Like Drinking 8 Glasses Of Water A Day
CoffeeAndMilk/E+/Getty Images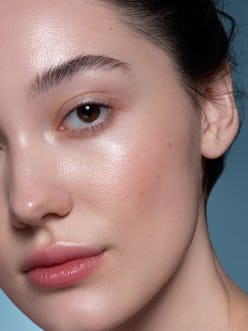 For all of its innovation, the injectables category hasn't actually evolved at quite the same pace as other non-invasive categories. While there have been plenty of new launches like Daxxify, a longer-lasting neurotoxin that smooths forehead lines and wrinkles, and Volux, a jawline-sculpting filler, they tend to be variations of existing products. It's been ages since there's been an entirely new category of injectable to partake in. Until now, that is. Approved by the FDA in May 2023 and rolling out to dermatologist's offices in real time, Skinvive by Juvéderm is a hyaluronic acid injectable moisturizer for the cheek area that promises to create long-term smoothness, hydration, and glow for the skin.
Ahead, TZR spoke with Dr. Macrene Alexiades, M.D. a New York City-based board-certified dermatologist and founder of Macrene Actives, and Dr. Terrence Keaney, M.D., a board-certified dermatologist and founder of SkinDC in Arlington, Virginia, to learn what makes this new injectable so revolutionary and why everyone will be lining up to get their Skinvive fix.
What Is Skinvive?
Up until very recently, injectables have served two purposes: to freeze muscles or fill volume. You can smooth and soften your fine lines with wrinkle relaxers like Botox, Xeomin, Jeuveau, and Daxxify or help sculpt and fill in lost volume using an array of fillers like Restylane, Sculptra, Radiesse, Belotero, Perlane, or Juvéderm. With the introduction of Skinvive, an entirely new category of injectables now exists for those patients looking to create long-lasting hydration throughout their complexion. It's the injectable equivalent of chugging your recommended two and half liters of water a day for plump, bouncy, hydrated skin.
"Skinvive is the first and only intradermal microdroplet [hyaluronic acid] injection approved in the US designed to improve skin smoothness of the cheeks," says Dr. Alexiades. It addresses skin quality as opposed to skin structure, so unlike other hyaluronic acid injectables, Skinvive is not going to change the shape or contours of your face.
"Hyaluronic acid dermal fillers are linked hyaluronic acid chains that are placed deep in the fat layers to lift the skin up," says Dr. Keaney. "They're not really interacting with the skin itself. Skinvive is designed to be injected in the dermis into that superficial skin layer, so it interacts with the skin to actually not only itself provide some extra hydration or firmness to the skin, but also to actually attract water [to the skin] — sort of how we use topical hyaluronic acid products." That's the main reason why it's been nicknamed as an injectable moisturizer, explains Dr. Keaney, as it's working on the skin layer to help hydrate. "It's almost like a time-release moisturizer," he explains.
The Benefits Of Skinvive
Skinvive has been used in Europe since 2017 under the name Volite and is one of many injectable moisturizers being used overseas (you've probably heard of Profhilo, which has been getting lots of press in the past year), however Skinvive is the only one with FDA approval in the US. "The FDA approval process is rigorous and of far higher standards of safety and efficacy as compared to clearance in the EU," says Dr. Alexiades, who was the lead investigator on the clinical trials. "The science behind Skinvive is therefore far more impactful and proven."
For the clinical trial, Dr. Alexiades noted that 63% of patients were satisfied with how radiant their skin looked at six months compared with 11% before using Skinvive. "Treatment is designed to improve skin smoothness and increase hydration," says Dr. Alexiades. "We believe that due to improved skin smoothness, light reflects better off the cheek area, resulting in patients reporting a lasting glow."
A European consumer study also found that patients treated with Skinvive had an increase in aquaporin (a water channel protein). This boost may signal an increase in skin hydration, however more studies are needed in order to confirm this correlation.
While in the US, treatment is only approved for the cheek area, Dr. Alexiades has been using Skinvive on her EU patients for years and notes she has had success there for fine lines on the forehead and neck, but says she will be sticking to on-label use only in the US for now. But, it's something to look forward to once dermatologists get more comfortable with injecting the new formulation.
Who Is A Good Candidate For Skinvive?
Like its topical moisturizer cousins, Skinvive is approved for all skin types and tones, save for those experiencing active acne breakouts and eczema flare-ups. Because it is an injectable, its FDA approval is currently limited to those 21 and over. According to Dr. Alexiades, the ideal candidate for Skinvive is anyone with fine lines, wrinkles, or roughness on the cheeks. She also notes that those patients who complain about skin texture quality would also benefit from a treatment.
While Dr. Alexiades has noted that Skinvive could function as a possible alternative to some laser treatments to help address those skin texture and quality issues, Dr. Keaney is less optimistic, noting that there is not yet clinical evidence of Skinvive's ability to stimulate collagen and elastin production. "There is some data that the hyaluronic acid in Skinvive may help upregulate collagen and elastin, but I don't think it alone is going to revive enough collagen and elastin that is lost with [exposure to] sunlight and age," he says. "You still need an additional injury to the skin to upregulate the collagen and elastin and traditionally the way we've been doing that is injuring the skin [with lasers] to get a wound healing response." He does however note that there are injectables on the horizon to address collagen and elastin loss without having to injure the skin.
How Does Skinvive Work & Is It Painful?
While Skinvive is a hyaluronic acid injectable, Dr. Keaney notes that the process is more akin to a Botox injection than the existing hyaluronic acid fillers on the market. That's because Skinvive is being injected more superficially into the dermis rather than the deeper dermal layer and is a much lower concentration than fillers. "A higher concentration linked hyaluronic acid acts almost like a gummy bear — it sticks together, it lifts," he says. "The concentration of Skinvive is much lower, but it's still linked, so that gives it the duration [of the effect]." The lower concentration means it has a more watery consistency and spreads out through the skin.
A typical appointment for Skinvive, according to Dr. Keaney, would consist of having numbing cream applied to the skin — he notes that the formula itself does have lidocaine in it but that most dermatologists also apply numbing cream for patient comfort. Your derm will then assess how many injections are needed based on your age and the severity of environmental damage. "It's a series of small injections in the cheeks, done in a grid and the grid size depends on age, severity of dullness and photoaging," he explains. "The grid is usually a 0.5 centimeter or a 1 centimeter grid and it's roughly around 20 to 50 small injections per side done very high in the skin. It's a different plane than we're used to injecting products so it's a bit of a Goldilocks situation where you don't want to put it too high or too deep because then it just kind of disappears." While the needle itself is similar to the gauge used for fillers, Dr. Keaney notes that the experience will be more similar to Botox as it's a lot of little injections, just isolated to the cheek area.
As far as pain is concerned, Dr. Keaney says that the cheek area tends to be relatively pain-free, but as you get closer to the nose, that area can get "a little spicy." However, that pain comes with the bonus of potentially reducing pore size. "There is some indirect data that when you hydrate the skin, the pore size can improve as well," he explains. "Decreasing pore size is our holy grail — everyone wants to but we don't have great options." Until now, it seems.
How Long Does It Take To See Results?
While you might see some improvement within a few days after treatment, full results won't kick in until about a month after your treatment. That's when you can expect to see an increase in hydration, smoothness, and overall radiance in your complexion.
The Side Effects Of Skinvive
Because Skinvive it being applied so superficially, the side effects being reported have been minimal. As with anything involving needles, there is always a risk of bruising. Dr. Keaney also notes that because the product is being injected into the dermis, there is also a possibility of small bumps forming beneath the skin, however those can be easily massaged out by your provider.
After care is key, notes Dr. Alexiades, especially after so many injections into the skin. Her protocol with patients is to immediately follow with topical peptides, antioxidants, and micro-encapsulated hyaluronic acid to help repair damage, boost skin's performance, and augment the results of the treatment. Her post-treatment products of choice are her namesake Macrene Actives High Performance Face Cream and Serum, used twice daily in that order.
How Much Does Skinvive Cost?
Like any injectable, the cost for Skinvive will depend on how much you wind up having injected and where you are located. According to Dr. Alexiades, the annual price for Skinvive could range from $500-$2,000.
How Long Does Skinvive Last?
While some patients requested touch-ups after their first month, the majority of those in the clinical trial saw their results last a full six months before needing to re-up their injections.
With its promise of smoother, dewier, more radiant skin with every treatment, it's easy to see why the hype around Skinvive has reached a fever pitch. Injectable moisturizers are an entirely new class of injectables, the first in decades, and represent a shift in non-invasive cosmetic treatments and how you'll be able to care for your complexion in the future.