Valentino Beauty's First-Ever Concealer Is Here — So We Tried It
TZR editors put the brand's latest innovation to the test.
Jessica Fields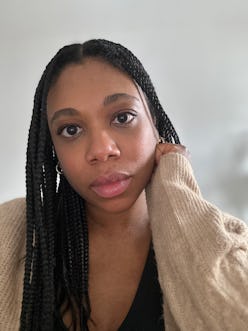 We may receive a portion of sales if you purchase a product through a link in this article.
In our series Trial Run, TZR editors and writers put the buzziest new beauty products to the test and share their honest reviews. This week, the TZR beauty team is testing the buzzy Valentino Beauty Very Valentino Concealer.
Since its debut in 2021, Valentino Beauty has had a knack for creating makeup products that go viral. The Twin Liner, a dual-ended eyeliner pen that includes separate liquid- and gel-based sides, is a prime example. Thanks to #beautytok's rave reviews, it kept selling out last summer, creating a Hunger Games of sorts for makeup enthusiasts dying to get their hands on one. The brand's first launch of 2023 is set to create a similar frenzy. Meet the Valentino Beauty Very Valentino Concealer, the brand's first concealer and companion to the Very Valentino Liquid Foundation.
Like the rest of the brand's current lineup, the concealer is designed to fit seamlessly into your makeup routine. According to Valentino, it's "a next generation concealer offering a lightweight second-skin finish with a result that lasts all day." On top of the natural, comfortable look, the formula can be used to even out discoloration and dark circles, highlight, and sculpt the face. It comes in 20 shades including options in three undertones: Rosa (pink), Neutra (neutral), and Ambra (warm). Lightweight? Multitasking? Long wear? These elements are what make the concealer catnip for TikTokers.
So, is Valentino Beauty's Very Valentino Concealer going to be the next cult-favorite product? TZR beauty editors put it to the test. Ahead, three honest first impressions and reviews.
Fast Facts
Price: $35
Size: 0.2 fl oz
Clean/Cruelty-Free: No
Best For: A natural, second-skin finish and minimizing dark circles
Ingredient Highlights: Caffeine, vitamin E, light-reflecting pearls
What We Like: Blends easily, hydrating, shades are inclusive of various undertones
What We Don't Like: Not enough coverage for blemishes
Rating: 4/5
How TZR Keeps Score: 1/5: Making a return; 2/5: Keeping as a backup; 3/5: Finishing to the last drop; 4/5: Recommending to my group texts; 5/5: Already on auto-replenish
The Formula
Loaded with staple skin care ingredients including glycerin, vitamin E, and caffeine, the concealer is uber-hydrating and has a smooth, serum-like texture. The formula also features the brand's Roma-Light Complex, a proprietary technology consisting of micro-fine reflecting pearls that add a luminous finish to the concealer. Together, these ingredients ensure the product douses the skin with long-lasting hydration (the brand promises 24 hours) and doesn't cake or crease with wear.
The concealer comes in a compact bottle with the brand's signature Valentino red cap and gold "V" emblem. And while these details make it worthy of a spot on your vanity, the bold design will also be easy to spot in your makeup bag or purse. The applicator is also special. It has a unique feather shape that allows you to apply the product in a number of ways. The flat surface can be used to distribute the concealer to target areas, while the pointed tip ensures you're applying the right amount of product every time.
To use the concealer to highlight, the brand recommends applying a lighter shade to the bridge of the nose, the under-eye area, and cupid's bow; to cover blemishes and discoloration, use your perfect shade match; and to sculpt the face, opt for a darker or lighter shade based on your skin tone, and apply it to forehead, jawline, nose, and cheekbones.
Our Experiences & Results
Faith Xue, Executive Beauty Director, BDG, Wearing LN2
"I was surprised by the water-like texture of this concealer at first, but loved how it sank in instantly and smoothed things over. This is the perfect under-eye concealer — it brightened my eye area with just two dabs and made me look instantly wide awake. It's a bit too light consistency-wise if you're looking for a concealer to cover blemishes, but it's perfect for a skin-smoothing, filter-like effect."
Jessica Fields, Beauty Writer, TZR, Wearing DN2 & MA4
"Most days my base makeup routine is pretty low-maintenance with just a dab of tinted moisturizer and concealer. The application of the Very Valentino Concealer was smooth and the finish made my under eyes look healthy and refreshed, which I really liked. I used two shades: Deep Neutra 2 to match my skin tone and Medium Ambra 4 to brighten. I noticed that it stayed put as the day went on, but the overall coverage was a little too sparse for my preference, so I'd likely stick to using it on my makeup-free days only."
Erin Lukas, Deputy Beauty Editor, TZR, Wearing LN3
"This concealer instantly melted into my skin as soon as I applied it, with barely any blending required. It really brightened my under eyes and evened out some redness, however, it didn't provide enough coverage for the two crater-sized, cystic zits I have on my jawline so I went in with a heavier product to cover them. With that, the overall finish was super glowy and I looked generally more awake and radiant (which I definitely needed after a late night covering the Oscars red carpet). I'll continue using the concealer in my routine to highlight my under eyes, and use it all over on days when I'm not dealing with hormonal breakouts."
Is Valentino Beauty's Very Valentino Concealer Worth It?
Thanks to its hydrating formula, this concealer is effortless to apply and has a natural, radiant finish that instantly made all three editors look like we got at least eight hours of sleep that night. So while it may not be rich enough to cover blemishes, the Very Valentino Concealer is worth trying for no-makeup makeup looks or cocktailing with other concealers to create a glowy complexion look that isn't heavy or cakey. In other words, it would be a welcome addition to any spring makeup routine — the time of year when shedding layers (both clothing and makeup) is the general MO.