How AR Is Changing The Way Pat McGrath Creates Runway Makeup Looks
The legendary artist shares the details on her Google partnership.
Courtesy of Pat McGrath Labs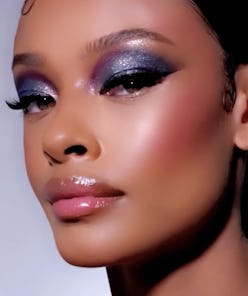 Pat McGrath — the legend, the Dame, the Mother — is what many people would call a virtuoso. Whether she's conjuring up magical makeup looks for runway shows or designing celebrity red carpet beauty moments, her talent is unmatched. Skillset aside, it's art and creativity that makes McGrath's mind tick. And if her story has taught us anything over the years, it's that there's never a dull moment when it comes to her eponymous brand Pat McGrath Labs. Since launching in 2015, the label has had many interesting collaborations (Star Wars, Bridgerton, and Supreme just to name a few). But her latest partnership with Google takes makeup to a whole new level.
McGrath has now crossed over into the world of augmented reality (AR) and is at the forefront of it. At a New York City pop-up event held earlier this month, aptly titled The ARt OF BEAUTY, shoppers could marvel and virtually try on many of the brand's iconic makeup products. Beauty and tech have long been interconnected. But Pat McGrath Labs' use of Google's AR beauty tool is truly innovative. Through the lens of your computer or phone, you can test each and every one of the brand's ultra-pigmented products before purchasing them. The "try before you buy" method is also fun way to test new colors and finishes. But beyond shopping, this partnership has the ability to change the way makeup looks are created.
Ahead, McGrath shares more about the pairing and her thoughts on how it can help shape the beauty industry for the better.
Merging Makeup & Technology
There's a lot of thought that goes into McGrath's products. From the gift-like packaging that's adorned with paintings and gilded emblems, to the formulations that deliver intense color payoff and finishes. As expected, McGrath brought that same energy to AR. "Going beyond the colors, we worked very hard to make sure that the finishes were true to what I know my incredible formulas to be," she tells TZR at a preview of her NYC pop-up.
These elements are what make her products so special to wear and to shop. Be it matte, glossy, or glimmering, the tool allows you to create a life-like look that you could try on anywhere. "I'm so obsessed with the sparkle, the dimension, and the shine of makeup in real life, and that needed to come through." She explains that while color is certainly important, it's less than authentic without showcasing the finish the real products deliver.
Like all artists, McGrath is a creative at heart and she approached this endeavor with that mindset. "I have to say it was really fun to be able to work on different eye shapes using my palettes," she shares. "We designed everything to mimic reality so that you could add a beautiful little smoke to your eye or a touch of shimmer. Even deciding on the shape of the lashes and the eyeliner was satisfying to see the virtual results."
Diversifying Your Makeup Experience
The conversation of diversity within beauty is always evolving. While complexion products are generally at the center of the discussion, McGrath tells TZR that bold colors can be just as difficult to approach for darker skin tones. But with AR, much of that worry is eased. "What's amazing about this is that everyone gets to play without caution. Being able to try on a color beforehand and learn what works for you is a helpful tool when you're testing new shades," she says.
She's right of course, as a golden lipgloss or bubblegum pink matte lipstick (both of which can be found in McGrath's collection) aren't exactly most people's first pick."Here, you can try colors that you wouldn't dream of picking up and see how they'll work on your skin tone. And all from your home! I think it allows you to have more fun in a way," she adds.
The Future Of Runway Beauty
Known for creating several iconic runway looks at fashion weeks across the world, McGrath's always thinking about moving the industry forward. "Inspiration can come from anywhere when you're working on a show. Take this season, for example, where I looked to beauty moments from the '70s and '80s to create a juxtaposition between minimal and maximal aesthetics," she says.
A few standouts from the Spring/Summer 2024 season? "At Louis Vuitton, [this season] there was a beautiful soft smoky eye. Then at Schiaparelli it was full glamour with the bright red lips and bold cheeks," she says. Creating so many looks takes a lot of time. That's where AR comes in. "I love to see options when designing a look and this makes it so much faster. My team was able to present me with 10 options in just two minutes," she shares. With those statistics in mind, you can only imagine how a simple idea like virtually trying on eyeliner, mascara, or lipstick can change the way makeup artists approach fashion shows.
Much like the artist herself, the partnership between McGrath and Google dares you to dream. Whether you're shopping for a new staple lipstick shade or are playing around with bright colors and glitter, you'll find it hard not to be amazed by the results. "It's all about having fun, being experimental, and creating something magical. And for me, that's what makeup is really about."