I Tried Morpheus8 For Skin Tightening & I Didn't Expect These Results
An honest review of the treatment with before and after photos.
Kathy Lee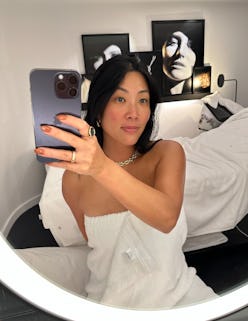 Standing Appointment is our review series that investigates the best new and notable cosmetic treatments in the aesthetics space and determines whether or not they are worth trying for yourself. This week, editor-in-chief Kathy Lee tests Morpheus8 by InMode for sagging skin.
If you somewhat follow celebrity news, you may have come across Kim Kardashian's viral Instagram post touting Morpheus8 as her favorite treatment to tighten her stomach. While she looks great — I mean more than great, flawless — I still wasn't convinced to try the procedure for myself until I visited celebrity esthetician Joanna Vargas who mentioned that Morpheus8 is what she recommends when it comes to improving skin elasticity on the face.
Listening to Vargas, who takes a holistic approach to beauty, I was intrigued to see if it really worked and whether I would see results. I tend to be skeptical when I hear of a new treatment or product that claims to remedy any of my skin concerns. But, considering those issues remain and I wasn't going to experiment with going under the knife anytime soon, after much due diligence, I decided that the treatment is a low-risk — although quite painful — option to target the loss of firmness in my skin.
While I am open to trying injectables, I first wanted to try a treatment that would target all of my face as opposed to specific areas, as my concern is that the latter would make my face appear incongruous, no matter how talented the doctor. With Morpheus8, I was particularly interested to see if the areas around my jawline, submental area (under the chin), nasolabial folds (the sides of my nose), and my brows would be lifted and tightened after the sessions.
Below, I break down everything you need to know about Morpheus8, including what happens during the treatment, side effects, and my before and after pictures so you can judge the outcome for yourself.
What Is Morpheus8?
Morpheus8 is a fractional radiofrequency microneedling treatment. This entails the simultaneous delivery of both heat and microlesions via microneedles into various layers of your dermis, with treated areas interspersed with untreated areas to allow for quicker healing and decreased downtime.
The radiofrequency energy, which is able to penetrate at a deeper level than lasers without damaging the epidermis, stimulates collagen production in the underlying layers of the dermis. And the microneedles make tiny wounds in the skin to facilitate repair and the development of new and healthier tissue.
On areas like the abdomen, the microneedles and radiofrequency heat can be adjusted at a deeper and higher level, respectively, to reach the adipose tissues, aka fat tissues, and as a result possibly target fat reduction in addition to addressing skin laxity.
Which Skin Concerns Is Morpheus8 Best For?
"Morpheus8 can treat a wide range of skin concerns including fine lines, deep wrinkling, jowls, loose and crepey skin, acne scarring, and hypertrophic scarring," says board-certified dermatologist Dr. Anetta Reszko, M.D., Ph.D, who performed my treatment in New York City.
Morpheus8 is considered a minimally invasive treatment, so those with skin laxity too mild for a more invasive procedure like a facelift or those who are not interested in injectables like fillers or neuromodulators, may find this treatment a suitable option. On the other hand, those who do opt for a facelift but would like to smooth out the fine lines and texture post-operation can utilize this treatment for those concerns.
As for those who should avoid it, Dr. Nkem Ugonabo, M.D., M.P.H., a board-certified dermatologist at Union Square Dermatology in New York City, advises that patients who have certain medical conditions such as poorly controlled diabetes or active infection and rashes in the area, or issues with wounds healing should consult with their doctor prior to seeking the treatment. Adding that, "with all microneedling devices, there is a risk of prolonged redness, swelling, hyperpigmentation and scarring. Some of this can be mitigated by carefully choosing the settings but the risk does not go down to zero."
However, compared to lasers, the radiofrequency energy utilized in Morpheus8 has a very low risk of post-inflammatory hyperpigmentation, making it suitable for darker pigmented skin types.
My Experience
Pre-Treatment
At my consultation, Dr. Reszko assessed my skin and, based on its condition, recommended three sessions at four to six weeks apart. Two to four sessions at one month apart is typical, but may vary depending on the state of your skin. After examining the hyperpigmentation and melasma on my skin, she prescribed hydroquinone for 30 days to limit the possibility of melasma exacerbation and to minimize any possible post-inflammatory hyperpigmentation. She also recommended that I avoid active skin care ingredients (vitamin C, retinoids, and strong acids) five days before and after the treatment.
At each session, topical numbing cream was applied to my face and neck, with additional local lidocaine injections to the latter. You have the option for laughing gas as well to distract from the discomfort if you like. Thereafter, I waited for about 45 minutes to an hour for the numbing agents to kick in.
The Treatment
The actual procedure took approximately 20 to 30 minutes, with two passes done on the face and neck, and three on the jawline and submental area. The depth of the needles are dependent on which part of the body it's addressing, with one to two millimeters for the face, three for the neck, and deeper in places like the abdomen (more passes are done on this area as well).
For someone who considers herself with a high pain tolerance, Morpheus8 was about an eight out of ten. The saving grace was that as soon as I would feel the pain of the needles (even with numbing cream), they would already be out and ready to be inserted into a new part of my face. I didn't feel a thing on my neck due to the added lidocaine injection.
Post-Treatment
Following the treatment, while the pores are open, Dr. Reszko offered an oxygen facial to help heal the skin and thereby reduce redness as well as facilitate collagen formation. The facial entailed the use of a device that converted ambient air into pure oxygen in order to deliver antioxidants and anti-inflammatory amino acids and growth factors directly into the skin without ever touching it.
Thereafter, Dr. Reszko advised not to wash my face or neck until the following morning, to avoid any active skin care ingredients, and to apply her growth factor serum — a proprietary blend of growth factors and bio-stimulatory peptides — "to help stimulate collagen and create volume directly in the intradermal region of the skin. This not only encourages healing, but provides optimal rejuvenation from both inside-out and outside-in," according to Dr. Reszko. Lastly, any activity that causes you to sweat should be avoided for at least 24 hours to prevent clogging your pores and causing any acne to form.
What Is The Downtime?
While I should have been wise and brought a hat (especially since you can't apply sunscreen after) and a pair of large sunglasses for my commute back home, it is a safe bet to cancel any plans that day or night. The following morning after my first session, however, I went back to my packed schedule as usual and my face looked fine, although slightly scaly. My makeup didn't apply smoothly over my reptilian-like skin, but it wasn't that noticeable to others beside myself. After my final session, I had some under eye swelling and tiny needle scabs along my temples, but again with a little foundation and strategic concealer placement, I went on with my routine the following day.
My neck, on the other hand, had red markings from the bottom area above my collar bone all the way up to the top, as more frequent, deeper passes are done in this area. However, it faded quite quickly, and the following day I was wearing a crew neck without much visibility of said markings.
In general, the redness subsides by day three post-procedure and the bumpy texture goes away in around two to seven days as the new layer of skin comes through. It's important to avoid sun exposure for up to three days post treatment and to wear mineral sunscreen with at least SPF 30 and zinc oxide or titanium dioxide the day after the treatment.
Results & How Long Does It Last?
Immediately after each session, there was a noticeable tightening sensation on my face and submental area, and I noticed both had a lifted appearance. The laxity of the area under my chin was visibly less so and the skin felt firmer. After three sessions, the skin over my eyelids was slightly raised, and, due to the overall lifting of the cheeks, the nasolabial folds were noticeably less pronounced and the jawline defined. You can also see from the before and after images that my cheeks are less hallow and skin more plump.
In regards to my dark spots and melasma, most appear to be smaller and muted while one or two spots look more pronounced. Board-certified dermatologist Dr. David Kim, M.D., M.S, of Idriss Dermatology in New York City, informed me that Morpheus8 "is not the best device to treat hyperpigmentation including sun spots and age spots. Lasers, such as a Fraxel and Clear and Brilliant, are better for treating brown spots," but that Morpheus8 "is great for fine lines and skin tightening," which is what I went in for in the first place.
For maintenance, Dr. Reszko advised me to return once a year, which can differ by patient, and to consistently use retinoids and mineral sunscreen as part of my skin care routine.
Is Morpheus8 Worth It?
As someone who avoids neurotoxins and fillers (for now), and has no plans for more invasive procedures like a facelift anytime soon, Morpheus8 is worth the price tag and pain. At $2,900 a session at Dr. Reszko's Park Avenue office — which includes Morpheus8, the growth serum, and post-treatment oxygen facial — it's no pocket change, for sure. However, my annual budget for aesthetics would be limited to this and perhaps a laser for hyperpigmentation, should I decide I need it based on the state of my skin. Therefore, I would absolutely justify the price tag.