The Real Pros & Cons Of Botox & Fillers, From Women Who've Used Them For 5+ Years
All your questions about injectables, answered.
ATeam/Shutterstock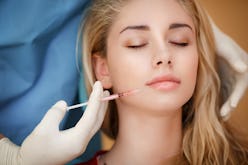 If you're thinking of getting injectables for the first time, chances are you have a few questions. This is your face, after all — you don't want to let a stranger start poking around with a needle before you've had a chance to do your research. The pros and cons of injectables vary depending on what type of procedure you're doing, but experts say one of the biggest advantages to using temporary fillers and muscle-relaxing treatments like Botox is that it's just so easy — the whole process usually only takes a few minutes, with no major recovery time needed.
Read more: Here's How To Help Your Injectable Filler Last Longer
Read more: How To Budget For Injectables — According To 9 Women Who Get Them Regularly
"Most of these are immediate gratification treatments," Dr. Inessa Fishman, a facial plastic and reconstructive surgeon in Atlanta, GA, tells TZR. In general, there are two popular types of injectables: neuromodulators, such as Botox, that paralyze the muscles that cause wrinkles through movement, and fillers, substances that act as plumping agents to fill lines and wrinkles that exist when your facial muscles are at rest. Both types are not only fast, Fishman says, but they can also yield some truly beautiful results if done properly. "The benefits of injectable therapy include a less worried or tired appearance, smoother-looking skin, and improved confidence for most patients."
Read more: Should You See A Dermatologist Or A Plastic Surgeon For Fillers & Injectables? Here's What Experts Say
But there are downsides, too. For one thing, temporary injectables are just that — temporary, meaning they will wear off if you don't schedule regular touch-ups. And while serious physical side effects are rare, they can happen, which is why it's so important to make sure you're visiting a trained, board-certified practitioner who is equipped to handle any problems that might pop up.
Want to know if injectables are worth a shot (pun intended)? TZR asked six women who've used fillers, Botox, and more for at least five years to get honest about the real pros and cons. Here's what they said:
This article was originally published on