I Got A Facelift For My 50th Birthday — And I Finally Look As Good As I Feel
My before and afters speak for themselves.
Written by Kristen Foodim, as told to Jolene Edgar
Shutterstock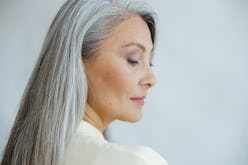 Kristen Foodim, 50, had a facelift, a neck lift, an upper and lower blepharoplasty (eyelid lift), a lateral temporal brow lift, a lip lift, and facial fat grafting last fall with Dr. Adam R. Kolker, a board-certified plastic surgeon in New York City. This is Kristen's story, with technical details courtesy of Kolker, as told to Jolene Edgar, and edited for length and clarity.
As I approached 50, I wasn't loving how I was looking in photos, and I yearned for that refreshed, youthful appearance I once had. I started to really pay attention to certain areas that were bothering me. I'd never been happy with the skin on my neck — I felt like it didn't match my face, it was always more wrinkled — so that was the first area I wanted to treat. Second to that was my jowls, and third was the skin around my eyes, which was starting to look fatigued.
Like many women my age, I'd tried lasers to tighten my skin, fillers to enhance my cheekbones and under eyes, and Botox to correct the lines around my eyes and across my forehead. While I did see an immediate fix from some of these procedures, they didn't address my main concerns — my neck and jowls. I also noticed my Botox results weren't lasting as long as they used to. So I started considering a more powerful solution: a facelift.
Kristen's Pre-Surgery Consultation
I didn't have to look far to find my facelift surgeon, since I already knew Dr. Kolker from the other cosmetic procedures I'd had over the years. I had a breast augmentation with him in my mid-30s, and I continued to see him throughout my 30s and 40s for various nonsurgical treatments. He was also my first call when I found out I had a melanoma on my leg that needed to be removed. To know Kolker is to love Kolker. He has the most compassionate bedside manner, and he's famous for delivering beautiful, natural results. Case in point: My breasts still look amazing 15 years later.
It was actually during a routine Botox appointment that I first broached the subject of facelift surgery with Kolker. I told him my jowls were really bothering me. He sort of pulled at my skin to check its elasticity and said we could definitely talk more about facial rejuvenation surgery. I booked a formal consultation for four weeks later.
After examining me more thoroughly, Kolker agreed that the nonsurgical stuff we'd been doing couldn't deliver the changes I was hoping for. He said I was a good candidate for a facelift, and he showed me, by manipulating my face in the mirror, what the results could look like and how he could further improve things if we tweaked my upper face as well. I got to a point where I was like, "I'm going under, so let's do it all!"
Kristen, before her surgery.
We discussed where my scars would be, what sort of pre-operative medical testing I'd need to have done, the recovery, and how long I'd have to take off from work following surgery. I left Kolker's office feeling excited about the possibilities and had zero hesitation about moving forward. I booked my surgery for about six months later. I wanted to wait until my son was fully settled in at college, and I figured fall would be a quiet time for me to recover from the procedure.
This surgery was my 50th birthday present to myself. Some might think 50 is too young for a facelift, but I'd rather look my very best from 50 to 65 than wait and do this in my 60s.
[Kolker explains that the majority of his facelift patients are in their early to mid 50s and that younger patients tend to have "better and potentially longer-lasting results," since they have more collagen and elastin in their skin than older folks and overall better skin quality.]
I'm not the type who feels plastic surgery needs to be a secret. You'll always find people who think it's unnecessary or that it's risky, but this is a personal decision, an individual journey.
The Day Of Surgery
I woke up so excited for surgery day. When I arrived at Kolker's office that morning, he recapped everything I wanted to have done and answered all of my last-minute questions. He marked up my face with a blue marker, as I looked on in a hand mirror, and he explained exactly what he was going to do to each area and the result he would achieve.
Then his team took some photos and started the anesthesia process.
[Kolker performed what's known as a short-scar SMAS plication facelift on Kristen. SMAS is short for superficial musculoaponeurotic system, which refers to the fibrous tissue covering the facial muscles. This layer is tailored and resuspended during facelift surgery. "There's so much controversy and debate surrounding facelift techniques — deep plane versus SMAS — and I will say, I am a card-carrying member of Team SMAS," Kolker says. "In truth, the techniques are much more similar than they are different, and in experienced hands, you can get beautiful, long-lasting results from each." The SMAS technique, he goes on to explain, allows for the skin and the SMAS to be tightened in slightly different directions, because these two layers are separated from each other during a SMAS procedure. During a deep plane facelift, on the other hand, the skin and SMAS remain attached and are lifted and repositioned as a single unit.
In a SMAS plication, the SMAS is folded on top of itself to take up slack in the tissue — this stacking maneuver can add fullness to certain parts of the face. "If you look at Kristen's before photographs, you can see she had a little bit more midcheek volumetric absence [aka hollowing], so it made the most sense to use the SMAS plication method," says Kolker.
Kristen's procedure began with the harvesting of fat from her lower back and flanks via liposuction. Kolker then performed a lateral temporal brow lift to slightly shift the position of her forehead. He injected purified fat into Kristen's temples, cheeks, and tear troughs. He also performed a lip lift (to shorten the space between her nose and upper lip) and an upper and lower blepharoplasty to improve upper eyelid hooding and lower lid laxity and bags. The facelift and neck lift were the final steps of Kristen's carefully orchestrated surgery.]
Dr. Kolker marking Kristen's face pre-surgery.
After surgery, I woke to Kolker smiling and telling me everything went perfectly. My head was tightly wrapped, and I felt sleepy from the anesthesia. When my husband arrived to take me home, Kolker reviewed some easy medication instructions and what to expect in the first 24 hours post-op.
Since we live only about 10 minutes from Kolker's office, the ride home was easy and uneventful. I wasn't in any pain — just swollen and numb around my incisions. ["It's usually two to three months before people have their sensation back," notes Kolker.] I had this intense tightness under my jaw, too. [That typically resolves within a week or two, Kolker adds.] But throughout my recovery, I never needed to take anything more than Extra-Strength Tylenol.
Kristen's Facelift Recovery
I slept fairly well the first night. I'm ordinarily a side sleeper, but for the first few weeks after a facelift, you have to sleep on your back with your head elevated, which can be tricky. My kids had one of those husband pillows, which helped me to sleep sort of upright. My husband says he'd look over at me in the night, and I'd be sitting up, in a headwrap, with my mouth wide open. I think it kind of freaked him out [laughs].
When I saw Kolker the day after surgery, he took off my headwrap and I was able to see my neck and jawline for the first time. I almost cried — they were perfect. My neck was so smooth; my jawline had no jowling.
I really didn't bruise very much initially. It came out about a week later — this faint yellow discoloration and swelling that started at the top of my head and traveled south. That was probably the hardest part — watching that swelling move down my face and seeing those changes. You can look a little alienlike. At first, your eyes are big, then your cheeks, and then your chin. I wore compression bandages to bed every night for two weeks to help with the swelling.
Dr. Kolker wrapping Kristen's face post-surgery.
During that first week of recovery, you don't look great — and it's hard not to Google to see what you "should" be looking like three days after a facelift. This is another reason it's important to choose the right doctor. I feel so lucky to have found someone I trust, who has my best interest at heart, and who will do everything in his power to give me the result I want.
My next follow-up appointment was a week later, just before Thanksgiving, when I had most of my stitches removed. At that point, I was kind of pushing to get my hair colored, to get my eyelashes done. But Kolker insisted, "Not yet, you're still healing." He prescribed an oral steroid because he could see I was swelling and he wanted to alleviate it.
When our four teenagers came home for Thanksgiving, none of them even asked me much about my surgery. They thought I look great — though, I don't know if they ever noticed the subtle things that I didn't like about my appearance before — the stuff I was covering with concealer. When you get dressed up and pull it off with makeup, others don't really see those things.
The wildest part of my recovery: We had friends from out-of-town come to visit less than two weeks after my facelift. We went to dinner and sat outside at La Pecora Bianca on the Upper East Side. Nobody thought I looked bad — that kept me calm. I wore my hair down, because my incision lines were pink and you'd see the ones around my ears if my hair were pulled back. I used a little concealer to hide the signs of surgery around my eyes. Really, the weirdest part of how I looked was having no eyelashes — I had to take off my lash extensions for surgery.
Kristen, after her surgery.
Over the following weeks, it was exciting to see all of my facial changes take shape. I used to have to wear so much concealer under my eyes, but suddenly that skin was tight and colorless — it honestly looks like my teenage daughter's. That makes me so happy. And my lip lift: Kolker shortened the distance between my nose and upper lip, and now my top lip kind of flips up a bit in a really pretty way. It's great, because I never liked having filler in my lips.
Five Months Out & "10 Years Younger"
I'm now five months out and really happy with how I look. My scars are barely noticeable. I think it'll be several years before I do anything else, even nonsurgical treatments. I use good skin care on my face and neck — that's it.
I'm not keeping this a secret: I told everyone at work, my family, all of my closest friends. My only apprehension going into this process was finding the right time to be able to take off from work. But I had surgery on a Thursday and was back working from home the following Monday, with the camera off. I actually presented on a Tuesday call with my eyelids stitched shut. I felt good — but God forbid I accidentally turned on my camera. [laughs]
This surgery has given me back a lot of confidence. There was something about turning 50 that kind of made me feel not so great — it's hard to process. But I feel like I got a nice reset — I definitely look at least 10 years younger. All of the things that I didn't like about my appearance have been solved, for the most part.
My husband will joke with me, because before surgery, every time I looked in the mirror, I would take my two fingers and pull back my lower face. Now, I just look like that naturally, without having to do the two-finger facelift. I'm excited to look as good as I feel.