I've Tried Hundreds Of Face Oils, But Le Prunier's Is The First I Actually Like
Courtesy of Sarah Y. Wu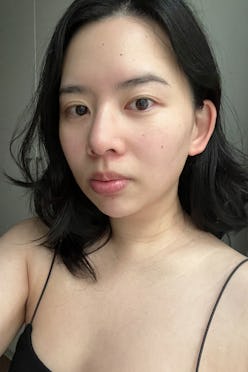 We may receive a portion of sales if you purchase a product through a link in this article.
In our series Trial Run, TZR editors and writers put the buzziest new beauty products to the test and share their honest reviews. This week, beauty writer Sarah Y. Wu is testing Le Prunier's Plum Beauty Oil.
I've always operated under the belief that you're either a face oil person or you're not. For some, they're the holy grail of dewiness. For others, they're a shortcut to a tragically slick T-zone. Seduced by the idea of a one-step routine for glowing skin, I made a solid effort to be a face oil person during their meteoric rise in 2010. I tried the niche formulas, the pharmacy favorites, and the luxury drops. In the spirit of committing to the product, I walked around feeling greasier than a slice of pizza for a few years before I gave up and devoted myself to the world of serums and moisturizers.
A more level-headed person would take that failed experiment as a life lesson and move on, but every now and then, I come across a formula I just can't resist trying. And finally, my persistence has been rewarded with Le Prunier's Plum Beauty Oil, which is everything I always wanted — but never found — in the perfect face oil. Our meeting felt like fate; I ignored it when it initially went viral, but decided to give it a chance when I fell in love with the brand's latest launch (a decadent body cream called Plumbody, which is not the subject of this story but equally worth adding to your collection).
With a history that reads like the stuff of niche beauty dreams (it soft launched in 2017, sold out worldwide in 2020 with a 30,000-person waitlist, and picked up glowing accolades from Chrissy Teigen along the way), Plum Beauty Oil comes with an impressive amount of hype. Ahead, my honest thoughts on whether it fully lives up to the rave reviews after testing it for a few weeks.
Fast Facts
Price: $72
Size: 30 ml/1 fl oz
Clean/Cruelty-Free: Yes
Best For: Those who want to brighten, balance, and restore skin (face and body) or condition and smooth hair
Ingredient Highlights: Organic prunus domestica seed oil (plum oil)
What We Like: Instantly soothes dryness and redness, brightens and smooths, not greasy or heavy, absorbs quickly, gentle on sensitive skin, non-comedogenic
What We Don't Like: Expensive
Rating: 5/5
How TZR Keeps Score: 1/5: Making a return; 2/5: Keeping as a backup; 3/5: Finishing to the last drop; 4/5: Recommending to my group texts; 5/5: Already on auto-replenish
The Formula
There's only one ingredient in Le Prunier's Plum Beauty Oil, and it's plum oil. To be exact, the organic prunus domestica seed oil in each bottle is a proprietary blend extracted from select plum varietals on a 100-year-old family farm. Allison Taylor, Le Prunier's co-founder, calls it "liquid gold with incredible skin care benefits."
Taylor and her sisters — fellow co-founders Jacqueline and Elaine — grew up on that same farm in Northern California, which has cultivated its organic plums for decades. But it was the sisters that first decided to bottle (or rather, upcycle and cold press) their farm-grown superfruit as a do-it-all beauty oil. "It's a proprietary blend yet a single ingredient that's incredibly gentle for all skin types," says Taylor. "There are no essential oils whatsoever, which can really irritate the skin." According to Taylor, Le Prunier's proprietary plum oil blend has been clinically shown to "reduce hyperpigmentation while helping brighten, balance, and restore skin." She credits these effects to the ingredient's high levels of polyphenol, omega fatty acids, and vitamins, which help shield skin from free radical damage while healing and hydrating.
The Taylor sisters aren't the only ones that approve of plum's beauty powers; dermatologists agree it's a superfruit for your skin and hair. "Plum oil contains high levels of omega fatty acids that soften and protect skin, vitamin A to enhance cell turnover, and vitamin E and polyphenols, which provide antioxidant benefits," says Dr. Joshua Zeichner, M.D., a board-certified dermatologist and associate professor of dermatology at the Mount Sinai Hospital in New York. Whether you mix it in with another product or apply it as a moisture-sealing last layer, Dr. Zeichner says you'll still be able to reap the ingredient's many benefits. "It's light enough to fully absorb into the skin and won't block penetration of other actives applied on top," he says.
While Taylor recommends Le Prunier's oil for all skin types, she says it's an especially great choice for anyone with sensitive or acne-prone skin. Plum oil's soothing compounds are key to calming any type of irritation. "If you're struggling with sensitive skin, this oil will reduce inflammation and redness," she says.
My Typical Skin Care Routine
Face oil may be the only product category previously missing from my daily skin care lineup. There's a reason no one has ever called my routine minimalist: After cleansing and applying a sheet mask, I sandwich my face in multiple layers of moisture using essence, two different serums, moisturizer, eye cream, and sunscreen. I pair ingredients that play well with my combination skin (vitamin C, peptides, and niacinamide) with an arsenal of at-home devices like my Dr. Dennis Gross DRx SpectraLite EyeCare Max Pro, CurrentBody LED Neck and Dec Perfector, and NuFACE Mini+.
As someone who tests skin care for a living, it's rare for me to keep the same products in rotation for longer than a couple of months. A few rare essentials that have made the cut? Superegg's Vitamin Collective Vitality Elixir, a gentle multivitamin serum so good, it almost made me forget vitamin C serums existed. There's also Ourself's HA+ Replenishing Serum, which uses a genius peptide delivery system to smooth and firm my skin like nothing else I've ever tried. The latest addition to this list is the oil to trump all oils: Le Prunier's Plum Beauty Oil.
My Experience & Results
To avoid returning to my greasy-not-glowy era, I now test face oils at night before debuting them under the harsh glare of day. I started with a few drops smoothed over my night cream on my face, under my eyes, and over my neck and chest. Immediately, I was surprised by its consistency: deliciously nourishing and not the slightest bit heavy or greasy. Every face oil promises to be lightweight and leave no residue behind. This one made me reconsider the bar I'd previously set for those claims. It also didn't hurt that it smelled faintly, naturally nutty, like freshly-baked almond croissants dusted in powdered sugar.
I woke up the next morning with the smoothest skin and a well-rested glow that felt very at odds with my insomnia. Although the look in my eyes said, "My soul has left my body," my skin emitted the type of healthy radiance I can only describe as lit from within. I patted in a few more drops after my morning skin care, marveling at how the oil managed to impart the ideal level of glow, even on my T-zone.
In the days that followed, I noticed how much calmer my skin seemed. I didn't experience my usual round of hormonal breakouts and my rosacea flare ups also seemed milder and less frequent. After three weeks of using it every single morning and night, I knew I'd never be able to look at another face oil again.
While Le Prunier's Plum Beauty Oil is meant as a true multi-use product for your face, body, hair, and nails, I can't speak to its results beyond my face and neck. The one time I entertained the thought of swapping out my body lotion for an indulgent application of plum oil, the price tag flashed before my eyes and I started hyperventilating, immediately putting a stop to that idea. Maybe one day I'll work up the courage to mix a little bit in with my body lotion, but for now, I'm savoring every precious drop.
Is Le Prunier's Plum Beauty Oil Worth It?
With a price befitting its description as "liquid gold," this beauty oil is definitely a splurge. But after adding it to my routine for a few weeks, I can't even imagine using anything else. Most face oils I've tried were easily replaceable, acting more as a sealant for my other products than delivering any noticeable benefits. (They did, however, deliver some very noticeable T-zone shine.) Le Prunier's Plum Beauty Oil is the rare exception to that rule. Is it worth it? I'll start saving for the next bottle now.