Lashify's I-Line Gossamer Lashes Have Me Sold On DIY Extensions
Courtesy of Jessica Fields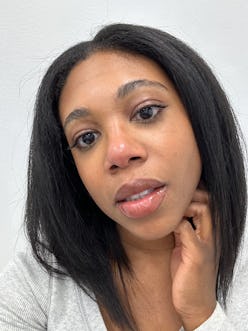 We may receive a portion of sales if you purchase a product through a link in this article.
In our series Trial Run, TZR editors and writers put the buzziest new beauty products to the test and share their honest reviews. This week, beauty writer Jessica Fields is testing out Lashify's I-Line Gossamer Lashes.
Lashes have always been my thing. From my tomboy teenage years to my college days when I first began dabbling in makeup, I was obsessed with creating a defined and lengthy look. This led me to purchase any and every mascara that I could get my hands on. And I'm not ashamed to say that I've been easily influenced to buy more. Falsies, however, was an area that I steered clear of. Sure I'd experimented with them before, but I never found them to deliver the look I desired. Either they appeared too thick or too full. But when Lashify released their I-Line Gossamer Lashes — a collection of pre-sized extensions designed to deliver an angled effect — I knew I had to give them a try.
My previous experience with falsies always left me a little frustrated. Between struggling with the glue, placement, blending, and adding eyeliner, achieving a complete look wasn't an easy feat. Thanks to social media, I'd witnessed the unique Lashify technique before. Instead of being placed on top of the lash line, the brand's extensions are added underneath for a fully blended look. No curlers or cocktailing are needed. As someone who's excited by the promise of a natural yet defined look with little effort, I was eager to give the system a test drive.
Ahead, my honest thoughts on whether Lashify's latest release lives up to its promises and Instagram hype.
Fast Facts
Price: $28
Size: 1 cart cartridge
Vegan/Cruelty-Free: Yes
Best For: Those who want angled, defined, and wing-like lashes
What We Like: Dramatic volume and length; easy to apply; doesn't budge; gentle on lashes
What We Don't Like: The total cost including the application tools and pre-cleanser is a bit pricey
Rating: 5/5
How TZR Keeps Score: 1/5: Making a return; 2/5: Keeping as a backup; 3/5: Finishing to the last drop; 4/5: Recommending to my group texts; 5/5: Already on auto-replenish
How Lashify Works
If you've ever applied false lashes before, you know there are a series of steps needed to affix the strip or individual wisps to your lash line. The Lashify system streamlines the process and makes the overall job much easier, whether you're a novice or a pro. Instead of delicately applying glue to a thin strip, this technique uses a bonding solution that's applied like mascara. Then the individual lashes, affectionately named gossamers by brand founder Sahara Lotti, are applied to the underside with a patented curved, tweezer-like wand.
Lotti tells TZR that each of the gossamer lashes is made of Korean PBT silk instead of false fibers. "This makes them lightweight and reduces any tension so you don't have to worry about causing damage to your natural lashes," she says. Of the I-Line collection, Lotti notes that the pre-mapped size is what makes it unique. "Each cartridge holds one set of lashes with different lengths that are designed to mimic the appearance of winged eyeliner," she adds.
Courtesy of Jessica Fields
Courtesy of Jessica Fields
My Typical Eye Makeup Routine
This fall I've been forgoing detailed eye makeup looks and have been using a pigmented stick shadow or applying earthy brick blush on my lids and a few swipes of bronzer in my crease. Lately, I've been relying on Armani Beauty's Luminous Silk Glow Fusion Powder and Black Radiance's baked blush in warm berry to create a subtle, defined daytime eye. When I'm looking to spice it up a bit, I add a few dots of Bobbi Brown's Long-Wear Cream Shadow Stick in cinnamon, and smudge it for a more lived-in look. I then add a few strokes of Clinique's High Impact Easy Liquid Eyeliner to my upper lash line before moving on to my lashes.
Despite being the last step of my routine, mascara application can be intense, as I'm pretty particular about the final look. After I've chosen a tube, (right now I'm loving ILIA's Limitless Lash Mascara, and Hourglass' Unlocked Instant Extensions Mascara) and applied a swipe, I usually fluff the lashes with a clean spoolie until they're perfect. I won't deny it's involved, but I'm pretty used to it by now. As for my brows, I quickly run through them with a clear brow gel and use either a classic or microfine brow pencil to lightly fill them in.
My Experience & Results
The Lashify system starts with clean lashes free of oil or makeup to ensure that the extensions can properly adhere. In that vein, I shifted my routine and began by applying the brand's pre-cleanse solution to my bare lids and makeup-free face. Looking at the cartridges, I thought it'd be a good idea to lay out the lashes for ease of access through the process. The I-Line Gossamer Lash comes with six lashes per eye (12 total in a package) that range in size from 8-11mm, and two sets of 12mm.
Once they were placed on paper, I applied the bonding formula to my lashes. The solution, which looks a bit like mascara, is black in color and comes with a thin comb to evenly coat your lashes. Next, I used the wand to pick up the first extension and gently placed it underneath my natural lash. I then continued adding one lash at a time until the full eye had been filled. Although each eye is capable of holding six lashes, I chose to just use five.
The last and final step of the system is fusing the lashes to create a blended appearance. Unlike the tweezer-pinching process I was used to with falsies, the Lashify wand comes with silicone protectors that make this step comfortable. The whole process took me about 20 minutes and when I'd finished, I was pleasantly surprised by how natural they appeared. Even more impressive was the wear time. Not only did they stay put all day long, but I was able to keep them on for up to three days with no irritation or budging.
My lashes before applying the I-Line Gossamer Lashes Courtesy of Jessica Fields
My lashes after applying the I-Line Gossamer Lashes Courtesy of Jessica Fields
Are Lashify's I-Line Gossamer Lashes Worth It?
If you're looking for a wing-shaped look that adds length, volume, and definition, you won't be disappointed with these lashes. As someone who's worn a lot of mascaras and volleyed between tubing and inky formulas with dense volume-building brushes, I was thrilled with the final results. The extensions blended into my natural lashes and even darkened the border allowing me to forgo liner for the day. However, if you want to amp things up, you can stack the lashes together for a more dramatic appearance.
The technique does require a few steps, but once you've applied on one eye, it's easy to breeze through the other. The only drawback is the price. While the lashes are only $28, the tools and pre-cleanse bring the total cost to $121. But the lashes can last up to 10 days and you only have to purchase the the application items one time. That said, if you're looking to give your natural lashes a break from mascara for a while and still want a "makeup-like look", this set is worth the investment.