Let Kirin Bhatty's Beauty Philosophy Change How You Look At Makeup Forever
She's sharing all her secrets.
Courtesy of Kirin Bhatty / A-Frame Agency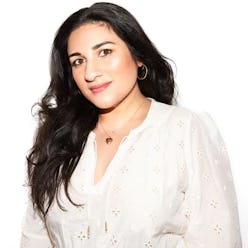 Iconic beauty moments aren't born without the visionary artists that create them. In Behind The Glam, TZR gives you an inside look into the careers and inspirations of the industry's top artists.
No matter how many motivational posters or books underscore the fact that success isn't always perfectly linear, it's significantly more impactful to hear coming from someone who's actually walked the walk. That's part of why celebrity makeup artist Kirin Bhatty subscribes to a personal and professional philosophy predicated on example. You have to see it to be it, she explains, a maxim that applies to everything from cosmetics as a viable career path to the larger issue of South Asian representation in Hollywood as a whole. Now, 15 years deep a career she willed into existence, Bhatty is it — and she's the best possible mirror to reflect the see-it-be-it motto for a new generation of aspiring creatives.
That approach is part of why Bhatty's client list looks more like an international it-girl directory: Tessa Thompson, Iris Apatow, Jenny Slate, Rupi Kaur, Lorde, Ayo Edebiri, Kate Mara, Alison Brie, and Freida Pinto make up but a handful — it seems like if you're equal parts beauty-brains with major industry buzz, you'll find yourself in Bhatty's makeup chair at one point or another.
Speaking to a clear-voiced Bhatty from her parents' home in Houston, where she's just arrived to celebrate Mother's Day, her stories spiral with the detail and humor that's practically an English major trademark. Indeed, though Bhatty shares that beauty's always been an important part of her life, she almost wound up with an entirely different career. Ahead, go behind the glam with celebrity makeup artist Kirin Bhatty.
How She Got Started
Fittingly, the makeup artist tells TZR that her mother's own glamour was an early source of beauty inspiration growing up — even an everyday act like lipstick application had a young Bhatty rapt. "I was very much into a lot of South Asian beauty rituals like hair oiling, making your own masks at home, and using henna, all that stuff," she explains. "There was just a lot of focus on adornment, but also on looking to nature for best beauty practices, which really affected me early on."
But while beauty was never in short supply growing up, parlaying it into a full-fledged career was not on the radar. South Asian representation in front of the camera was few and far between, even less so behind the scenes in Hollywood. "At that time, I didn't really see people who looked like me at all. It felt a bit far until I got close to it." Watching TV, movies, and paging through magazines, a young Bhatty was totally captivated, fascinated by who actually got to make it all happen.
In college, where she majored in English, Bhatty was making it all happen on a smaller scale from her dorm room. She points out that many makeup artists got their first de facto clients working on friends, or family weddings, that sort of thing, so it's no surprise that she was anointed cosmetic queen of the college night out. "Glitter was very in at the time," she laughs, "And I was kind of the one in charge of doing those final touches and making sure everybody was good to go. I remember at that time being like, 'Gosh, I wish I could just do this forever.'"
Her Industry Breakthrough
Though a blend of strategy, scrappiness, pure talent, and a little serendipity, Bhatty snagged the very last spot in a makeup masterclass taught by the legendary Lori Taylor Davis. Juggling some odd jobs after a lay-off from her ad sales job, she describes that day in class as the moment "the clouds parted." So taken with her immediately evident talent from the course, Davis reached out to her directly with a request for on-set assistance. "She just kind of took me under her wing, let me assist her, taught me everything I know, and really encouraged me every step of the way," Bhatty says, emphasizing what it meant to see a fellow woman of color excelling in an industry that can still feel so closed. "Even though we're not the same, it was something closer than to what I'd ever seen. Behind the scenes or on TV or in magazines, when artists were being interviewed, they never looked even close to something that I could relate to. It just felt very far. Being around an artist of color like myself working at such a high level made me feel like, 'Wow, this could be something.'"
Bhatty's whirlwind apprenticeship under Davis spanned six years, taking her around the world for jobs and into the rooms she always dreamed of entering. By the end of their time together, Bhatty's work on big campaigns earned her an agent of her own. "I will always be grateful to Lori for the rest of my life because she really saw something in me that I didn't know was there yet." Davis' belief in Bhatty is now echoed in her own willingness to extend a hand to up-and-coming artists of color now, continuing a cycle that is legitimately transforming the industry for the better.
The Looks She'll Never Forget
In her 15 years as a professional makeup artist, Bhatty's created some of the most memorable magazine spreads and red carpet moments in recent memory. Her see-it-be-it mentality, coupled with a come-as-you-are beauty philosophy, is one appreciated by veteran actors and fresh faces alike. Though the year's most major events are old hat for her at this point, "some of my favorite moments are being with somebody for their first press junket, or their first interview," she says. "That's always a big thing for me, too, because you get to really lend your expertise to them. Like, 'Hey, I've been here a million times...you're gonna be just fine.'"
The jobs she cherishes most run the gamut in aesthetic, but all incorporate her refreshing, signature approach to makeup. Bhatty loves to start with radiant, glowing skin, preferring to emphasize the client's features rather than attempting to "correct," change, or otherwise override their natural beauty. Two of her most affirming moments include Tessa Thompson's pearl-studded 2018 Met Gala look, along with the gold, glittery eye makeup Awkwafina wore when she took home her historic Golden Globe.
"She was the first Asian woman to win in her category ever, so to be a part of that iconic moment for me meant everything," she shares. One that thrilled her parents too? The opportunity to do Malala Yousafzai's makeup for the South Asian Excellence Gala — a newer event, Bhatty points out, that's a long time coming. "That's iconic in and of itself and then to do somebody like Malala for it? It's huge."
Among her longest client relationships is Jenny Slate, who Bhatty's worked with since her first film. "Watching her from there to now being [Oscar] nominated — double-nominated, actually — was really just a full circle moment to be really to be part of something so big with somebody and starting with something so small, like a shell."
But even amid the glamour and chaos of her stuffed schedule, Bhatty is all about the future. "I think seeing me do the stuff that I'm doing is reminding people who look like me that you can actually do whatever you want," she says. "It's exciting for me every time I think about it because I got to see somebody who I really related to and that's what helped me fly. So if I can do that for someone else, that's the dream."