Why A Brazilian Blowout Is Better Than Keratin, According To The Experts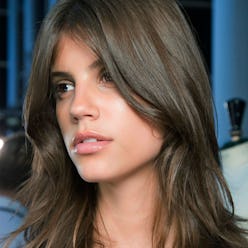 We put our hair through a lot. From coloring and relaxing to daily heat styling, our tresses are ... tired. But when stubborn frizz or lackluster locks plague, you have to call in the big guns. Enter a more kind and gentle but still powerful option that delivers gorgeous results fast: the Brazilian Blowout.
Whether you want to go straight or tame your curls, the customizable smoothing treatment eliminates frizz and infuses shine by way of a bonding technology that actually improves the overall condition of your hair. What's more, results are immediate—there's none of the downtime that comes with keratin (like waiting three days to wash your hair). The treatment can cut blow-dry time in half and lasts up to 12 weeks, depending on your hair type and routine.
While the service can be pricey, averaging $250 nationwide, the results are impressive—smooth, shiny, bouncy locks (yes, please!). But if you're still riddled with trepidation, fear not. We tapped Brazilian blowout experts to further explain why a Brazilian blowout is worth the investment.
We only include products that have been independently selected by The Zoe Report's editorial team. However, we may receive a portion of sales if you purchase a product through a link in this article.
Brazilian Blowouts
Brazilian Blowout Vs. Keratin Treatment
"The Brazilian Blowout uses amino acids — which are much smaller molecules — allowing the treatment to be rinsed out the same day," says global director of education at Brazilian Professionals. "Keratin [on the other hand] must crystallize over 72 hours. With a Brazilian Blowout, you don't have to worry about over-'keratinizing' the hair, which ultimately can cause breakage."
Brazilian Blowout & Color
"Designed to complement color-treated hair, the Brazilian Blowout is formulated to work best directly after a color service, because it's actually filling and sealing the hair's cuticle with the amino acids and nutrients, which locks in the color. If you do have a Brazilian Blowout and want to color afterward, you need to wait two weeks so that the color can penetrate the cuticle."
What to Expect at Your Appointment
The Effects By Hair Type
"The Brazilian Blowout is ideal for all hair types, even very fine. Because it's a customizable treatment, you can use a flat iron to add volume at the root, giving bounce to limp hair, or use lower heat to maintain body and curl while eliminating frizz."
"Brazilian Blowout results last up to 12 weeks, provided you use after-care products (shampoo, conditioner and mask) to reinforce the treatment. Lifestyle also plays a huge role—if you swim in salt water daily or wash your hair every day, results may not last as long."
Regrowth
"The treatment wears uniformly over the three-month period, which means there's no line of demarcation."
Care & Maintenance
"TK," says Arsen Gurgov, hairstylist and founder of Arsen Gurgov Salon in NYC.