I've Perfected The Best Routine For Preventing My Dark Brown Hair From Fading
All in the name of stretching time between color appointments.
Courtesy Of Erin Lukas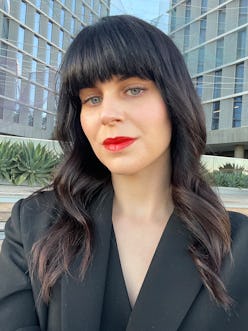 We may receive a portion of sales if you purchase a product through a link in this article.
Yes, it's true that going platinum blonde is extremely high maintenance, but being a dark brunette isn't exactly a care-free hair color choice either. For as long as I've been dyeing my light brown hair deeper, I've also been complaining about how my cool-toned chocolate brown hair gets brassy and red in-between my scheduled coloring appointments. The good news for everyone who has to interact with me on a regular basis is that I've finally mastered how to keep my dark brown hair from fading, thanks to a simple hair care routine stacked with color-safe products, treatments, and hot tools.
The first step in building a hair care routine for dark brunette hair is to know what ingredients to look for and which ones to avoid. Because hair can get damaged during chemical processing, I opt for shampoo, conditioner, and leave-in conditioner stacked with nourishing, plant-based ingredients and no sulfates or silicones which can strip hair color and weigh hair down. The same goes for the styling products I use on my hair. As for hot tools, today's blow-dryers, flat irons, et al. come equipped with game-changing temperature technology so that you're never using extreme heat on your hair, which can lead to dryness, further damage, and color fading.
And products aside, the number one hair care tip I've picked up from colorists over my 12-plus years as a dark brunette is to wash my hair with cool water because it keeps the hair cuticle sealed, which helps keep your color fresh.
Ahead, a complete rundown on the simple dark brunette hair care routine I follow to prevent fading and boost softness and shine.
The Best Products For Maintaining Brunette Hair Colors
In The Shower
Post-Shower
Color-Safe Styling Products
Color-Refreshing Treatments