The Internet's Favorite Makeup Artist Just Launched Her Own Line — And The First Product Is A Holiday Party Essential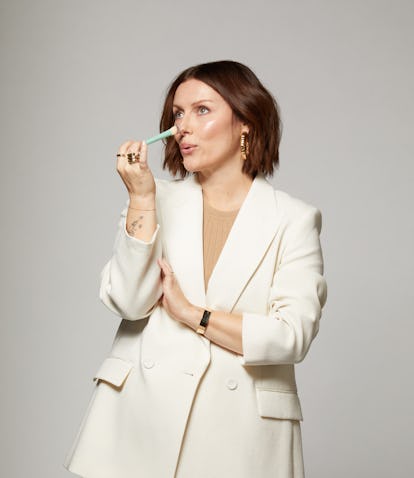 We may receive a portion of sales if you purchase a product through a link in this article.
Quick, what makeup products are you wearing right this instant? If it's anything with an emphasis on a dewy finish, there's a solid chance you owe it to Katie Jane Hughes. Though it wasn't even that long ago, the makeup artist was pioneering that delightfully glazed, your-skin-shines-through approach back when everyone else was carving a four-shade cut-crease into their eyelids just to go for a stroll around the block. For Hughes' highly dedicated legion of established fans, news of her own cosmetics line, the just-launched KJH.Brand, is cause for legitimate celebration. As for the rest, just consider yourself as-yet unconverted — her very first product might be just the thing to pull you in.
Rather than debut with a full collection already in place, Hughes is taking the much more modern, slow-trickle approach that allows her customers to fully focus on and absorb one meticulously-formulated product at a time. That initial launch, the Hyper Shine High Lite Kit, is built around her viral aesthetic: extra moisturized, mostly natural, and impossibly luminous. A three-piece set designed to infuse your complexion with her signature shine, it's ideal for following along with an informational KJH tutorial, or just experimenting with your own, totally unique ideas.
The kit is comprised of the potted highlighter, itself available in four distinct shades, along with a specialty applicator brush and a shine-boosting serum to use as a mixing medium. The highly blendable highlighting cream can be built up for more intensity, offering a reflective glow everywhere: eyes, lips, cheeks, shoulders, brow bones, and beyond. It's the sort of sheen seen in looks from stars like Hailey Bieber, who's actually one of Hughes' high-profile clients — you can thank her for Bieber's TikTok-famous "strawberry girl makeup" moment.
While the swatches look subtly shimmery, on the skin, they fall much closer to a glossed effect than they do a glittery one. "You can also use this kit with many different things in your makeup bag which makes the possibilities endless," Hughes tells TZR. "I really love to apply it under makeup for that lit-from within-glow or pinpoint highlight at the end of a makeup look using just the tip of the brush." To get her trademark sheen, mix a few drops of the Hyper Shine Serum directly into the highlighter's little glass pot, give it a swirl with the included brush, and start dabbing it onto the skin.
Hughes tells TZR that one huge draw of the highlighter — and all its individual tools — is how it helps facilitate further self-expression. "The versatility of the kit makes it so unique and lets you create many textures and effects," she explains. "You can also use this kit with many different things in your makeup bag which makes the possibilities endless." For instance, the serum can be worn on its own, mixed with the highlighting cream, or other products like blushes and lipsticks for a high-shine, ultra-glossy finish.
While details are still under wraps for now, don't anticipate waiting too long for the KJH.Brand family to grow. In the meantime, everything you need to create that hottest-one-at-the-holiday-party sparkle is right here.