This New Whipped Moisturizer Saved My Sensitive, Acne-Prone Skin
A nourishing formula — minus the breakouts.
Khera Alexander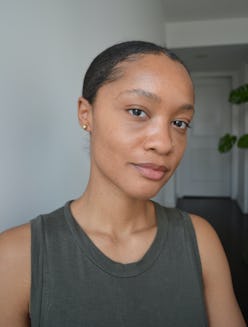 In our series Trial Run, TZR editors and writers put the buzziest new beauty products to the test and share their honest reviews. This week, we tested the new Isla Beauty Whipped Dream Nourishing Face Cream.
If you have sensitive, acne-prone skin like me, you might find yourself admiring new skin care drops from afar more often than you'd like. Personally, when I find something that works, I tend to stick with it. When I want to try something new, I spend countless hours researching a product and its ingredients before adding it to my cart.
Every now and then, though, a product comes around that I feel comfortable trying without extensive investigation. When I learned that Isla Beauty just dropped its Whipped Dream Nourishing Face Cream, I had to see what it was about. Isla Beauty has been making serious waves in the beauty industry as a brand that's known for its high-efficiency skin care and expertly curated natural and synthetic ingredients. On top of that, Isla Beauty believes in a level of transparency that, in the saturated skin care world, is beyond refreshing. From sharing how the brand prices its skin care to what's in each product (especially key ingredients, right down to the percentage), Isla operates with a level of openness that helps us consumers make informed purchasing decisions.
Since the Whipped Dream Nourishing Face Cream is a daily moisturizer that hydrates, calms, repairs, and brightens skin — even sensitive and acne-prone skin types — I decided to put this moisturizer to the test for two weeks and see how it worked for me.
A Closer Look At the Whipped Dream Nourishing Face Cream
The Whipped Dream formulation is an interesting hybrid: 93% of ingredients are of natural origin, 7% of ingredients are synthetic, and a handful of potent, key ingredients target several skin concerns. I'm intrigued by these types of formulations because not every natural ingredient agrees with skin, and not every synthetic ingredient is harmful to it, either.
For the key ingredients in this cream, Isla Beauty introduces them by highlighting two high-powered ingredients on the front of the packaging, and cluing us in to the other important ingredients on its side. The most notable one is 5% niacinamide, an ingredient with a host of skin benefits: it helps repair texture, brightens dark spots, strengthens the skin barrier, and improves the look of fine lines and wrinkles.
The next ingredient of note are ceramides; sitting at 1%, these replenishing fats strengthen and restore the skin barrier, lock in moisture, prevent irritation, and protect skin from environmental damage. These two ingredients alone would make for an impressive product, but Isla Beauty raises the bar by including a few more: glycerin, ectoin, murumuru butter, and hyaluronic acid, all exceptional hydrators and moisturizers.
With its ability to pull moisture from the air, 0.5% hyaluronic acid helps with skin elasticity. The nourishing emollient ectoin regenerates, repairs, and calms inflamed, stressed skin at 0.3%, while 4% murumuru butter extract moisturizes and softens. Lastly, 3% glycerin, a common but useful humectant, helps add a deeper layer of hydration. Essentially, this impressive cocktail of ingredients is excellent to incorporate into your routine if you have multiple skin concerns taking place at once.
My Skin After Trying Out Whipped Dream
Though I felt pretty confident about trying this moisturizer, I still did my due-diligence: After a successful patch test on my neck with no irritation in sight, I used less than a dime-sized amount of the Whipped Dream on my face and neck morning and night for two weeks.
During the day, I'd use the moisturizer before my sunscreen; at night, I'd use it alone or on top of the prescription retinol treatment I use twice a week. Thankfully, the ingredients in Whipped Dream play well with retinol, so my nighttime routine didn't have to change.
Over the course of two weeks, Whipped Dream repaired and improved my skin in ways I honestly didn't expect. While the texture of the cream is thicker than products I've used in the past, my skin drank it right up. It has a lightweight, soothing, and comfortable feel without being too rich or leaving a greasy residue behind. My skin had a level of hydration I've been in need of to offset the dryness, redness, and flakiness I've been experiencing (especially around my mouth and on my cheeks) as a result of the winter weather and retinol I use.
Above all, I was really excited about the difference I saw in my dark spots in such a short amount of time. Stress and pandemic living has spurred an onset of acne I haven't seen in years, and the dark spots left behind post-breakout require constant attention. Considering how much my skin has improved, this moisturizer reinforced that it's possible to see changes in my skin without having to use a ton of harsh, skin-stripping ingredients my skin can't tolerate. For those of you that have sensitive or acne-prone skin but remain cautious when trying new products, take it from me — Whipped Dream just might be the moisturizer you've been looking for.
Is the Whipped Dream Nourishing Face Cream Worth The Price?
Retailing at $56 for 50g of product, I think Isla Beauty has priced this moisturizer appropriately. It costs more than a drugstore find, but Whipped Dream isn't overpriced in comparison to other high-end moisturizers. The premium ingredients also make this cream worth it, and based on my results, I think it's a worthwhile purchase to make.
If you need any more convincing, the brand has a level of transparency around how products end up being priced that's incredibly rare. You can head to Isla's website or Instagram for a full breakdown of what elements get factored into the brand's 2x price mark-up, like marketing materials, packaging, and labor. With my temperamental skin, I value honesty and I value results from skin care brands — Isla Beauty delivers on both fronts, and I can definitely see myself repurchasing this product. Once you try it, you probably will, too.
We at TZR only include products that have been independently selected by our editors. We may receive a portion of sales if you purchase a product through a link in this article.
This article was originally published on