These Beloved Skin Care Ingredients Are Rooted In Indigenous Cultures
Their significance goes beyond products.
Ivan Bajic/E+/Getty Images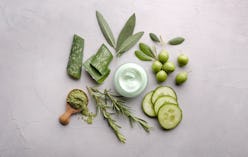 Skin care products, whether a new serum or a beloved moisturizer, rely on key ingredients to deliver results. From increasing elasticity to protecting the moisture barrier, they are a crucial part of any formulation. Recently, the clean beauty shift has brought a number of botanical and natural elements into the spotlight. But dig a little deeper and you'll find that many are actually Indigenous skin care ingredients, native to North America, and have a history of efficacy long before they became buzzy on social media.
Found all over North America, plants like aloe, rosehip, and saw palmetto are known for their skin care benefits. But beyond their popularity in the beauty industry, they are deeply rooted in Native American heritage as part of medicinal and cosmetic rituals. With such a rich narrative, it's no wonder that they have continued to be favorable choices for skin care products today. While native representation in the industry is still growing, the discovery of these ingredients can be attributed to the various cultures who used them first.
Ahead, TZR spoke with two dermatologists about a few noteworthy indigenous plants. Keep reading to learn more about these revered botanicals, including how to easily incorporate them into your skin care routine.
Aloe Vera
Aloe may be the unsung hero of natural ingredients. As a houseplant whose lifespan seems endless, it quickly soothes irritated skin. "Whole aloe is one of the most used healing plants in our culture for burns and sunburns," says Cece Meadows, founder and CEO of Prados Beauty and proud Xicana and Indigena. According to Benjamin Knight Fuchs, R.Ph., beauty chemist and founder of Truth Treatment Systems, it's also a rich source of skin-healing polysaccharides, salicylic acid and zinc. These anti-aging and therapeutic properties have made aloe an extremely common ingredient in cleansers, toners, and topical treatments.
While you can reap some of the benefits from skin care products, the popularity of aloe often equates to lower concentrations. To get the best results, Knight Fuchs recommends going straight to the source. "The healing properties of aloe are found in the gel of its leaves. Keeping a plant on hand gives you easy access to its soothing jelly," he says. Meadows agrees, stating that diluted aloe is not ideal, as the mixture of chemicals and additives takes away from the healing properties. She recommends cutting a leaf at the root and then splitting the top so the juices inside stay fresh. "This will allow you to use one leaf many times," she says.
Yucca
Often referred to as the treasure from the desert, yucca is a plant known for its antiseptic properties. Traditionally used for medicinal purposes, it was a common remedy for diseases and digestive conditions. "Yucca is something that I frequently use at home and in ceremonial rituals passed down from my great-grandmother, who was a Yoeme healer in her community," says Meadows. She tells TZR that the plant grows abundantly in the Southwest and is used to treat arthritis, wounds, acne, and skin or scalp irritation.
Those disinfectant abilities also make it great for calming skin issues, like inflammation, and scalp concerns like flaking. That said, yucca can be found in shampoos and hair treatments. "It's quite potent and is therefore usually extracted into glycerin or water before being incorporated into cleansing products — making it more gentle for everyday use," says Knight Fuchs.
Rosehip
Recently, rosehip has become particularly buzzy in the industry for its moisturizing benefits. However, Kari Tribble, founder and CEO of Avari Beauty, notes that the tiny flower buds are rich in vitamins A and B and were used as a vital source of nutrition for many Native American communities during the long winter months. Rich in skin-loving antioxidants, the rosehips were often made into a salve for topical use, she explains. Today, they are typically formulated into oils but are still an ideal ingredient for nourishing the skin. Dr. Gary Goldfaden, M.D., board-certified dermatologist and founder of Goldfaden MD, previously told TZR that rosehip is known to help even skin tone by working to fade scars and hyperpigmentation over time.
You're probably familiar with a few luxe face oils containing the superfruit. However, if you're new to the ingredient, start by applying a few drops to your skin after your standard moisturizer to restore its glow and vitality. It's a good staple to have on hand for dryness and can be used as often as needed with little to no side effects.
Bearberry
"This is a plant that has thousands of years of history, with a diverse range of Indigenous cultures and communities across its range," says Leigh Joseph (whose ancestral name is Styawat), Ph.D., ethnobotanist, researcher, activist, and Indigenous founder of Sḵwálwen Botanicals. She explains that in Sḵwx̱wú7mesh, the traditional language of the Squamish nation, the plant was used for topical application, tea, and ceremonial rituals. "In terms of skin care, the dried components were often infused into carrier oils or made into a balm," she says.
Today, the plant's extracts are also notable for treating hyperpigmentation. According to Jess Bowers, a New York City-based esthetician, "Bearberries contain a compound called arbutin that breaks down into hydroquinone (a chemical known for skin-lightening), which disrupts the enzyme that produces dark spots." Used to combat uneven tone, bearberry extract is typically found in serums, Bowers notes, and can easily incorporated into your nighttime regimen.
Saw Palmetto
This palm plant is native to the southeastern side of North America. According to Tribble, the Seminole tribe in Florida most notably used saw palmetto as a staple food source and a remedy for reproductive problems. Though it is most known for its medical properties and hormone-balancing effects, saw palmetto is ideal for improving acne-prone skin and reducing the production of excess oil, Knight Fuchs tells TZR. "This has made it a key ingredient in products such as toners and topical gels," he adds.
But the benefits of this plant go beyond skin care. Bowers tells TZR that saw palmetto also plays a key role in testosterone regulation and facial hair growth. When taken in supplement form, she notes that it can help support healthy levels of hormones as well as the body's natural cell growth cycle that often fluctuates with age.
Yarrow
This flowering plant can be found growing wild in grasslands or locally in urban gardens. "The leaves and blossoms of yarrow are fragrant and can be made into tea to soothe indigestion or applied topically to reduce inflammation," says Styawat. She tells TZR that these antiseptic properties have also made it a popular ingredient in astringents. According to Bowers, the herb is great for those with acne or oily skin and can be applied daily to relieve symptoms. She continues noting that adding it to your current routine is also pretty easy. "If you're using the essential oil form, start by adding one to two drops to your moisturizer and apply once a day until your skin has cleared," she says.
The soothing nature of yarrow is also ideal for therapeutic rituals. "After a stressful day, you could steep a hot bath with dried yarrow leaves and flowers and enjoy the relaxing benefits, or infuse them into your favorite carrier oil as an after-bath body treatment. Yarrow can also make a nice facial spritz when mixed with witch hazel," says Styawat.