Worried About Winter Skin? These Moisturizers Will Keep Dryness At Bay
@clecosmetics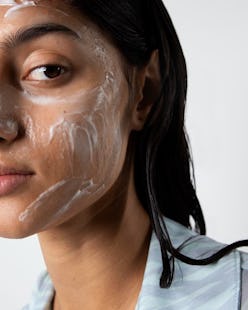 We may receive a portion of sales if you purchase a product through a link in this article.
Join TZR editors for Main Squeeze, the series dedicated to sharing beloved beauty products — be they bold, effective, or simply fun — that make our week just a little bit better. Ahead, Team TZR spotlights their favorite winter moisturizers of the moment.
The seasons play a major role in how you take care of your skin. During the summer, routines tend consist of just the basics to deal with heat waves and humidity. Fall and spring also bring their own set of issues as the weather can be unpredictable and just as confusing for your complexion. But when winter comes around, it's time for a complete overhaul of your go-to products. The cold air, harsh winds, and chilly temperatures can have a jarring effect on your skin, making it dry and irritating. As such, hydration becomes your focus. Enter the best winter moisturizers. Packed with nourishing and soothing ingredients, a rich cream is exactly what your skin craves during the coldest months of the year.
At the first sight of parched skin, you may be ready to start slugging. But there are other ways to boost hydration that don't involve slathering skin with an occlusive product. For example, you could opt for products formulated with humectants, like hyaluronic acid, to naturally draw moisture in, and emollient oils, such as squalane that help lock it in.
Ahead the TZR editors have compiled a list of their favorite creams and lotions to combat cold weather concerns.
"I recently finished a tube of this lipid-packed moisturizer and my skin has been crying out for it ever since. I love the portability of the packaging (it came along with me on a recent trip abroad), but it's the formula inside that makes it a holy grail. Made with a cocktail of humectants, ceramides, and peptides, it works for all skin types and I especially love that it leaves my combination skin looking (and feeling) dewy, not greasy." — Faith Xue, executive beauty director, lifestyle, BDG
"During the winter, I like to use a lighter moisturizer on days when I'm spending most of my time indoors. This gel-to-cream option from CLE Cosmetics is one of my favorites because it feels like a silky serum and quickly melts into my skin. I also am a sucker for the inclusion of caterpillar mushroom extract which is soothing and gives my face boost of hydration."— Jessica Fields, beauty writer, TZR
"Though I love slathering new moisturizers on my combination skin to see how it reacts, I always find myself going back to Drunk Elephant's Lala Retro Nourishing Whipped Refillable Moisturizer. The formula is made with a triple ceramide blend, which works wonders on my dry complexion in the dead of winter. I can't recommend this product more." — Kelsey Stewart, associate fashion editor, TZR
"You have to finish the jar to see the benefits of this cream. After emptying it, my skin looked brighter, my spots were lighter, and my texture felt smoother. Plus, I love its velvety texture and the dewy look it gives me the morning after."— Amanda Ross, beauty editor, TZR
"I have incredibly dry skin year-round, and during winter things are *extra* sensitive. I crave an ultra-rich cream that I can slather on my face to give it a boost of hydration and total relief, like bareMinerals' Butter Drench Restorative Rich Cream. It's so indulgent and yummy and immediately soothes my skin. Plus, it's clean, vegan, and cruelty-free!"— Rebecca Iloulian, director, newsletter revenue and marketing
"Despite a supercharged formula of ceramides and four types of hyaluronic acid, this deeply nourishing, reparative cream is miraculously lightweight and a great base for dewy makeup. Bonus: it has the National Eczema Association Seal of Acceptance so it's gentle enough for sensitive and compromised skin." — Erin Lukas, deputy beauty editor, TZR
"While a bit basic, Cetaphil is my go-to for baby soft skin in the winter. It soothes and boosts hydration sans clogging my skin or causing a breakout. I keep a bottle of this stuff in stock at all times in the colder months. It's a classic for a reason — and sometimes simple is best."— Angela Melero, executive editor
"I play the field with my moisturizers, but one I always find myself coming back to —especially in the drying depths of winter — is this rich (yet somehow quite bouncy!) cream. It's like giving my face a cold glass of water that's been sitting in the fridge overnight."— Alison Syrett, deputy fashion editor, TZR
"On the days where my skin needs extra attention, I turn to this little tube. It's quite thick so I just use a small dab, but I love the way it instantly hydrates my skin and revives its glow and bounce."— Fields
"This cult-favorite moisturizer may have gotten a recent makeover, but what's inside the now-cream tube is the tried-and-true formula I know and love. While it's a rich cream, it delivers long-lasting hydration that leaves my skin soft and dewy – never greasy. I always take this tube with me on flights to prevent travel-related dryness, but it's also a staple in my winter routine to combat seasonal dehydration, too. Because my skin is sensitive to scented products, I prefer to use the fragrance-free version. Whichever one you use, you'll quickly understand the beauty industry lore surrounding it." —Lukas