Let These Las Vegas-Ready Looks Inspire Your Next Trip To Sin City
Chic ideas for concerts, pool lounging, and beyond.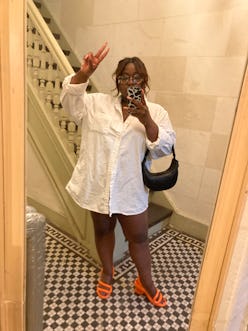 We may receive a portion of sales if you purchase a product through a link in this article.
After tuning in to Usher's Tiny Desk Concert last summer I knew his Las Vegas residency was in my future. It would be part belated birthday present (courtesy of my mother) part family vacation, as we invited my aunts to tag along. Once we set a date and booked our flights and hotels, I decided that the finer details of our adventure were a problem for 2023 me. It was her job to figure out what to pack for the long weekend.
As we settle into February, I realize that I am 2023 me, and it's crunch time. We touch down in Sin City (for the first time ever) in less than a month and in that time I need to sort out a fresh nail set, appropriate protective hairstyle, and outfits. For the most part, I plan to stick to what I already have in my wardrobe but am allowing myself to splurge on a few pieces as I assemble my going-out looks.
The Main Event
My typical concert uniform consists of a crop top, comfy pants, and sneakers but this time, I'm going all out. It is Usher, after all! Despite being dressed up, comfort is absolutely key. Kitten heels and an easy dress anchor the outfit.
Dinner & Drinks
Aside from seeing Usher, the only major activity I have in mind is dressing up and going to the buffet. Keeping it cute but comfy as I eat to my heart's content is once again key, balancing a more casual top and bottom with stand-out accessories.
Poolside
I don't know how much time I'll actually be in the water but I definitely plan to spend some time by the pool, reading and working on my tan before we return to the probably still frigid East Coast.