How to Dye Your Blonde Hair Brown Without Causing Damage
Plus, ways for the DIY club to avoid that icky green color.
@maggiekeating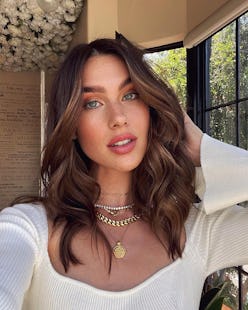 We may receive a portion of sales if you purchase a product through a link in this article.
Not to sound like a broken record, but a great way to welcome in the new year is with a fresh hair color. For those that are blonde and want to go brunette, the process, however, can be a bit tricky for non-professionals, but with the help of a couple top hairstylists, it doesn't have to be intimidating. And better yet, their pro tips will protect the hair from damage occurring during the coloring process. "Any hair color can be colored to another color as long as it is appropriately done and performed on a healthy canvas," says Cyd Charisse, Hairstory hairstylist.
Ensuring your hair isn't dry or brittle is part of that healthy canvas. "Hair that doesn't have enough strength, or is over-bleached, will not be able to hold on to the color, or worse, will turn green or muddy," the stylist continues. Shvonne Perkins, master colorist at Madison Reed agrees: "The performance of how color will hold and will perform (not to mention how good it will look) is almost totally based on what physical shape the hair is in."
Perkins explains that when hair is colored darker, the hair has to hold onto additional pigment that is being deposited. "If the hair has been highlighted and damaged through heat styling and color, it needs to be assessed for porosity and strength to determine if going darker is feasible," Perkins tells TZR. Otherwise, the color can take unevenly (read: blotchy) and then fade quickly, looking dull and patchy.
Fortunately, there are a handful of pro tips on how to become a brunette – with minimal damage. Between pre- and post-coloring regimes, determining your perfect shade, and everything in between, the experts share the top tips for a seamless blonde to brown journey, ahead.
Tip #1: Determine Your Perfect Shade
Yes, inspiration photos serve as a great start, but determining your perfect shade for your complexion is a bit more detailed than that. "The perfect shade is determined by the natural undertones in the face and in your natural hair color," says Yurick. "I would not recommend going any more than one to two shades darker than your natural root color."
It's also good to keep in mind that the lighter your blonde is, the longer it will take to turn brown, via a technique called filling. Think of filling, a process that deposits dark pigments into the hair, like a base coat of a manicure. "By filling your hair, you add in color molecules to allow them to bond to a clear base, before adding the brunette color," says Yurick. "It works to reiterate underlying warm shades to allow the brunette shade to saturate every strand." Typically this is done in a two- to three- step process, ranging anywhere from 10 to 60 minutes.
It's also important to think about how much maintenance you can handle, both at home and for follow-up appointments. As a rule of thumb, the lighter your hair is to start, the more appointments it could take to reach your desired shade.
Tip #2: Give Your Hair Some TLC Pre-Appointment
All of the experts advise to properly moisturize blonde hair prior to dyeing it brown, especially for curly girlies where the cuticle is dryer than other hair types. "Work on deep conditioning, alternating moisture and protein to bring the hair back to a place where it can hold pigment well," says Perkins. And on the day before or day of the color service, Valdes suggests getting a conditioning treatment to give your hair the best chance of absorbing the most color, as the hair will be open. "Hair that has had the cuticles lifted or swelled, via coloring, will absorb color better when open," the pro shares. Keep in mind that color bonds to protein, so with enough protein embedded pre-appointment, your hair will be in its most optimal state to take the color in.
Tip #3: Fine Tune Your At-Home Maintenance Routine
Going from blonde to brown does require some maintenance to ensure the color transformation lasts. The first thing to do is invest in sulfate-free color-conserving shampoo and conditioners with a low pH to keep cuticles shut and prevent color molecules from being released and maintain that fresh-from-the-salon shine.
Hair masks are another great weekly add to a brown hair color routine. "Protein and moisturizer treatments will help hair be healthier and increase the chances of color retention," says Valdes. You can apply it after shampooing and conditioning for 10 to 20 minutes, or for a deeper conditioning apply it on dry hair, cover with a shower cap and either sit under a dryer with moderate heat, or keep on overnight and rinse — each option will give you added moisture and shine.
And in the event that you can't make it into your touch up appointment or notice color depletion in between appointments, a purple shampoo is a good tool to have on hand. According to Charisse, they work well at keeping unwanted undertones from surfacing. For those that enjoy heat styling, be sure to always start with a heat protectant, even if you are air drying. "[Heat protectants] keep hair healthier from external damage," Valdes. "Healthy hair holds color better and helps it fade less quickly. The more heat that is applied, the more it will fade."
Tip #4: How To Dye Your Hair Brown At Home
While all of the experts the experts recommend going to a professional for a major color change, there are ways to dye your blonde hair brown successfully from the comfort of your home – and for a more affordable price tag.
Step 1: Invest In A Quality At-Home Color Kit
Not all at-home dye boxes are created equal and you'll want to use higher-quality, less-damaging formulas filled with nourishing additives to prevent your hair from breakage, frizz, and dryness.
Step 2: Mix Your Color & Apply It
Most at-home hair kits contain the actual color pigment and a developer that helps activate the hair dye. Add them both in the provided bottle until they're fully combined. Next, starting from the back of the hair, apply the dye in small sections. Be sure to completely coat the hair from roots to ends and massage it through for even application. Finally, let the dye marinate for as long as the instructions on the box suggest – don't forget to set a timer.
Step 3: Touch Up Where Necessary
After you rinse your hair, you might see pieces that aren't as dark as the rest of your head. Simply touch up the section with a little more color until you reach an even-toned brown.