A No-B.S. Guide To Buying The Very Best Lace Front Wig
Undetectable is the goal.
@slimreshae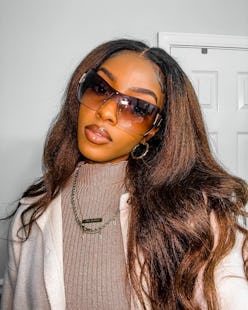 We may receive a portion of sales if you purchase a product through a link in this article.
When it comes to hairstyle versatility, nothing compares to the power of wigs. It's a vast category with tons of specific and varied options, but across the board, lace front wigs are considered the gold standard. As the name suggests, they feature a thin, transparent layer of netting at the crown and edges of the head, designed for a seamlessly-blended hairline that yields a natural look. Purchasing a lifelike unit can be difficult for newbies — but it doesn't have to be. Anyone can learn how to buy a lace front wig that's stunning and simple to install with a few expert tips.
For years, lace front wigs been a go-to for Black women in particular, allowing for an easy transition from one flawless style to another with minimal damage — if any at all — to the wearer's natural hair. They've also been a linchpin of celebrity beauty since Hollywood's very inception, providing quick change-ups for photoshoots, red carpets, and on-set productions. These days, you'd probably have a hard time finding an A-lister – or even a friend – who hasn't taken advantage of their convenience at least once.
Ahead, TZR tapped three celebrity hairstylists for their advice on shopping for lace front wigs, including what kind to buy, figuring our your ideal size, and the top mistakes to avoid.
What To Know Before Buying A Lace Front Wig
According to Kim Kimble, celebrity hairstylist and founder of her eponymous wig collection, a wig's color, length, and style aren't the only factors you need to consider before making a purchase. "There are several different types of lace that can factor into how the wig will lay and look," she explains to TZR. The stylist, who works with industry heavyweights like Beyoncé and Mary J. Blige, also notes that the size, texture, and shade of the lace itself are just as important.
Flexibility is one of the best characteristics of lace front wigs. "Not only are they ideal for protecting your natural hair, but they allow you to try a range of new looks so you're not locked into one style for several months," says Kimble. When you're on the hunt for a new unit, she suggests thinking more about how you'll wear the wig, which will help guide you to one that best fits your individual lifestyle and budget. For example, if you go to the gym often, you may want a lace front style that's breathable and easy to apply and remove.
The piece's construction, as well as its hair type and density, are also important, explains Adeola Olaoluwa, L.A.-based hairstylist and founder of The Frontal Queen. However, she notes that lace type is arguably the most crucial factor as it can determine how the wig looks and how long it can last. "One of the most common mistakes I see is not taking the time to learn about lace fronts. Many people aren't fully aware of the different types of lace fronts or the upkeep needed to preserve the lace which leads to an unsatisfactory experience," she says.
What Are The Different Types Of Lace?
Instead of a defined part or full-cap, the lace fronts feature a sheer layer of netting around the edges. This gives you a natural style and realistic-looking part that can be placed wherever you want and carefully blended to camouflage right into the skin. Olaoluwa says Swiss, French, and HD lace, also known as royal lace, are the most common types used for these wigs. Each has its own benefits and price points that should be considered when shopping.
Swiss Lace
"Swiss lace is very delicate and provides a natural appearance," says Olaoluwa. She continues saying that it's a popular choice because it offers customization while staying fairly undetectable. Kimble notes that Swiss lace is also much easier to blend in thanks to its thinner texture. The downside? You'll have to be extremely gentle when wearing your wig as the delicate material is not known for its durability.
French Lace
Next to Swiss, this is the second most popular option. Olaoluwa tells TZR that French lace has a slightly thicker consistency, making it a lot more resilient than the other types. It also extends the longevity of the wig — meaning you can apply and remove it often without worrying about any tearing. In that vein, French lace tends to be the most affordable and economical choice.
HD Lace
Also known as transparent or royal lace, this type features a fine and delicate texture that allows for an invisible look. "These blend exceptionally well with any skin tone to deliver a virtually undetectable hairline," says Olaoluwa. Kimble explains that HD lace is a favorable choice for celebrities as it can easily be tinted to match different complexions for the most natural feel. With its ultra-thin composition, wigs made with HD lace can be pricey and aren't usually the best choice for daily wear.
How To Shop For A Lace Front Wig Online
Trying on a unit before you buy it is the most ideal way to find a wig you love. However, that's not always possible when you're shopping online. To begin your search, Jared "JStayReady" Henderson, celebrity hairstylist and ambassador for Professional Hair Labs, suggests looking for vendors with good customer reviews. Olaoluwa agrees, explaining that reading feedback from others can help determine how reputable the seller is and the quality of their products. It's also a good idea to prioritize stylist recommendations. "Consulting with a hairstylist you trust or a wigtician can help make sure you're getting the best wig for you. You never know what you're going to get in the box — a professional eye can mean the difference between a well-made unit and one that looks wiggy," says Kimble.
How To Upkeep & Maintain Lace Front Wigs
Proper wig maintenance is key to prolonging the lifespan of your lace front. While you can wash and condition it as you would with your own hair, investing in wig-specific products can be beneficial. Kimble advises looking for products that contain only small amounts of alcohol or other drying ingredients. She explains that a lack of moisture can disrupt the texture of the hair and may lead to tangles.
Aside from washing the wig's hair, you'll also need to ensure that the lace is thoroughly cleaned and prepped for your next installation. "Removing adhesive from your lace so that it does not rip or get ruined is a big factor when maintaining your wig," says JStayReady. He recommends using a product that's free of lanolin, like Ghost Buster's Adhesive Remover, to ensure that there's no greasy residue left in the lace. "Residual moisture and oil can affect how the lace adheres to your skin in the future. But taking care when you're removing and storing the wig will keep the lace looking fresh for a flawless installation," he says. The category of wigs is constantly evolving, but with these tips, you're sure to find a unit you'll love.
The Best Products For Lace Front Wigs