These Full-Coverage Concealers Work Overtime To Make You Look Airbrushed
@makeupbymario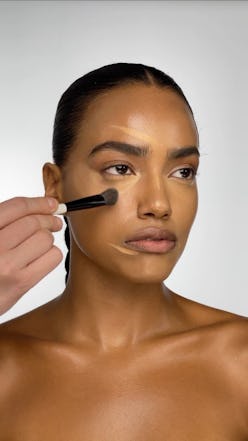 We may receive a portion of sales if you purchase a product through a link in this article.
I don't think I've had a perfectly even skin tone since April 9, 1993 — the day I was born. Between freckles, sunspots, melasma, hyperpigmentation, and the assorted scars from wayward sporting equipment, there's always at least a little something keeping my complexion a few degrees south of perfect. Even after laser treatments and microneedling, a few spots always manage to reappear. Day to day, I'm happy with the way my skin looks, but there's no denying the desire to fake a flawless finish now and then with a full-coverage concealer. If I'm after a seriously smooth look, those sheer glow formulas just won't cut it — I need the creamy, camouflaging thickness of something truly opaque.
Because my spots were earned early on in life, plenty of legwork has been done in pursuit of the ultimate products. There was the retro Max Factor "pancake" sticks I lifted from my mom in the early '00s, plenty of trips to my local Sephora and Target, and even some experimenting with my high school theater department's cosmetic stash, all in search of the miracle formula that would deliver the baby-smooth visage I crave for big events and nights out. As a beauty editor, I've had even more opportunities to test the latest and greatest skin-blurring technology, leaving me with a pretty firm grasp on what actually works.
Ahead, get acquainted with what I consider to be the vest best full-coverage concealers on the market right now. From personal experience, they can obfuscate nearly any spot.