I Tried Liquid Microneedling & My Makeup-Free Skin Has Never Looked Better
Stellar results and zero downtime.
Courtesy of Jessica Fields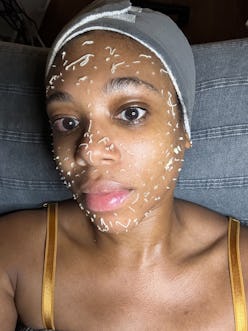 Standing Appointment is our review series that investigates the best new and notable cosmetic treatments in the aesthetics space and determines whether or not they are worth trying for yourself. This week, one writer tries Beyond Miracles' CELLSTORY Treatment.
Youthful skin is by far the number one goal for many people. From topical products to procedures, the quest to slow down the signs of aging is neverending. While I'm not one to shy away from serums or creams boasting the promise of a more radiant complexion, my journey is mostly about maintaining healthy skin from the inside out. For this reason, I've always been intrigued by microneedling — the cosmetic procedure that punctures the skin with tiny needles to stimulate collagen production at the cellular level. The benefits are also quite enticing, but I could never really come to terms with my skin being pricked or the potential pain it causes. So you can imagine how excited I was to hear about CELLSTORY, a non-invasive treatment that delivers similar results with zero needles.
Described as a gentle alternative to the popular procedure, I was intrigued to learn everything I could about liquid microneedling. After a bit of research and conversations with fellow beauty editors, I was surprised to find out that the treatment's key ingredient is derived from freshwater-grown sponges. The benefits, including minimizing hyperpigmentation, reducing fine lines, and softening the skin, were also impressive. As a non-invasive service, results can also be seen in as little as 72 hours. All of this with little to no recovery time? I was sold and had to give it a try. There aren't many places in New York that offer the service, but when I heard Taylor Worden did, I quickly booked an appointment.
Read on for my experience getting a CELLSTORY treatment and find out whether it's a good fit for you.
What Is CELLSTORY?
CELLSTORY is best described as a unique system that cleanses your skin and works to minimize your pores to achieve even tone and texture. The name nods to the sponges that serve as inspiration for the patented Microspear technology. Sara Olivova, CEO of Beyond Miracles, the parent company of CELLSTORY, notes, this is the element that gives the treatment its liquid microneedling nickname.
According to Olivova, CELLSTORY works through the Microspear microneedles that gently pierce the skin creating tiny channels for better ingredient penetration. "They also help the skin exfoliate naturally, leading to a restored glossiness and healthy look," she adds.
The treatment uses a series of eight steps including a cleanser, several hydrating serums, and calming fluids and creams. Olivova explains that in the fifth step, called Meso-Care, there are 50,000 unique microspears (derived from freshwater sponges) that act as the needling aspect of the treatment. "While Korean skin care treatments have been using hydrolyzed sponges, known as spicules, for years, what sets CELLSTORY apart is the 13-step purification process that sterilizes each of the microneedles for streamlined piercing," she says.
The Benefits Of CELLSTORY
If you're at all familiar with microneedling, you'll know that it addresses common concerns like discoloration, wrinkles, and uneven skin tone. Still, it's not ideal for everyone, especially those with sensitive skin. "The beauty of this treatment is that it's great for all skin types," says esthetician and esteemed facialist, Taylor Worden. She continues telling TZR that CELLSTORY is very effective at minimizing fine lines, and blemishes, and smoothing the skin to improve its texture. As a natural exfoliant, it also works to deeply unclog pores.
Worden explains that one of the biggest benefits of CELLSTORY versus traditional microneedling is that there's no downtown. "Unlike the cosmetic procedure, this treatment doesn't require numbing or physical needles so bleeding and an extended recovery period is not an issue," she adds.
My skin two weeks post-treatment.Courtesy of Jessica Fields
My skin three weeks post-treatment.Courtesy of Jessica Fields
My CELLSTORY Experience
To begin the treatment, Worden first washed my face with a cleanser formulated with an amino acid complex for moisture. In the following three steps ingredients like niacinamide, vanillyl butyl ether, and fruit and stem cell extracts were applied to help open up the pores and hydrate the skin. The first half of the treatment is designed to prep the skin for the microneedle-like process, and it was very soothing as she massaged the liquids into my skin.
In the fifth step, tiny blobs of the cream containing the Microspear microneedles were dotted all over my face. In a serene setting, with aromatherapy scents, I lay relaxing as she methodically placed each dot. Once complete, she said "OK, brace yourself, here's where it gets a little uncomfortable." Next, she began massaging the cream into my skin. The process wasn't painful and felt more like using a physical exfoliant for the first time. Think more of a coarse sea salt scrub being vigorously rubbed onto your face than finely grained coffee-based one. Worden was speedy with this step, a skill that I appreciated as she massaged the microneedles deep into my skin. Once it was over, she gently rubbed on the cooling gel to soothe any irritation.
The treatment finished with a calming mask and squalane-based moisturizer, both of which aid in hydrating the skin and restoring its barrier. The entire process took about an hour and a half, and once it was over, my skin felt a little prickly and had almost no sign of redness.
CELLSTORY Aftercare
Before leaving, Worden told me that I'd likely notice some peeling over the next few days. This is normal with micro-trauma, as the dead cells slough off to reveal the new skin underneath. She also noted that I should be cautious when doing my skin care or makeup routine for 72 hours. "Your general regimen is fine to do, but within the three-day span you should avoid retinols, exfoliants, face oils (or oil-based products), sun exposure, and heavy sweating, during this time to let your skin heal," she says. Chemical peels and lasers are also a no-go for at least a week after your treatment.
My Results
I visited Worden for two treatments, each one week apart. The service was the same for both, but per Beyond Miracles' recommendation, the results are best with consecutive visits. Needless to say I was shocked at how much my skin had changed after just two appointments. By week three, I noticed my dark spots had begun fading and that my skin looked smooth and naturally taught. I usually opt for a little bit of concealer under the eyes and around the chin on my no-makeup days, but I was pleasantly surprised to see that I needed neither.
As for how often you need to keep up the treatments, Worden says it's best to have one session per week for four consecutive weeks. While you will see results after the first 72 hours, she notes that one month will give the best results. If you're looking to enhance the benefits, she suggests adding an LED light treatment to the calming mask step. "I do this during every session to further stimulate collagen and elastin to help with cellular turnover and can aid in calming redness," she says.
My Takeway
As someone who shies away from needles and devices, I enjoyed the massaging aspect of CELLSTORY. Yes, the microspears are a little uncomfortable, but the rest of the seven steps feel like a relaxing spa treatment as opposed to a medical appointment. The speedy results are also a major bonus. With no downtime, you'll be able to notice brighter and smoother skin in under a week.
It's also quite affordable as far as procedures go. Prices will vary depending on where you live and the spa or salon you go to, but typically, the cost is around $300-$500 per session. Bottom line: If you need a quick rejuvenation for an upcoming event, CELLSTORY is a speedy way to boost your glow from the inside out.