Celebrity Makeup Artist Alexx Mayo Refuses To Gatekeep His Best Red Carpet Tricks
Courtesy Of Alexx Mayo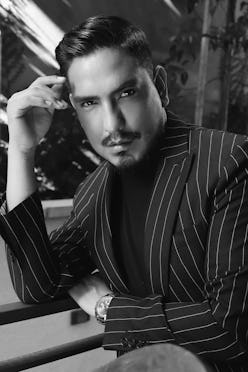 Iconic beauty moments aren't born without the visionary artists that create them. In Behind The Glam, TZR gives you an inside look into the careers and inspirations of the industry's top artists.
Social media tutorials and peer-to-peer tips are incredible, but does anything compare to the next-level proficiency of a professional makeup artist? Alexx Mayo, from the first bits of wisdom he shares with TZR, has the sort of real-world expertise only years of working with the highest-profile celebrities can yield — even the most casual advice he tosses off is enough fodder for a half-dozen TikToks. But if Mayo is about anything, it's the democratization of beauty.
These days, you know Mayo as the man behind iconic looks from Lizzo, Mariah Carey, Tinashe, and more. The ability to combine the most of-the-moment trends in color and technique with each star's own unique sense of style is a powerful one, something he honed in his early years working in the wedding industry. In preparing brides for their big moment, Mayo learned the delicate art of balancing self-expression through makeup with the practical knowledge needed to make sure all those products apply beautifully — and last all night. With his latest major collaboration, his career comes full circle. Now through November 15, brides-to-be can enter into a contest through The Knot for the chance to have Mayo do their wedding day makeup — a true red-carpet experience. It's part of The Knot Drops, a program giving engaged couples once-in-a-lifetime offers to work with celeb-caliber professionals like wardrobe stylists and glam teams.
Fortunately for all makeup lovers, Mayo is always willing to share his firsthand knowledge. Below, TZR taps the artist for an inside look at how the major-league pros prepare and execute big event makeup looks. Regardless of if you're planning upcoming nuptials or just want to be the hottest one at your next holiday party, his suggestions are all solid gold.
Lean Into The Season's Biggest Trends
Turning the corner into full-fledged winter, there's plenty of fresh, seasonal inspiration waiting. Mayo says he expects blush to be a major player in winter beauty, simulating the look of cold-flushed skin, as if you were just playing in the snow. "I think that we're moving away from the sparkly, super-shimmery highlighter and getting more into that really hydrated, ethereal look," he adds. It's all about a lit-from-within glow.
Of course, is it even the holiday season without statement lips? While Mayo says he expects tons of bold lipsticks throughout winter, making the mouth stand out is one way to work some cool-factor into a bridal look. "I love seeing merlot tones, chocolate tones, berry tones," he explains, adding, "that is always a really great way to still remain classic [but still] get that really nice statement going."
With so many exciting trending looks to choose from, though, Mayo recommends tempering expectations with what your day-to-day life actually looks like. He points to the heavier glam often seen on social media and explains that many brides think they want that bolder, more elaborate look. Your wedding is not the time to take a major, out-of-the-box risk, he advises. "I think keep it true to yourself — you don't want the makeup to overpower your natural beauty on your big day."
Pre-Makeup Prep Is Essential
Like a professor strongly hinting at what's to come on the big final, Mayo reiterates several times that the proper preparatory steps are absolutely critical for a full face of cosmetics. It's both creative and practical, too. Mayo says he's always gathering inspiration, even on casual outings to botanical gardens and art galleries, but for a big event, he highlights how important it is to have a concrete idea of what the wearer wants ahead of time. Take into consideration what you're wearing, where you're going, and what you want the overall mood to be, he explains, adding that it's a very individual process.
In terms of the immediate steps to take before going in with colors and brushes, Mayo emphasizes the power of great skin care. "I always say that makeup will mimic the skin underneath it," he explains, listing exfoliating, cleansing, and proper moisture levels as the most key components to hit. "You want to make sure that that skin is polished and glowing and fresh and ready to receive makeup." It's not something that you can really fake, either. Mayo tells TZR that he's not the biggest believer in primers, finding that working with the skin in advance of an event — and tailoring products used to the wearer's skin type — makes a much bigger difference. "When the skin is well-prepped, everything stays on better."
How To Make Your Makeup Truly Last
As anyone who's ever worn a full-face of glam knows, getting the makeup on is only half the battle. Particularly for major events and situations, making the cosmetics last is the real issue. Along with preparing the skin ahead of time — most experts recommend at least 12 weeks on a consistent routine to really yield results — Mayo is full of brilliant tricks of the trade he's picked up over the years. For those bold statement lips, Mayo says he likes to use a thinner-consistency liquid lipstick, then press a matching powder eyeshadow or blush shade to lock the color in.
The touch-up tools you bring with you — be it in a big ol' tote or a tiny party clutch — makes a difference, too. Before his clients head off to their assorted soirées, Mayo says he likes to load up a velour powderpuff with pressed powder for them to bring along. "I always tell them to press not swipe," he adds. "Press onto the skin." And you better not leave behind your lip color du jour, either. "You have to make sure that that stays on board with you. You know, that's usually the first thing to fade away."
Alexx Mayo's The Knot Drop contest runs through November 15 at 11:59 PM E.T. The winner's wedding must take place between December 1, 2023, and November 1, 2024.