François Nars' New Documentary Is The Makeup Artist's Moving Mood Board
The legendary pro shares all.
Courtesy of François Nars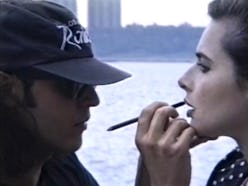 The new documentary Unknown Beauty: François Nars serves as the legendary makeup artist and photographer's moving mood board. Directed by Lisa Immordino Vreeland, the collage-style film pays homage to the movies, photos, and women who have influenced his artistry since the early days of his career in the 1970s. It even gives the audience a rare glimpse into the extremely private Nars' childhood, including his relationship with his mother Claudette, and the creation of his nearly 30-year-old namesake makeup brand.
In lieu of a traditional documentary format featuring interviews, Unknown Beauty features a collage of clips artfully edited by Vreeland. These include scenes from over 50 of Nars' all-time favorite movies and behind-the-scenes footage from runway shows and photoshoots he worked on throughout the years. And the documentary's narrator, actor Charlotte Rampling, is equally as captivating. The musings on beauty, film, and Nars' revelations on the evolution of his career, transport viewers inside the inner workings of the artist's mind. Along with Rampling, a handful of Nars' close friends and muses, including Marc Jacobs, Lauren Hutton, and Isabella Rossellini, also lend their voices to the project. There's also antidotes from the man himself.
Ahead, TZR sat down with Nars at the Baccarat Hotel in New York City to find out how the project came to be.
What inspired you to do a documentary at this point in your career?
It was actually not my idea. When you want to do a film on your life, it has to come from other people. I'm not that self-centered — I'm obsessed with other people. I love behing behind the camera taking pictures and doing makeup. So the Nars brand team came to me with the idea and our 30th anniversary is coming up next year, so it felt like a good time to do it. I started thinking about how I see myself and what I want to say to people about my life and my creative vision. Talking with Lisa [Immordino Vreeland], we came up with the idea to make chapters in the movie and really present it in a unique way that wasn't me sitting in a chair in front of the camera. You see people talking to the camera on Instagram and I want it to be the opposite of social media. I wanted it to be a reflection and very educational at the same time.
How did you choose which film clips to include in the documentary?
I have 500 films I love and we had to narrow it down to 50 of my favorites. That was very challenging. At the same time, it was a lot of fun because Lisa also knew a lot of the movies. We had the same point of view and it made the work that much easier.
The film shares behind-the-scenes clips of working with photographer Steven Meisel in the '90s. What was this time like in fashion?
It's a time in fashion where a lot wasn't shown [behind-the-scenes] and I was the only one recording footage while working on set. I think people are going to enjoy seeing the clips of me creating Italian Vogue shoots with Meisel. I had my little video camera and it was the first one on the market — there were no cellular phones — so it's quite a miracle that I have this footage.
The name of the film is Unknown Beauty. What do you still want to learn about beauty?
Everything. I think when you know it all you can die because you have nothing left to discover. So I hope to always be learning and getting inspired. Inspiration is a tricky thing. Maybe today more than ever because the times have changed a lot. I don't want to say there's less beauty because beauty is around when you look for it, but we're harassed by so many ugly things in this era. The '20s, '30s, and '40s were different. Today, you really have to look for it and look for that great movie, that's not necessarily easy to find — creativity isn't expressed in the same way.
There's a quote in the film that says 'beauty is an expression of time'. What are your thoughts on creating makeup products that are now considered timeless?
You don't think about it when you create; it just happens. The process of creating has to stay spontaneous and natural, like good food, in order to make an impact. I try to stay very free of strict concepts and there isn't a formula. I nope Nars is timeless because people love the products and we try to create a brand that stays forever. It comes from the fact that I don't love excessively trendy things, I love classic with a bit of edge but not too edgy.
This interview has been edited and condensed for clarity.