Bee Shapiro On Why "Bad Smells" Are Actually Beautiful
The Ellis Brooklyn founder on creating cult-favorite scents.
TZR; Courtesy of Bee Shapiro; Ellis Brooklyn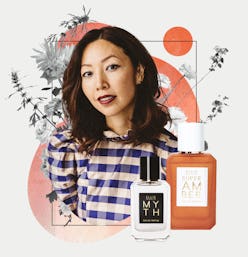 We may receive a portion of sales if you purchase a product through a link in this article.
Every scent evokes an emotion. In Scent Stories, TZR asks tastemakers, celebrities, and industry insiders to share the stories behind the smells of their past and present.
Like many who were teenagers in the early 2000s, Ellis Brooklyn founder Bee Shapiro thought Victoria Secret's Love Spell body mist was it. "I played basketball in junior high and there was a girl in the locker room that busted out Love Spell and I was shook," Shapiro says of the scent that served as her entrée into fragrance. "Back then, my allowance wasn't a lot, so I remember saving up and finally buying it, which was a really big deal for me. It was just body mist, but it became my scent for a good part of junior high."
Shapiro's choice in perfume continued to evolve as she came of age, moving on to Gap's Heavenly and Dream, to Jean Paul Gaultier's Femme Classique, her first fine fragrance purchase when she was 21.
But scent had a hold on Shapiro long before she started wearing actual fragrance. She recalls the first time she smelled snow shortly after her family immigrated to the Seattle area from Taiwan. "There's a picture of me at Mount Rainier holding this giant snowball and I look so happy; I think I was four-years-old," she recalls. "It was such a different smell, and it's funny how you may not remember more distinctive memories from a certain age, but you'll have smell memories. I wasn't conscious of the power of scent at that moment, but I just was moved by smelling something new."
The feelings and memories that fragrance evokes is exactly what inspires Ellis Brooklyn's fragrances, like Myth and Bee. "Bee is one scent I purposely designed to get better and better and change as the day goes on because I was literally sitting with myself all day," she says of the fragrance entirely made during COVID lockdowns. "That's why I call it a fragrance for falling in self-love because I was literally sitting with myself."
Ahead, Shapiro shares the scent memories that have stuck with her and serve as inspiration for her line of fragrances.
The Smell Of Comfort
For me, it's a fresh-out-of-the-laundry blanket — a warm, super fuzzy blanket.
The Smell Of Creativity
Initially I'd say it's citrus, but I think the scent of creativity is green, so creativity is green notes, like basil for example. Citrus often pairs with those kind of notes, but green notes wake me up. I think it's because I grew up in Seattle, so when I think about my childhood, I spent a lot of time in the woods down the street, so green triggers earthy scents, which in turn, triggers that memory for me.
The Smell Of Love
I see these 'date night' scents and they're always really pretty and have flowers and berries, and whatever else, but the truth is, when you cut to the chase, it's musk. I think there's different kinds of musks — clean-smelling ones, sharp musks, and really granular, get-in-there musks. Personally, I love white musk because it hints at the real deep and dark musk, but it doesn't go all the way there.
Love is [also] waking up in the morning. You have all sorts of smells in the morning — sweat, bad breath, and you also have this gorgeous bodily smell. I'm not that scared of 'bad smells'; I like the smells of life. Especially in the U.S., people are scared of bad smells and want to smell clean all of the time. Don't get me wrong, the first thing I do in the morning is shower, but the most gorgeous scents in our life aren't always 'clean' — it's the smell of an arm you're sleeping on, for example.
The Smell Of Nostalgia
Nostalgia reminds me of gourmand scents. I used to bake a lot and when I bake with my daughters, it's just that smell of baking that really gets me. It's usually sweet smelling, like vanilla extract and maybe some cinnamon in there, but really it's just the sweet baking moment that I get nostalgic about.