These Edge Control Products Will Keep Your Baby Hairs Laid & Smooth
@jewejewebee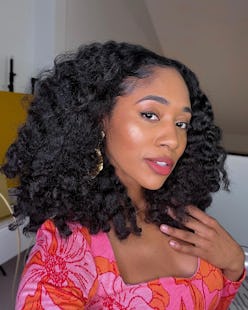 We may receive a portion of sales if you purchase a product through a link in this article.
Curls and coils make textured hair beautiful. But when it comes to smoothing them down for sleek styles, they can become a chore. And while gel and mousse are great for maintaining a protective look, edges are an entirely different story. The hair located just around the crown of the head tends to beat to its own drum and needs special attention to stay put. Enter edge control products. Designed to work specifically with fine baby tendrils and rogue strands, they're a staple in any natural's bathroom cabinet.
While hair gels and edge controls are often mistaken for being the same product, they're actually quite different. "These [edge control] stylers have a thicker consistency and are more closely related to a pomade than gels, which are water-based and often used to define the curls," says Tamara Laureus, celebrity hairstylist and founder of Hairenomics salon in Brooklyn. She notes that many products are formulated with nourishing ingredients, like castor oil, aloe, shea butter, and flaxseed oil that protect the delicate hair from breakage.
There are a range of options to choose from. But as Takisha Sturdivant-Drew, ​​celebrity hairstylist and owner of TSD Hair Extensions, tells TZR, finding the right consistency for your texture is crucial to ensuring your edges remain smooth and frizz-free. "Tighter curls may need a stronger hold, while looser patterns may do best with lightweight formulas that focus on sculpting," she says.
It's a good idea to keep in mind that edge controls are often used to create swoops and S-curls that will enhance the final style. "The last thing you want is hair that's left looking stiff or feeling crunchy," says Tukia Allen, educator coach of Aveda Arts & Sciences Institute Atlanta. She explains that finding the balance between strong and pliable will give you a sleek lay-down with maximum shine for days.
Ahead, these three stylists share their top edge controls to keep every type of curl laid to perfection.