Carina Chaz Uses This Fragrance As A Mood-Booster
The DedCool founder on self-expression through scent.
TZR; Dedcool; Shutterstock; Getty Images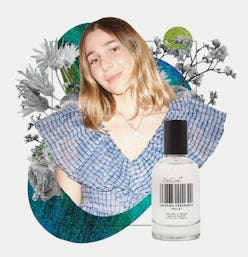 We may receive a portion of sales if you purchase a product through a link in this article.
Every scent evokes an emotion. In Scent Stories, TZR asks tastemakers, celebrities, and industry insiders to share the stories behind the smells of their past and present.
For DedCool founder Carina Chaz, making fragrance started off as a necessity. "I've always been obsessed with fragrance, but I was never allowed to wear traditional fragrance growing up," Chaz recounts. "In 2007, all of my classmates were wearing Pink Sugar and I just so vividly remember the smell and desiring it, and my mom saying, 'no, we're going to take you to Whole Foods and you can play with essential oils instead.'"
Coming from a self-proclaimed "hippy-dippy" background, Chaz says her parents were planet conscious before it was cool and had been making and producing clean cosmetics since the '80s. This genetic DIY sensibility is why fragrance making came natural to Chaz, while her eco-friendly upbringing set the foundation for DedCool's pioneering brand standard of creating scents with clean, organic ingredients.
With DedCool, Chaz hopes to create scents that promote self expression and challenge the notion that beauty (and especially fragrance) needs to be categorized by gender. "In the early days, I wanted to create the notion that fragrance has no allocated gender," she shares. "It's just how people want to experience it and express themselves."
Mixing and layering is where the self-expression comes into play. The brand's cult-favorite scent Milk is designed to be worn with other scents, but Chaz says any two perfumes in the collection can be mixed and matched like a fragrance choose-your-own-adventure. She also encourages layering through the brand's products like using a body lotion in one scent and a laundry detergent in another.
Ahead, Chaz shares the Scent Stories that make up her life and set the foundation of her cult-favorite fragrance brand.
The Scent Of Nostalgia
"Definitely Pink Sugar. That scent is ingrained in my brain, which is funny because I was never able to own these products [fragrances], but I could always smell it in department stores. Also, I was obsessed with L'Artisan. They had a mimosa scent, which I don't believe is actually available anymore, But I remember smelling it as a tween and being like, 'this is the scent.' But I think Pink Sugar is what got me started in understanding the power of scent and how you can represent yourself through scent."
The Scent Of Creativity
"When I'm feeling most creative or when I need to activate those senses, I always spray our fragrance Smiley Face Garden. I also use it as a mood elevator. So sometimes before I go to sleep, I'll spray some on my wrists. It's amazing to see at this point now people are using fragrance as a vehicle to set and boost a mood."
The Scent Of Love
"I always say a rose note represents love because it's just so quintessential romance, and can be associated with love on all spectrums. Being dorky, I think of my grandma when I smell a traditional rose absolute. It's funny how the rose applies for loved ones and family members."
The Scent Of Comfort
"I would say Extra Milk or Milk depending on how strong I need the fragrance profile to be at that moment in time. Milk is the first scent I made that inspired me to continuously create scents and go on this journey of being creative and experiencing lot of trial and error. I'll still have moments where I smell it and it's like I'm smelling it for the first time, which is so funny to me because, at this point, I created it over a decade ago."