Slather On These Nighttime Moisturizers For A Morning Glow Up
See you later dull, tired skin.
@juliana_m_leite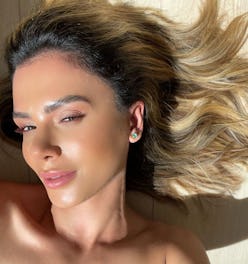 We may receive a portion of sales if you purchase a product through a link in this article.
Join TZR editors for Main Squeeze, the series dedicated to sharing beloved beauty products — be they bold, effective, or simply fun — that make our week just a little bit better. Ahead, Team TZR spotlights their favorite nighttime moisturizers of the moment.
After a long day, there's nothing like coming home to wind down and relax. Though everyone's turndown routine is different, skin care is usually the last stop before bed. Sure, cleansing your complexion of makeup and other impurities of is important, but the steps that follow have proven to be even more beneficial. After your face is clean, applying, a serum can target specific concerns like fine lines or discoloration, while a cream will nourish and replenish your skin. Still, many of these products are made to do so much more. Take the best nighttime moisturizers, for example, which work while you sleep to deliver glowing results.
Unlike a day cream, these products are designed to aid in the skin's natural nightly renewal cycle on top of preventing moisture loss. They're packed with concentrated ingredients that penetrate the barrier to help with collagen stimulation, cellular regeneration, and evening tone. With so many different skin care issues to consider, not to mention a sea of options to choose from, finding a good one can be tricky. Maybe you want to address several concerns in at once, or perhaps sensitivity is a problem. You could spend hours searching for the right formula, but to save you some time, TZR editors have gathered their favorites all in one place.
Below, see the nighttime moisturizers the team relies on for more radiant and healthier-looking skin.
"I've been a big fan of Dermalogica for at least a decade, and this night cream is a regular in my rotation. At 38, my skin issues revolve around dryness, pigmentation, and pesky fine lines. I love that this overnight formula addresses them all in one fell swoop! I wake up every morning to noticeably brighter, more radiant skin that's super smooth to the touch. Trust me this night cream won't steer you wrong."— Angela Melero Executive Editor, TZR
"The radiators in my old Brooklyn apartment aren't the most high-tech, so if I don't slather on a thick moisturizer at night, I wake up with dry, irritated skin. The Outset's Restorative Niacinamide Night Cream keeps my complexion nourished and hydrated all night long. I have sensitive skin, so when I'm able to find a moisturizer that doesn't irritate me, I make sure to keep it in stock."— Maggie Haddad, Sr Strategist, Social Media, TZR
"I've always been on the hunt for the elusive nighttime moisturizer that's rich in texture and stays put on my skin no matter how much I toss and turn throughout the night, giving me that morning glow from intense hydration all night long. I've found it with Charlotte Tilbury's Magic Cream, which is part of my beauty arsenal for dry winter nights."— Kathy Lee, Editor-in-Chief, TZR
"I call Dr. Shereene Idriss the skin whisperer, and inherently trust anything she says because she tells it like it is. Her moisturizer is perfect for my oily-combination skin — it has a gel-like texture that still feels hydrating, and I love that the vitamin C and brightening actives are helping fade dark spots over time."— Faith Xue, Executive Beauty Director, Lifestyle
"As if Hourglass' entry into skin care wasn't exciting enough, the brand released this rich cream that has become my go-to at night. It sinks into my skin and gives me a glass-like glow, but the real treat is the smooth complexion I wake up with. It's even helped fade some of my dark spots which tend to be my most annoying concern. "—Jessica Fields, beauty writer, TZR
"I love Tatcha's Overnight Repair Cream year-round, but it really earns its keep come fall and winter. It doesn't matter what I put my skin through — snow sports, Accutane, endless product testing — because this incredibly restorative cream is always able to pull it back from the brink of disaster. The secret is in the instantly soothing Japanese indigo extract, which, along with hyaluronic acid and ceramides, helps fortify the skin barrier. My complexion truly drinks it in."— Amanda Ross, beauty editor, TZR
"Since the temperatures have dropped in NYC, I've switched to this thick and luxurious plant-derived moisturizer at night to ensure I wake up dewy, even when my super-drying pre-war radiators are working on overdrive (IYKYK)."— Alison Syrett, deputy fashion editor, TZR
"My skin treats this rich moisturizer as though it's water – it truly drinks it up. In addition to providing instant hydration, it works to repair the skin barrier overnight, which my complexion definitely needs after the exposure to dry winter air and my apartment building's overactive radiators."— Erin Lukas, Deputy Beauty Editor, TZR
"Isla Beauty makes sleek, soothing skin care in sensorial textures, and the Whipped Dream moisturizer is my favorite way to end my nighttime skincare ritual. The texture is buttery-soft but doesn't feel clogged, and the niacinamide and ceramide-infused formula keeps my skin soft and hydrated."—Xue
"This cream feels like an actual dream. First, it smells divine and melts into the skin, but it also delivers a burst of hydration and instantly makes my skin look a touch more radient, thanks to lotus flower and peach extracts. I also love how creamy the texture is and that it doesn't leave my skin feeling too tacky or greasy."—Fields