Your Summer Beauty Routine Is Probably Missing This Vital Lip Product
It can have a big impact on your pout.
Courtesy Of MELT Skincare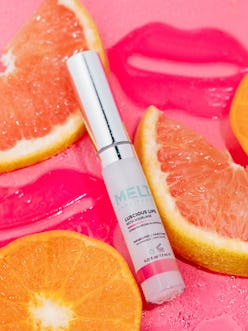 We take such good care of so many areas of our body. Our scalps enjoy invigorating scrubs, our hands are privy to hydrating creams, and even our feet get polished up with a pedi every now and then. Our lips don't always receive the same sort of TLC, but with the advent of lip serums there's no reason not to tend to this very delicate, very thin, very exposed skin.
"Unlike lip gloss, lip serums are a lip care product," notes celebrity aesthetician Natalie Aguilar. "Lip serums can offer relief to irritation and sensitivities, provide deep hydration and smoothing benefits, and can even help with discoloration."
Think of lip serums as an important step in a proper "lip facial." First comes cleansing and a gentle scrub, then comes serum followed by an oil or balm to seal all the goodness in. If desired, Aguilar says you could apply a lip mask after the scrub and then rinse it off before applying your serum and balm or oil.
Anyone with dry, dehydrated, or sensitive lips can benefit from adding a lip serum to their beauty routine — especially in the summer when sun exposure, chlorine, and salt water can leave lips irritated. Also, those who tend to wear heavier lip products or long-lasting lip makeup can especially reap the rewards since it'll help products apply more smoothly and look better.
Ahead, see and shop six lip serums that'll help perfect your pout.
TZR Shop is The Zoe Report's shoppable guide to editor-approved buys in fashion, beauty, wellness, and lifestyle. We may receive a portion of sales if you purchase a product through a link in this article.
TZR Shop brings you the editor-approved buys we can't get enough of and think you'll adore, too. Best of all, you can shop all of the products above directly on this page without visiting multiple retailers. Simply click on an item to learn more, choose your size or favorite color (if applicable), and then hit "add to cart." When you're done, you can click over to your cart in the top right corner of your screen to purchase all your stellar selects at once. How easy is that?
Questions about shipping, returns, or your order in general? Click here for more information.
Explore more of TZR Shop (and our fashion, beauty, and lifestyle must-haves) here.