Why Anastasia Soare Wants You To Use Two Shades Of Brow Pencil
The Anastasia Beverly Hills founder shares her best tips.
Courtesy of Anastasia Beverly Hills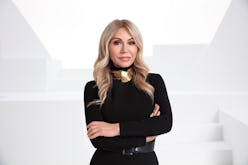 We may receive a portion of sales if you purchase a product through a link in this article.
Anastasia Soare doesn't want you to have good eyebrows — she wants you to have perfect ones. The quest for full, fluffy, impeccably shaped arches is the foundation of the celebrity brow artist's best-selling brand, Anastasia Beverly Hills. Spotting a gap in the market in the '90s, Soare built an empire based on the Golden Ratio, a signature brow pencil sketching method that maps out a balanced, complementary shape regardless of how thin or thick you like your brows, providing the tools needed to achieve the technique. These brow innovations, such as Brow Wiz and Dipbrow, have solidified their status as cult-favorite products over the years, gaining hundreds of five-star reviews across the internet. Currently, Soare is riding high from celebrating the 25th anniversary of Anastasia Beverly Hills this year.
Soare kicked off 2023 hosting a dinner in honor of the milestone, with Oprah, Kim Kardashian, and Jennifer Lopez in attendance. The A-list guest list was impressive, but it's also a full circle moment, as Soare got her start waxing and grooming Hollywood's biggest stars without the social media notoriety of today's top glam teams. It was the '90s, over a decade before Instagram would make its debut in 2010, so being quoted in magazines was the way top experts like Soare got their name out.
While Soare is nothing short of legendary in the brow space, she is always game to share ingenious hacks to help those on their journey to perfect brows. Ahead, TZR caught up with the Anastasia Beverly Hills founder to reminisce about her early days of being a brow icon, plus find out her universal brow tips.
On Crafting Her Brow Style In The '90s
"When I started out 30 years ago, it was the early '90s and everyone wanted pencil-thin eyebrows like Pamela Anderson. I was working on my technique based on the Golden Ratio, trying to convince everyone that skinny eyebrows weren't good. It was difficult because people used to over-tweeze and create too much space between the eyebrows because they thought it would open up the eyes. In reality, brows are important because they bring balance and proportion to the face.
"My method really took off through word of mouth. I was working on almost every celebrity in Hollywood and they validated my work. They were the first influencers — everybody wanted to copy everything stars did, including the skin care and makeup products they used. Then, a lot of magazines would write articles about the Golden Ratio and that brought more awareness to it. In 2012, we were one of the first brands to have a presence on social media, which helped us reach a wider demographic and created a ripple effect."
On The Return Of Pencil-Thin Brows
"Now we have access to so many products that you can easily cover your eyebrows and fake a skinny shape. I think we're seeing this look a lot on social media because influencers need to be creative like artists in order to create new looks for their followers. With the help of tutorials, you can easily cover your eyebrows with glue, apply foundation on them, and draw on fake skinny brows. It looks cool for an editorial online, but it doesn't translate well in real life. But you can experiment without actually doing it, and I think people know enough now not to tweeze their eyebrows super thin."
On Crafting The Perfect Eyebrow Shape
"The most important thing is understanding how to shape your eyebrow. When you're in front of the mirror, look straight on. The beginning of your eyebrow should start right at the outside corner of the nostril, the [invisible] line that connects the corner of the nose with the outer corner of the eye is where the eyebrow should end, and the highest point (the arch) should fall right at the middle of your iris. You connect those three lines with a brow pencil, keeping in mind the inner part should always be lower than the highest part to create an arch. The end should be in-between the arch and the lowest inner part of the eyebrow. Then, brush the hairs in the direction of the hair growth and use soft, hair-like strokes to fill it in."
On The Importance Of Using Two Brow Pencil Shades
"Use a darker color for the highest part of the eyebrows and one shade lighter for the inner part. You want it to be lighter because if it's too dark it will look heavy around the eye. Instead of using two shades, you can use the same pencil but apply very little pressure so it goes on lighter.
"If you have oily skin or live in a humid climate, every product will look one to two shades darker, so pick one shade lighter. If you have dark eyebrows, use a medium or ash brown shade for a softer look. And if you have light hair, opt for one shade darker."
Shop Anastasia Beverly Hills' Hero Brow Products