October's Best Beauty Products Are Here To Fully Refresh Your Fall Routine
New essentials just dropped.
Courtesy Of Tower 28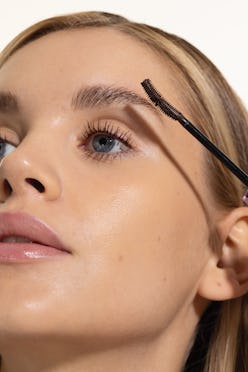 We may receive a portion of sales if you purchase a product through a link in this article.
There's no hedging, no technicalities here — October means one thing: pure, unadulterated fall. You don't have to justify Halloween decorations, cozy sweaters, or any assorted seasonal latte. It's officially the height of the season, which means all things fall beauty are in full-swing, too, with so many of the season's top launches all coming out right now. The best beauty products of October 2023 aim to get you holiday-fun ready with radiance-boosting creams, high-glam makeup, and everything your hair needs to execute all those trendy styles you're seeing on the FYP page. Autumn is consistently excellent, but these new picks manage to improve on perfection.
There's just a few days left in the month and it's been a veritable smorgasbord of newness: a red carpet-approved face mask formulated by esthetician to the stars Shani Darden, a virtually hurricane-proof lipstick available in every trending shade, and an entire line of just-launched hair products created with pure Moroccan ingredients. If your social medias have been inundated with tutorials for hot-button trends like "cherry wine lips" and "hush cuts", consider this your starting point for mastering them all.
Ahead, the very best new beauty products of October across skin, makeup, hair, and body care.
October 2023 Skin Care Launches
Best New Sheet Mask
Best New Night Treatment
Best New Eye Creams
Best New Cleanser
Best New Lash Serum
Best New Acne Treatments
Best New Lip Balm
Best New Masks
Best New Moisturizer
October 2023 Makeup Launches
Best New Mascaras
Best New Eyeshadow
Best New Skin Tint
Best New Powder
Best New Highlighter
Best New Lipgloss
Best New Brow Pencil
Best New Lipstick
October 2023 Hair Launches
Best New Smoothing Product
Best New Deep Conditioner
Best New Hairspray
Best New Styling Spray
Best New Scalp Oil
Best New Shampoo
Best New Detangler
Best New Hair Exfoliant
Best New Hair Serum
October 2023 Body Launches
Best New Fragrance
Best New Body Tool
Best New Body Wash