Finding The Right Hush Cut For Your Face Shape Is Easier Than You Think
Thanks to a few expert tips.
@camila_cabello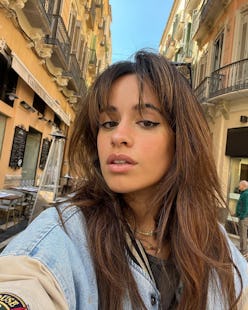 When it comes to seasonal hair trends, fall never seems to disappoint. Whether it's a warm color, like this year's cowgirl copper shade, or a fresh haircut, there are tons of ways to refresh your look. Among the many that surfaced this year, the hush cut is one of the easiest to lean into. Characterized by face-framing layers and forehead-sweeping bangs, it's quickly shot to internet fame as autumn's most wearable style. Whether you have long, short, curly, or straight hair, the style has been dubbed ideal for anyone. Though a one-size-fits-all haircut may sound like an oxymoron — especially when it includes fringe of any sort— it is possible to find the best hush cut for your face shape. But where exactly do you begin?
According to Dhiran Mistry, celebrity hairstylist and owner of The Carriage House Salon in Charlotte, NC, you need to start with bangs. "The most important thing to consider between any shape is how to adapt the bangs to suit the face. For example, a wider and structured face will likely require a more narrow section of fringe to complement it," he says. But regardless if you have an oval, round, square, heart, or long face shape, you are a candidate for fall's favorite new haircut. You just need a few tips to get it right.
Below, TZR tapped two celebrity hairstylists for their expert insight to help you select the best hush cut for your face shape.
Oval
Oval faces are characterized by their length, which is longer than the cheekbones and jawline are wide. Mistry tells TZR that if you have this face shape, the hush cut should be formed to highlight your cheekbones by framing them.
The layers also need to be just right to balance the features. As for the bangs, he cautions against making them too short because it can make the face look too wide, or cutting them too long as they can cover too much of the forehead and fall flat.
Round
Round shapes have a softer jawline and the cheekbones are the widest part of the face, while the forehead aligns with the jawline. "For this face shape, the hush cut can bring attention to your eyes and help focus the cheekbones," says Mistry. However, length is something to keep in mind. "Round faces tend to look fairly youthful, but if the cut is done too short, it can read mature," he says. For this reason, he suggests going for a shoulder-length style to best suit the shape.
Jae-Manuel Cardenas, senior stylist at Sally Hershberger NoMad, agrees, noting that with this shape you should avoid cutting shorter pieces around your face. Round faces are fairly symmetrical so angles usually aren't a concern here. "The hush cut is meant to contour the face, so it's important to ensure the layers fit just right," says Cardenas.
Square
This face shape is the most symmetrical, meaning the forehead, cheekbones, and jawline all have a similar width. Square faces can often be very angular, but according to Cardenas, it makes them great for hush cuts. "The layers in this haircut are a lot softer than others and seemingly melt into one another, helping to soften the face," he says. That said, he recommends getting no blunt lines or ends cut into your style.
Mistry notes that a soft bang is also ideal for square-shaped faces. "If your fringe is too heavy or cut straight across, it can make the jawline appear wider," he says. Instead, he suggests opting for a slightly smaller bang section to best complement the angled bone structure.
Heart
Similar to round face shapes, the heart features a wide forehead but also includes a more tapered chin. That said, some of the same principles apply when it comes to the hush cut. "Just as in the case with a round face, you don't want to go too short," notes Mistry. However, the bangs will need to be more curtain-y to best balance the proportions of the face.
Long
This face shape is similar to an oval, except it features a more elongated look and a pointed chin. "Width is the most important thing to consider when personalizing the cut for this shape," says Mistry. He continues telling TZR that if done correctly, the right shape can help broaden the cheekbones and give the appearance of a wider face.
With long face shapes, both the layers and the bangs need to be soft in order to keep the overall look from being too weighed down. As Mistry explains, too long of a bang can further elongate the features. "Maintaining the length of your fringe is crucial as you want your cut to look weightless and natural." In that vein, he recommends regular salon appointments for trims and light touchups to ensure that your cut continues to frame your face appropriately.