Beauty & The Bees: How The Buzzy Insects Are Taking The Industry By Storm
And it's not just because of their honey.
@sierra_honey_farm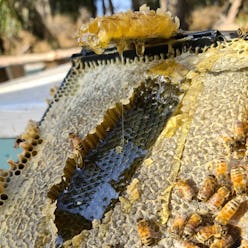 We may receive a portion of sales if you purchase a product through a link in this article.
In the past, conversations about honey and the bees that make it have typically revolved around two aspects of use: culinary and medicinal. But beyond sweetening your latte or soothing cold and flu symptoms, the glazed gold liquid and several other of the bee byproducts have made their way into the beauty industry. With brands' focus on sustainability, the popularity of using honey and bee materials comes with little surprise as the species have become synonymous with eco-protection and the planet's overall health. In fact, you've probably seen the buzz (no pun intended) surrounding the benefits of bee-derived ingredients in beauty products through trendy brands like Gisou and longstanding ones such as Burt's Bees.
But honey is just one of the many "magical" bee-centric materials that have risen to hero ingredient status. From propolis, wax, pollen, bee bread, and royal jelly, these animals have been churning out substances scientifically proven to be advantageous for skin and hair health. Martha Van Inwegen, a former beekeeper and founder of skin care brand Life Elements, tells TZR that, while made for their survival, each of the ingredients provides its own set of benefits and can be used alone or combined together.
Honeybees are known to be meticulous workers and their hives are a haven of prized materials being used in top cosmetic companies. Ahead, TZR speaks with a few notable brands to learn more about how bee ingredients are utilized in their formulas.
How Honey Benefits Hair & Skin
"More than just a sweetener, honey is intensely hydrating and has the ability to seal in moisture while also repairing damaged hair and protecting it with antioxidant properties," says Negar Mirsalehi, head beekeeper of Gisou and sister of the brand's founder Negin Mirsalehi. The beauty brand, which uses honey produced in the Mirsalehi family bee garden, has garnered a cult-like following since the launch of its signature Honey Infused Hair Oil in 2013. "Honey is one of the best natural humectants but is rich in vitamins, minerals, and amino acids to aid in breakage and split ends," she says. In that vein, it's not hard to see why it became not just a key ingredient but the focus of Gisou's hair products and the recently-launched Honey Infused Lip Oil
Naturally, those same vitamins and minerals have also proven to be nourishing for skin, making honey a valuable addition to topical products. For luxury skin care and perfume company Guerlain, honey is just a single element to its innovative Abeille Royale line — which incorporates royal jelly for its anti-aging benefits. Frédéric Bonte, director of scientific communication for Guerlain tells TZR that through research tested on human cells, they have been able to demonstrate that molecules derived from different honeys can repair micro-tears in collagen fibers, signs of weakness in the dermis, or epidermal DNA micro-lesions that can appear with age.
The Beauty Benefits Of Beeswax
Honey production takes place in combs which are crafted from another notable and useful byproduct: beeswax. "Our first products were made with leftover beeswax from Burt's bee hives," says Burt's Bees senior director of sustainability, Paula Alexander. As a leader in bee beauty, the company has been harnessing the power of beeswax for personal care products since the mid '80s. Over the years, it has become a popular ingredient in cosmetic formulas because of its natural binding abilities. But Alexander stresses that its key benefit is providing a protective barrier between the skin and any environmental stressors. "It's also semi-occlusive, which means it locks in hydration without clogging pores while still allowing airflow," she says.
The Beauty Benefits Of Other Bee Byproducts
Propolis, a paste-like material made from collected sap, has also emerged as a buzzy ingredient in recent years. "Created to kill germs inside the hive, propolis is a powerful substance that has anti-bacterial and antioxidant effects," says Dr. Asli Samanci, food scientist and founder of Bee & You which creates supplements for immune health and skin care products using sustainably produced bee materials.
Van Inwegen notes that bee bread — a nourishing mixture crafted from pollen — also acts as a potent anti-fungal and anti-inflammatory. This is why the aptly named Healing Honey products she makes contain a mixture of honey, beeswax, propolis, royal jelly, and bee pollen, all of which are locally sourced. "By combining all of the byproducts, I'm able to get the best of each ingredient's benefits, but it also makes Our Healing Honey Stick a versatile product that can be used as salve or a moisturizer."
What Does The Future Hold For Bees In Beauty?
The environmental concern that frequently surrounds the welfare of bees — due to poor harvesting practices such as exposure to pesticides, limited food access, and invasive hive inspections — is not lost on these companies. In fact, with many founded by beekeepers themselves, safekeeping and preservation remains at the forefront. "As sixth generation beekeepers we strive to give them as much as they give us by supporting their natural life cycle and prioritizing the welfare of the colony," says Mirsalehi. Similarly, Burt's Bees launched the SheKeeper partnership in order to introduce the skillset of proper beekeeping in North Ghanaian communities.
"With more and more brands utilizing the benefits of bee byproducts it's important that we continue to be part of the conversations around sustainable and cruelty-free harvesting that's good for us and beneficial for our environment," says Mirsalehi.
Keep scrolling to shop a few products featuring the beloved byproducts of the honeybee.
Skin Care
Lip Care
Hair Care