The 21 Best Eco-Friendly Beauty Products Of 2023
Editor-approved picks for your entire routine.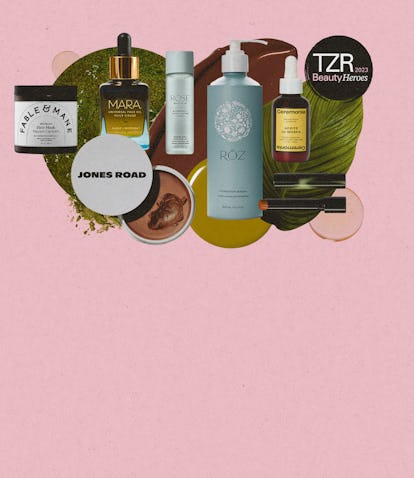 Beauty Heroes
We may receive a portion of sales if you purchase a product through a link in this article.
TZR Beauty Heroes are vetted products out of the dozens that land across our editors' desks throughout the year. This month, TZR's beauty team shares their favorite eco-friendly beauty buys.
Clean beauty is the Wild West of the industry. Despite its global market value expected to reach $14.36 billion in 2028, a standardized definition of what constitutes a product being "clean" is yet to be determined. The lack of regulations leaves brands to their own devices, determining what's "clean," "natural," "green," and "sustainable" on their own terms, while consumers are left to figure out what's fearmongering, what's greenwashing, and ultimately, what ingredients in their medicine cabinets and showers are legitimately risky.
"I think the last few years have really demonstrated on a large scale how quickly misinformation spreads, especially when data is cherry-picked to skew perspectives. There's really not one particular online database that consumers can go to to decipher ingredients in terms of 'clean' or 'sustainability,'" says Krupa Koestline, a clean cosmetic chemist and founder of KKT Consultants. "There are apps and websites, but the information tends to be biased and incomplete because the people behind them are trying to drive a fear-based narrative." That said, Koestline suggests the CoSing database by the EU Commission or the Canadian Consumer Product Safety site as two adequate resources for learning about ingredients.
The silver lining is that a number of brands in the clean beauty space are actually doing good by creating products with plant-based ingredients and safe synthetics rooted in science, bottled up in packaging with minimal waste, and shipped to your doorstep via environmentally conscious shipping.
"While using 'clean' beauty products that are sustainably made is automatically a personal choice, cumulatively, it can have an effect on the direction of the $532+-billion beauty industry. We are seeing more investment in cleaner ingredient extraction methods, lower energy-consumption manufacturing processes, and overall less waste," Koestline shares. "It can help drive this industry to lower its impact on the environment while providing more transparent, safe, and cosmetically elegant products people want to use."
After testing dozens of products in the clean beauty space all year, TZR's beauty team came together to decide on the 21 eco-friendly products in makeup, skin, and hair worthy of beauty hero status. You can read how we define "clean" here.
Makeup
Skin Care
Hair Care