These Expert-Approved Spray Tan Tips Will Give You The Best Faux Glow Ever
@bellahadid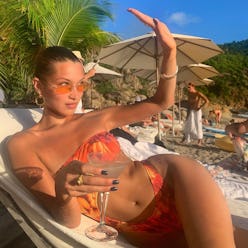 Forget what you've seen in '90s sitcoms and on red carpets in the early aughts. Spray tans are a truly unmatched way to add sun-safe color to any skin tone — no orange tint necessary. The faux glow does more than just temporarily tan the skin, too. Aside from the added pigment, a great fake tan will add luminous radiance and an imperfection-blurring layer of bronze over bumps, veins, scars, and uneven texture. The keys to a flawless, long-lasting spray tan come down to a matter of strategy and technique. Most people know that to really maximize your session, it's crucial to do a complete pre-fake tan prep routine — but far fewer understand that what you do during and immediately after your tan session can make just as much difference in how long a spray tan lasts.
To get a real inside look at exactly how to ensure an A-plus spray tan every time, TZR tapped a top dermatologist for professional insight on all the dos and don'ts as well as answers to the trickiest tanning questions. Brush up on these spray tan tips straight from the pros ahead of your next appointment for a bikini ad-worthy glow all summer long — and well beyond, too.
We at TZR only include products that have been independently selected by our editors. We may receive a portion of sales if you purchase a product through a link in this article.
1. Prepare For Your Spray Tan With A Gentle Exfoliator
To give the spray tan formula the best possible canvas, scrub down your entire body to slough off dead skin and soften any dry patches. A chemical exfoliant-laden body lotion can help with KP and issues like strawberry legs, but a physical scrub is a crucial piece of the puzzle. "Spray tans look evenly applied and last longer if you have recently exfoliated and moisturized skin," Dr. Rachel Nazarian, M.D., board-certified dermatologist, tells TZR. "The pigment is deposited on newer skin, which holds it better and keeps it longer before sloughing it off naturally, which is how spray tans fade."
Dr. Nazarian recommends a gentle exfoliator, like Dove's Exfoliating Body Polish Scrub, for an in-shower slough session. "Gentle, circular motions in the shower work best to remove surface dead skin cells and create the most ideal smooth skin surface for the pigment to be applied," the dermatologist says.
2. Should You Shave Before A Spray Tan Appointment?
Always wax or shave everywhere at least the evening before your appointment — even the smallest amount of stubble can cause buildup at the follicle, while shaving too close to the appointment can leave you with tiny dots of tanner settled into the just-shaved pores. "Shaving is essentially a form of exfoliation and removes a lot of skin cells," Dr. Nazarian says. "It also removes the hair which can block the spray tan from being applied correctly. Shaving after a spray tan will actually remove the color and cause it to fade faster."
3. When Should You Moisturize For A Spray Tan?
"You should be moisturizing leading up to the spray tan two or three days before to ensure skin is well hydrated," Dr. Nazarian advises, but not immediately before. Oils and creams will block the color from penetrating and absorbing well — that's why your tanner will usually tell you to apply salon-given lotion to your palms and feet just before you're sprayed. Otherwise, skip the moisturizer ahead of the session.
As for post-appointment, "moisturizing should be done regularly after the spray tan to prolong the length of time it is effective," Dr. Nazarian says, recommending daily moisturizing in the days that follow. If you skip this step, dry skin will flake and you'll lose your color quicker.
4. Can You Wear Makeup During A Spray Tan?
If you're getting your face spray tanned too then no, you can't wear makeup during the session. However, plenty of people skip the face tanning portion of the appointment due to sensitivity or daily facial exfoliation. In that case, you can wear makeup but it's probably not a great idea — lingering foundation, bronzer, or moisturizer on your neck and chest can make the end results look uneven. It's best to give yourself a quick once-over with a makeup-removing wipe just before you start, even if you're already barefaced.
5. Do You Have To Be Fully Naked For A Spray Tan?
One of the best things about a spray tan is the lengths the technicians go to in order to make you feel comfortable and minimally awkward. For your spray tan, you'll be asked to undress to your comfort level — for some people, this means a bikini or a disposable paper g-string (they're usually supplied by the salon) but for most, this means getting fully naked to avoid any tan lines or stains.
How naked you get for a spray tan is completely your choice, and you should never feel pressured to do anything you don't want to. That said, just keep in mind that your spray tanner is a professional who's seen it all before — usually several times before noon.
6. Don't Wear Accessories During Your Spray Tan
Remove all necklaces, bracelets, rings, and earrings to avoid the pigment staining your precious jewels and leaving you with a tan line. Your belongings will usually be with you in your private spray tan room but consider leaving more precious or sentimental jewelry at home to minimize the possibility of misplacement.
7. Always Get Your Nails Done Before A Spray Tan
Especially when juggling beauty appointments before a big day, there's often some confusion about when to schedule them all. Get a manicure after your spray tan is completed — and if that's impossible, consider laying down a clear coat yourself before getting sprayed. Not only will this create a barrier to prevent the tan formula from staining your nail beds, but soaking off old nails with a spray tan is a recipe for disproportionately pasty fingers.
8. What Should You Wear After A Spray Tan?
Avoid wearing white or tight clothing just after your spray tan. Light colors tend to stain, while tight pants or boots can rub against your skin, leave marks, or and remove color on those areas. Your best bet? A loose dark or printed maxi dress that will protect your tan and every chair you own.
9. Don't Make Plans After Your Spray Tan
It's important to note that most spray tan products are purposely ultra-pigmented to ensure even coverage. Since you have to wait a minimum of five hours before showering, you'll typically get an initial layer that looks very deep — but it rinses off. You'll also experience a weird, lima bean-y smell courtesy of the product that's not so much bad as it is distinct. While there's no rule that says you can't go straight to dinner after a spray tan, it's wise to skip socializing that evening.
10. Can You Work Out Right After A Spray Tan?
No one likes missing Barry's, but it'll save you from becoming a streaky mess. "Wait at least 24 hours to allow for the pigment to settle and fully form before washing the skin or sweating heavily," Dr. Nazarian explains. The bronzed glow will be well worth it.
This article was originally published on