The Bedtime Routines Of Successful Women
The tips, tricks, and rituals industry leaders swear by to get the best rest.
Victoria Warnken/ TZR; Stocksy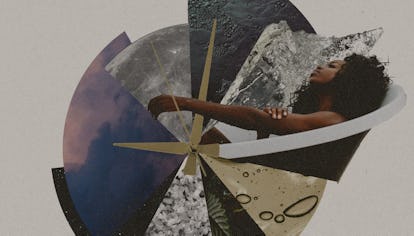 The Power Of Sleep
We may receive a portion of sales if you purchase a product through a link in this article.
In a world where we constantly feel the need to go, go, go, sleep can be elusive, to say the least. For women who work for themselves, run their own businesses, or have particularly demanding jobs, it can be even harder to power down after a long day. The line between one's personal life and work life is often crossed, with working hours extending well into the night. It's been well-documented that losing out on our precious seven to nine hours negatively impacts us in a wide variety of ways, from reducing our productivity levels and compromising our immune systems to increasing the risk of burnout. Not to mention that women have a 40% higher chance of developing insomnia than men do. Hence, optimizing our bedtime routines when our days are chock-full of meetings, deadlines, and deliverables is essential.
But, how exactly does one up-level their sleep routine when there are emails to write and endless tasks to complete? To get an idea, we tapped five successful women in fashion, beauty, and entertainment for the rituals they most rely on come bedtime. While their go-to products and methods differ, one surprisingly simple staple emerged: the power of a hot bath. Nearly all of the women we spoke to cited a bath as a go-to when it comes to achieving ultimate relaxation.
However, if baths aren't your thing, you can rest assured (see what we did there?) that there are plenty of other tips and tricks to go around. Keep reading to get the full lowdown on how successful women achieve a peaceful night's sleep, from LED light masks to the best CBN gummies, below.
Shani Darden, Esthetician & Founder of Shani Darden Skin Care
"Right before bed, I always make myself a cup of Calm, a magnesium drink which helps you sleep better. I'm not a great sleeper, so I need all the help I can get. I sometimes will use a guided meditation app to just help me relax before sleeping as well.
As for my nighttime skin care routine, I start with Garnier's Micellar Water to remove makeup, sunscreen, etc. Following that, I use my Cleansing Serum which is a really nice, gentle cleanser with a soft lather. After cleansing, I will do a quick 10-minute treatment with my LED Light Mask. I generally use it at night before bed. I've used LED light therapy in my facials for years, and it's such an incredible treatment for aging in reverse and giving you an amazing glow. As a bonus, red LED light is clinically proven to help improve sleep, so it's become an essential part of my nighttime routine to reduce stress and sleep better."
"Something I really try (most of the time) to do is to put my phone away and on airplane mode an hour or two before bed. It's hard, but it makes a major difference. I take a lot of pleasure in intentionally shutting down work mode and being generous with wind-down time.
My other favorite ritual is a classic: a hot bath. I like it to be dangerously hot and love to mix in Ancient Minerals Magnesium Bath Flakes. If I'm traveling to a different time zone for work, I find it's really worth it to upgrade to a hotel room with a bath if I can. I also find Moon Juice Magnesi-OM helps to mellow me out. If I need extra help with jet lag, I'll take the Sleep Science Melatonin on the lowest dose.
At home, my husband and I are naturally on really different sleep schedules (I'm early, he's late), so a white noise machine really helps me stay asleep when he sneaks into bed after I've been asleep for hours. Also, my most treasured and lifelong bedtime ritual is a good book. It's such a reliable pleasure, and getting my brain into another world of fiction really helps me break away from any day-to-day to-do lists and just makes me feel happy and cozy."
"I never have any issues falling asleep, but I definitely have a routine that promotes ultimate relaxation. I tend to shower earlier in the day, but I love a relaxing bath a few nights a week. Drawing a nice bath is a whole experience: I turn the lights out, light a candle, I put on a soothing playlist. I add Weed Sport CBD Bath Salts. I also love The Established Elixa Bath Serum because it smells heavenly. I'll do a face mask like Tata Harper Resurfacing Mask or Summer Fridays Overtime Mask while I soak. When I get out, I put on my Parachute Terry Cloth Robe. I love just lounging in a robe, and I'll do that day or night.
I'll do my body and skin care routine and put on a matching pajama set. I'm obsessed with chic pajamas; you will never catch me sleeping in an old ratty T-shirt. Then, I make myself some tea, and I get into bed and watch something on Netflix or HBO Max. Sometimes, I'll also journal in bed and just get any thoughts down on paper.
Often, I will pass out in bed with the lights still on around 9 or 10 p.m. My cat, Charlie, usually wakes me back up when he comes into my room to sleep on my bed (if only he could shut off the lights). So, I'll turn off the lights, and if I ever have any issues falling back asleep, I take a bite of Weed Sport's CBN Gummies — they really work."
"I'm going to be honest — ever since I launched my brand HVN in 2016, sleep has been a little hard to come by. My mind is usually preoccupied with the business, and nighttime rituals become essential steps to relaxation. Here is what I swear by:
My first step at the end of a long day is to take a hot bath. If I'm sore from working out, I'll add Dr. Teal's Lavender Epsom Salts to soothe aching muscles. I also love the GOOP 'Martini Soak,' which looks and feels so luxurious. It's important my phone is as far away as possible, and I like to use this time to catch up on a new book and turn my work brain off for a bit. I just finished The Answers by Catherine Lacey, which I loved. When I want to take this whole experience to the next level, I'll put a face mask on for the duration of the soak (my very favorite is Biologique).
Although my skin care routine isn't complex, there's something very calming about going through those motions each night. I'm currently using the Barbara Sturm Hyaluronic Serum and PillowtalkDerm Moisturizer. I recently discovered the Buly Hand Cream, which is super rich and lovely to lather on before bed. I'm also a sucker for essential oils, and I like to roll the Tata Harper 'Stress Treatment' on my wrist pressure points.
The next step is to get as cozy as physically possible. I'm always freezing, so this usually means a full HVN pajama set and cable knit socks. Almost every night, I'll make a chamomile tea and bring it up to bed. This always seems like a great idea until my cat tries to swat the cup off the side table the next morning at exactly 6 a.m. I still haven't learned my lesson.
However, if I'm having trouble falling asleep, my secret weapon is the Kao Gentle Steam Eye Masks I discovered in Japan. They're disposable lavender-scented eye masks that heat up after a few minutes. Slumber guaranteed."
"My nighttime routine starts after my husband and two boys are in bed; it's one of the only times my house is quiet during the day. I usually start by pouring a bath with Costa Brazil Bath Salts — it's my way of washing off the day and getting calm before bed. Afterward, I do my nighttime face routine, which includes Soft Services Calming Gel Exfoliant. You wake up with the softest skin.
When I get into bed, I spray ISUN Ormus Myst on my face, and then, I lay under my reVive LED panel for three minutes. Lastly, I turn on my Air Innovations Humidifier. When I use the humidifier consistently, I sleep so much better. The air is so dry in California, so it really helps. I love that my routine gets my mind and body ready to rest when I am consistently running around during the day."